10 June, 2015
CDJ-900NXS and XDJ-1000 now support Traktor Pro 2
Pioneer DJ's CDJ-900NXS and XDJ-1000 players now support TRAKTOR PRO 2 (version 2.8.1 or later). So DJs can simply arrive at the booth, plug in their PC/Mac, and perform using TRAKTOR PRO 2's features. There's no need for an external sound card. TRAKTOR track information – including BPM, wave display, cues and loops – is shown on the players' large full color screens. And DJs can get tactile with the XDJ-1000's touchscreen, using it to trigger cues and use the player's Beat Jump feature.
Firmware and download information
KEY FEATURES OF THE CDJ-900NXS
Supports rekordbox, Serato DJ and TRAKTOR PRO 2

Play from PC/ Mac, smartphone, tablet, USB or CD

Large, full color screen with Wave Display and Wave Zoom

Beat Countdown, Phase Meter and Key Analysis Indicator

Beat Divide, Slip Loop, Slip Mode and a dedicated Quantize button

Slip Mode and a dedicated Quantize button

Four-deck Beat Sync

Loop Cutter, Loop Edit and Active Loop

Load tracks via USB or Wi-Fi connection

PRO DJ LINK: share one source with up to four decks via LAN cable
KEY FEATURES OF THE XDJ-1000
Supports rekordbox, Serato DJ and TRAKTOR PRO 2

7-inch full-color touch screen

Quantized Beat Jump/Loop Move

Illuminated USB port with color coding

Improved browsing with Qwerty keyboard

206 mm jog wheels and pro-DJ layout

Wave Zoom, Beat Counter, Phase Meter and Key Analysis

Auto Loop, Hot Cues, Slip Mode, Quantize and Beat Sync

Fully MIDI compatible

Load tracks via USB or Wi-Fi
Thanks for the support all the way down south, we talkin bout Nashville TN!! Showin some love right back, check out this super dope Parade style Mix by our homie none other than Carson Carr aka BUSY aka REAL TIME HAND MOTION. Freak time!!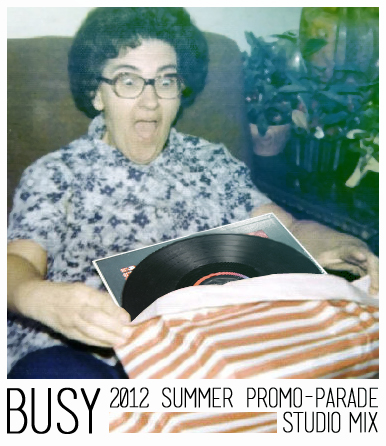 some of the house music I played this summer
thanks to all the fantastic producers and labels.
Magoo, Oki Koro, Louis Sangki, Jason Sutton, J Paul Getto, Andrew Riley, Jeff Gonzalez, Brian Rescue Hein, Frank H Carter III, YSE, PANG!, Giano Lujan, Marko Gramophonedzie Milicevic II, HouseofStank, Blakfred, Alysha Kid, Hugh Cleal, Wattie Green, Nick Jagger, Bernard Jones, Luthier Eclectic, Mike Newman, Jazzy Eyewear, Kid Enigma, Todd Edwards, Chanson E, Greenbay Jackers, Disclosure, J Lettow.
Paint Your DJ Gear White!

Pioneer also seems to be finally jumping on the special edition white train, announcing that they'll be producing limited runs of 1,000 units of the CDJ-2000-W(hite) and 500 units of the DJM-900nexus-W. They look snazzy, but at a striking price point of about $500 higher than the non-white editions, don't plan on rushing out and buying ten of them. The CDJ-2000-W has a MSRP of $2150, while the DJM-900nexus-W will run $2399.
Traktor 2.5 and Kontrol F1 Announced By Native Instruments
Native Instruments had a party last night to celebrate the tenth anniversary of Traktor, and there they unveiled their powerful new version of Traktor as well as the new piece of hardware we've been waiting to learn more about, the Traktor Kontrol F1. Read more about NI CEO Daniel Haver's semi-official announcement last night!
Editor's Note: Looks like the video of the official announcement got taken down from YouTube, but you can get the idea from the screencap above.
We'll have complete details on both the Kontrol F1 and Traktor 2.5 later this week, but for now we're excited to see that Traktor is taking things to the next level with Ableton-style clip launching and performance modes that will continue to drive innovation in the DJ software world. In the video that was taken down, Daniel Haver refers to the new Traktor F1 and Traktor 2.5 Remix Decks as a package and feature set that he calls "Ableton-in-a-DJ-way". Here's his words from Saturday night:
"So those of you that like Ableton but actually didn't feel that it's quite a DJ product, (…) this is it. We take the whole production clipping aspect right into a DJ application, and these pads light up in just the same color as the cells in the Remix Decks."
The new Traktor Remix decks mentioned in the video seem to be a promising step forward, and hopefully they'll be completely open for intense mappings on not only the F1, but also on other controllers. In case you missed their official teaser video of the F1 and some of the Remix Deck features, check it out below.
Also mentioned during this announcement, the Kontrol F1 is set to drop early April, and that will most likely be concurrent with the release of Traktor 2.5. We talked to some folks at Native Instruments about the new software and they told us:
There are new Remix Decks set in a 4 by 4 configuration of clip launching units.

The sync mechanism for the loops has been totally revamped.

The software is expected to drop some time around April concurrently with the F1 controller

No word yet on if this will be a paid or free upgrade.
An Introduction To Mixing with DJ Isolators
It's time to take a closer look at the powerful audio devices known as isolators. In today's article, we take a look at what a DJ isolator is, how they came to be, how to mix with them, and who the modern auteurs of isolator mixing are.
WHAT IS AN ISOLATOR?
In basic terms, an isolator is a high quality, standalone DJ EQ with large knobs that's attached to the master out. In contrast to traditional EQs, they are generally not used for the purposes of mixing, but instead to shape the sound and add color to your set. Isolators also feature wider frequency ranges, smoother pots, high quality amplification circuits, and much more gain per band (sometimes double).
In understanding how isolators work, it's important to look back at the history of DJ technology. Isolators (and DJ EQs) come to us by way of their predecessor, the active crossover. Popularized by Richard Long Associates in the 1970's, this device was a monumental leap forward. Brought about by new advances in discotheque sound systems, the active crossover allowed the DJ to split their mixer's signal into bands by sending it through an op-amplification circuit and then through filters. These filters (low-pass, bandpass, and high-pass) route their respective frequencies to separate outputs which are then connected to their associated power amplifier and speaker–lows to woofer, fullrange (and later, mids) to drivers/horns, and highs to tweeters. This is called multi-amplification. Splitting the sound in this way results in greater speaker efficiency and higher fidelity in comparison to previous passive crossover designs that utilized one power amplifier for the entire system.
A consequence of this device was that not only did it make things sound better, but it also offered the DJ control over the gain of these frequency ranges via potentiometers. Early disco mixers with an eye towards enhancing their sets were quick to pick up on the fact that they could use their crossovers for dramatic effect. Caught up in the creativity of the moment these DJs learned to cut the signal going to the sub, amplify the signal going to the tweeters, and in general, work the overall sound as it went through the system.
The RLA crossover was an incredibly popular design and could be found in many of New York's most famous clubs during the heydays of disco and house (Studio 54 and Paradise Garage being two big ones). Yet, despite its onetime popularity, the active crossover as a DJ tool had some drawbacks. Since it allows the DJ direct control over the volume of a given band's speaker, the active crossover can cause blown speakers and hearing damage in the hands of someone that doesn't know what they're doing. Though still used to divide frequencies today, active crossovers are generally not used for dramatic effect (of course, there are some exceptions).
The progression from crossover to isolator is a simple one. The only real difference between the two is that the isolator collects the three bands into a ganged stereo output. This process castrates the crossover by making it effectively worthless for tri-amplification purposes. The DJ then no longer has control over the volume levels of each part of the physical soundsystem but instead is responsible for the relative volume levels of the bands in the overall master mix.
HOW TO DJ WITH AN ISOLATOR
You might imagine that DJing with an isolator is similar to DJing with a DJ EQ. You would be fairly correct in that assumption. Yet, isolators afford more control over the music. When you roll off the bass on an isolator it takes out much more of the bass frequencies. For example, the E&S X3004 gives you control of everything from 10-300 Hz. Contrast this with the Pioneer's DJM 800 bass EQ (10-100 Hz) and you get an idea of the difference in frequency range between built-in EQ and a dedicated isolator. Here's a video of someone adjusting the frequencies on their E&S as a demonstration (note: it's modded to not have as much gain).
Since the crossover days there has arisen an unofficial school of DJ technique that almost rivals turntablism in its complexity. Different than turntablism however is that none of these techniques have official names. Sure, you can cut the bass (who can't?), but can you add tremolo to the midrange and make it sound good? The art of isolation is an art of unsubtle manipulation of dynamics and the easiest way to become inspired is by learning through example.
Joe Claussell (above) is considered by many to be one of the most prolific (and controversial) isolator users. His fingers never leave the knobs and he manipulates the individual frequencies to create a staccato effect that emphasizes the vocals and dramatic tension of the music. You'll notice that his touch creates an almost broken effect in the rhythm.
Similar, but more laid back, is Theo Parrish who, while he's still all over the isolator, lets his tracks breath. His style isn't so much to create new rhythms so much as to play with the tension of the music and emphasize individual sonic elements in the music (such as the electric piano line). Watch the above video and witness what the smoothness of an isolator can do in the hands of someone who has a lot of balls.
On a different tip is Derrick May who utilizes the isolator as an entirely rhythmic tool. He uses his isolator to create a jagged sound sculpture with abrupt moments spent on each band. He's constantly changing frequencies and this creates layers of depth to his otherwise loopy and one-dimensional track. Again this is another way that isolators can be used, to create dynamic rhythms. If you watch him, you can see that he almost looks like he's playing the drums.
Final Notes
The past three videos all showed examples of people going nuts on the isolator. While it can be fun to do this from time to time, unless you are one of those top-notch DJs above, you ought to bare in mind the following axiom: "everything in moderation." Going Joe Claussell on an audience that's not attuned to it will only result in people wishing you would stop. A part of playing with dynamics and understanding how to use an isolator is to know when to let a track rest and allow the dancers to enjoy the music as it was recorded by the artist. Understand this and perhaps someday you'll be able to achieve the level of euphoria exhibited in the next video.
POPULAR ISOLATORS
- Gary Stewart Audio ISO X
- Electronique Spectacle E&S X3004
- Dope Real Model 3300
- Thrive Bender
- Systems By Shorty SBS S3X
- Vestax DCR-1500
- Alpha Recording Systems ARS Model3500
- Bozak Iso-X
via DJTECHTOOLS
AUDIO KOLLEKTIV
Saturday – January 14, 2012 at 356 Eco Bar
with special guests:
ADITH BIGGIE (1945MF)
STEVANUS IRAWAN (8 PRODUCTION)
and our own:
FIRBOY (DIGITALSIX/BURNSCODE)
ARYO IZRAIL (DIGITALSIX)
MC ZARRY HENDRIK (DIGITALSIX)
also 365 Eco Bar's residents :
LAY and RIDWAN G
JOIN THE R:EVOLUTION!!
GET YOUR PRESALES NOW @ Rp 150.000,-
THE GOODS DEPT (Plaza Indonesia Ext. 4th Floor)
FAIRGROUNDS (Ex-Bengkel Nightpark)
FUTURE10 (Wijaya Grand Center Blok G.10 ph: 021-7205837)
SATCAS (LOT 49 – Panglima Polim)
Tickets On The Spot Rp 200.000,-
Interview: Morgan Geist
It's been eight years since Brooklyn duo Morgan Geist and Darshan Jesrani released their eponymous album as Metro Area. Drawing on R&B, disco, boogie, house and techno, it not only stood the test of time, but is now rated as one of the finest underground dance albums of all time. After a trip to London for the Red Bull Music Academy, Morgan spoke to Juno Plus editor Aaron Coultate about Metro Area's new "bubblegum" sound, his own solo work and the era of disposable music.
News surfaced a while back about a second Metro Area album – where are you guys at in the recording process?
Yeah Darshan (Jesrani) and I have been working on it for years, and it's been coming along really slowly. But we've made some good progress this year. We want it to develop organically, we don't want to rush it, but at the same time our last record came out so long ago we kind of want to get it done (laughs).
How does it compare to your debut LP?
Some of the tracks have a humorous, bubblegum feel to them. You know, a weird synth pop vibe. We are big Devo fans and we love Yazoo. The first album was moody and dark, and I think that appealed to a lot of people. Our tracks would end up on the Cocktail Songs 97 compilation or something on that because people thought it was dark and sexy, and that made us want to puke. So I think our next album will disappoint those people. A lot of it is in major key. It's not silly, but it definitely has a new wave feel to it. If we simply picked up where we left off it would sound, and I don't want to use the word dated here because I think our music can stand the test of time, but it wouldn't sound fresh. There's that struggle between not wanting to take too much notice of trends and what people are saying and remaining stagnant. You try and use an internal guide, otherwise you lose your creative compass.
What kind of reception do you think it will get?
I was speaking to Jeremy from Junior Boys and he said his first record was icy cold, and people liked it. Subsequently, and especially by the time the third record came around, people didn't like what he was doing, they didn't like his sounds. People don't associate deep emotions with major keys, but you listen to Motown music and it's so uplifting and major but you listen to the lyrics and it's all about heartbreak, and it's incredibly depressing. So I am a little concerned what people with think of our next record, especially if they listen to it superficially. I hope people realise the contrast, and I'm thankful when they do. In fact, I'm thankful and surprised when anybody gives a fuck!
Do you think it will be more or less accessible than your previous work?
I used to have this fascist underground attitude to music, where obscurity was an asset. But I'm not really like that any more, I'm psyched by the idea of someone of my parents' generation liking the record, as well as a 16-year-old kid. I have listened to a lot of 80s R&B and pop, and often that kind of stuff would be in two charts at once. It appeals to the underground and the mainstream. I like the idea of making some underground record where only 500 copies are pressed, and I like the idea of making something like a Chic track that becomes massive.
How much of the record is actually done?
Erm, 9/16ths (laughs). Usually one of us will start a track, then we'll bring the other one into it. So at the moment we have this bunch of skeletons, with an arrangement and melody.
What are the notable differences so far?
Well this time we want to use vocals. Nerds like us have been doing house and techno for so long, that writing a song with vocals is like writing two songs in one. For a songwriter or lyricist, it is the same process, you write your lyrics and your melody. We write dance records and record that first, then implement the vocals which means a lot of tweaking and rearrangement. Half the reason we started Metro Area was because we were sick of house and techno that was loopy and predictable. But I have to admit, vocals are a pain in the ass. With our first record, people could take it wherever they wanted to. If you add a lyric, it pushes it in a certain direction. Ten years ago I didn't like lyrics, now I like to listen to songs with lyrics… See, this is why we are taking so long to record the album … too much philosophical bullshit!
And are you working on any solo productions at the moment?
I am doing some solo stuff with this vocalist, I met him through a friend who heard him singing on the subway. He's from the Bronx. He might end up on the Metro Area record so I don't want to say too much yet. He's a bit rough around the edges, which sounds unflattering, but he's a natural talent and I like the idea of using him while he is still a bit rough and unrefined. He's got this gravely smoky voice, and I think he brings this amazing raw ingredient. His mother was in Earth, Wind and Fire so he comes from a very musical background.
Will you release a solo album or just some singles?
The music industry is in a weird spot…singles are working again. I think I'm going to start another sub label to release this work. Metro Area was originally going to be the name of my sub label, but then Darshan and I started working together and it seemed to be the right name for what we were doing. We both live in NY now, but were both from the metro area. So yeah, I'm not good at leaving shit alone in other words. I try and make 12" dance records and I end up with a proper song instead. I'm really psyched about it though, it will just be a Morgan Geist release, hopefully I'll have one single out before the summer.
And how is your Environ label going? Do you have much involvement in the day-today running of the imprint?
Well it's my label so most of the work is up to me. It takes up a lot of my time, and it's getting less and less fun. I've been doing it for 15 years now, and I probably sound like a broken record, but the music industry isn't what it used to be. It's fucked up. It's not fun a lot of the time, a lot of administrative stuff. And then there's the pressure of putting out a record. A few years ago even a relative failure would still earn you your money back, but that is not the case now, especially with physical products. But I still get excited about releasing a Kelley Polar or Daniel Wang release, because they are friends of mine. And I know artists are not supposed to admit this, but I have a definite entrepreneurial streak. I liked selling records, and not just the money, but because it used to be a real barometer of interest. That's not the case these days – now people can just go and download this stuff for free. As I see it, there is no sacrifice on their side. It's funny to think of money in that way, but there is a truth in it. I'm basing it on my experiences as a kid, were I'd catch the bus into the city to buy a new 12" and if you didn't like it you'd still spend time listening to it and trying to like it because you'd spent all your money on it. Now if people don't like the first 10 seconds on their iPod, they skip to the next song.
Does that make it harder to do what you do?
Having a label is weird, because you're putting in effort, but still get put in the same category as people who churn out releases. I'm pretty strict, Kelley Polar probably hates me because we spend time mixing frequencies that don't even come out on an iPod (laughs). Making music is a bit like handing out party fliers now, some people read it but most people just throw it on the ground. It's hard to swallow if you've always taken pride from making non-disposable music. Obviously people do make disposable music and that's fine, but it's spirit crushing for the rest of us. There's so much shit coming out. I hate feeling like an old grumpy fuck, but I can't identify with this culture. My little sister is 16 and I can't believe the way she consumes music.
Will these changing attitudes towards music affect you at all in the studio?
No. We are doing what we want to do. The truth is we wouldn't do an album if we were basing it on the way people consume music now. The way it stands, people will find their favourite track – or their favourite two if we're lucky – and download them. I see it all the time with the invoices I get for downloads, there's like five nerds like me downloading the whole album and then 500 downloads of "Miura" or "Atmosphrique".
So you think the disposable nature of music these days is of detriment to the underground music scene?
It's just that there's so little payback and so much abuse. If people hunted it down, cared about it, that would be different. I shouldn't be so cynical, because I guess that's how it's always been in one way or another, but at least people were kind of forced to check the other songs out when they bought an LP. It's all there in wax so you might as well. Being able to pick and choose is great for the major labels, but we put in the same energy for every track, and with our album we tried to make an arch, an overall flow. Would you put a Pink Floyd album on halfway through, listen to one song and turn it off? It's just that music is my whole live, and now it's become a soundtrack to something else, a lifestyle thing. People are aware of music, but they don't love it as much.
DERRICK CARTER @ THE SULTAN LOUNGE, MALAYSIA
The last gig I had in Malaysia was when we did DON'T PANIC! back in 2009 with Louis Sangki & Dirga Ara at Johor Baru, the Malaysian state bordering Singapore. Based on that experience, its easy for me to say that they are one of the most enthusiastic crowds i've ever played to — so yeah, I was damn stoked to make a return to Malaysia hoping it'll be just as good. This time around, it was a privilege to play alongside long time peers Kamil, Alam and Shazan from the OMP crew. What made things more special was the fact that headlining the event was none other than THE Derrick Carter.
Kamil & Alam started things off with a deep house set at 10pm, as patrons started to trickle in. I was up for duty at 11.30, and after doing the ol switcheroo of laptops on the traktor set up, i continued to build up on the vibe that Kamil and Alam started. A half hour into my set, i noticed that swarms of people started comin into the club, and thought to myself "yeah, tonight is gonna go off."
As they then dimmed the lights down further & cranked the system up a notch, i felt more & more relaxed and was ready to get a little playful. The response seemed to have been good as I started to get people shakin'. Too bad though that Shazan was on artist liaison duties that night and didn't have a chance to give things a go as well.
Soon enough, DC arrived and it was time for him to jump on the decks. Cool as cucumber, he mixed in his first track, and as he did, the vibe of the whole room changed into a frenzy of boogie. I might have pulled the tempo too far up at 128 (was too excited and got carried away 
), but that seemed to be of little consequence for the maestro, as he picked up where I left off and had no problems maintaining the dancefloor. He actually brought it down to 127 and stayed on it for most of the night, but he eventually dropped things down later on in his set. With DC, you never know what you are in for, and sure enough, he took us on a musical ride into the boompty realm.
It was just madness throughout the whole night, with DC's technicality and song selection (exclusive edits, boots, acapellas and whatnot) he truly is one of a kind at what he does.
 The night finished at almost 5 am, and as the lights were turned back up, peeps were still dancing and craving for more! DC obliged… and as he played his last track, a mic in his hand — started rappin to the lyrics of the song! Now, that's how you close it up!!!
Then of course came the after party, but if you want to know bout it, you gotta come and see for yourselves 
  Props to the OMP crew for another unforgettable night and keepin HOUSE MUSIC alive!
= N I T E G R O O V E S =
Saturday, September 17th 2011 
with special guest
A N T O  P O L S K I ( Melting Pod )
Impossible to Stand-alone and irreplaceable to the scene which he has helped build over more than 20 years, Anto Polski is the quintessential music professional. He's the 'DJ's DJ', that name constantly thanked on an DJ's, the one who has influenced and defined countless other DJ's, from today's brightest stars to those still beat-matching in their bedrooms. Tireless champion of House and world music is only getting better; from Latin to Salsa, afro-beat to jazz, Soul to classics and all forms of house/dance music the best is yet to come.
Ever the innovator, 2011 promises to see Anto continue to revolutionize the musical landscape as only he knows how. Breaking down musical barriers and bringing people together through a love of music has always been Anto's aim; after more than 20 years in the game his contributions continue to positively influence the global House, and world, music scenes.
supported by DigitalSix' 
OKI KORO & RAYMOND MARIO
Bring your friends. Leave the negativity at home. This is a time to celebrate life, love and music with your closest friends and a chance to make new ones. 
more info @ www.dsixconcepts.com - follow @dsixconcepts
Whats this new mix all about? We'll, here is the liner notes…
We've all done it. This I'm sure. We've all liked a song that is awesomely horrible. You know – the ones we secretly enjoy when nobody is around. From the sappy, to the corny, to the songs that have been pummeled into our musical stream of consciousness without written consent.
Technics SL-1200/1210 series
The Technics SL-1200 MK2 MK3 MK4 MK5 MK5G M5G MK6 LTD & GLD are a series of turntables manufactured since October 1972 by Matsushita under the brand name of Technics. S means "Stereo", L means "Player". Originally released as a high fidelity consumer record player, it quickly became adopted among radio and club disc jockeys. Since its release in 1978, SL-1200MK2 and its successors have been the most common turntable for DJing and scratching. The MK2 presented several improvements, including to the motor and casing. Since 1972, more than 3 million units have been sold. It is widely regarded as one of the most durable and reliable turntables ever produced. Many of the models manufactured in the 1970s are still in heavy use. Rappers have referred to the turntable in pairs as "1200s", "Tee 12's", "Technics", "Tec 12's", "wheels of steel" and "the one and twos". In the autumn of 2010, Panasonic announced that the series was to be discontinued due to marketplace conditions.
According to notable journalist Tom Terrell of NPR, the Technics 1200 SL direct-drive turntable is "the most important musical instrument of the last two-and-a-half decades". At the London Science Museum, Technics SL-1210 is on display as one of the pieces of technology that have shaped the world we live in.
Original model
SL-1200 (released in 1972) has a silver finish, this model was originally marketed as a hi-fi turntable for the home market.
MK2 models
The MK2 models were sold in Europe with different model numbers indicating a different colour; the 1200 (silver) and 1210 (matte black). This was the same in the USA (and Japan) initially, however later the 1200 was available in both silver and matte black finishes.
SL-1200MK2 (released in 1979) comes in both silver and matte black (see above comment). Technics improved the motor and shock resistance, added a ground wire, and changed the rotary pitch control to a slider style. This is now the base model and is the oldest whose production was done until 2010. The older version of this model which was sold in the 1970s and 1980s has a large 4-inch-diameter (100 mm) plate where the RCA and ground wires enter the unit, while the newer version has a smaller

2-inch-diameter (51 mm) hole in

the rubber where the RCA and ground enter.
SL-1210MK2 comes in matte black only (see above comment), and is nearly the same in function as the SL-1200MK2, although some of the circuitry inside is updated to use fewer different types of pots and resistors. The Technics 1210 series also had a switch to change between voltages on the underside of the platter, whereas the 1200 series did not. It used to be unavailable from official Panasonic dealers in the United States.
SL-1200MK2PK has a matte black finish, and was only available in the USA.
MK3 models
SL-1200MK3 (released in 1989) has a matte black finish like the MK2, gold RCA plugs, and a small gold-foil Technics label on the back. It was destined only for the Japanese market.
SL-1200MK3D (Japan release only)
SL-1200M3D (released in 1997) has a silver finish like the MK2, a detached dust cover (no hinges), and no detent ("click") at the zero point of the pitch adjustment slider, allowing more precise control of pitch near that point. It also has a reset button which sets the pitch adjustment to 0, regardless of the actual position of the pitch adjustment slider.
SL-1210M3D is the same as the SL-1200M3D except with a matte black finish like the MK2, except for the voltage switch.
MK4 models
SL-1200MK4 (released in 1997) has a matte black finish like the MK2, and is only available for sale in Japan. This model is aimed at the hi-end audiophile market rather than for DJs. This is the last model made with the detent ("click") in the middle of the pitch adjustment slider. It has a third button added for 78 RPM located to the right of the 33 RPM and 45 RPM buttons. It is also designed to be used with regular removable RCA cables (along with a removable ground/earth cable) rather than having hard wired RCA cables like all the other 1200/1210 models. 
MK5 models
SL-1200MK5 (released in 1 November 2002) has a silver finish like the MK2, increases the range of anti-skate settings from 0–3 

grams-force

 

(0–30

 

mN

) to 0–6 grams-force (0–60 mN). Also has a white LED target light (previous versions only had a globe and burnt out over time). Current MK5 models have a removable lid with magnets as opposed to the MK2 and MK3 removable hinged lid.

SL-1210MK5 has a matte black finish like the MK2, and is exactly the same as the SL-1200MK5, aside from the voltage switch, like the other decks in the 1210 series.
SL-1200MK5G Similar to the SL-1210M5G.
SL-1210M5G (released in 1 November 2002) has a glossy piano-black finish with silver speckles, was a special 30th-anniversary edition. It was initially launched in Japan only (together with the MK5) but is now internationally available. The difference from the MK5 model is the ability to switch between ±8% and ±16% ranges for pitch adjustment, and the pitch control in this model is completely digital. It also features blue target lights and blue pitch-number illumination. The brake strength potentiometer, although still located beneath platter, can now be adjusted, unlike previous models, without the need for a screwdriver thanks to the addition of a small plastic knob. Minor improvements over Mk2, Mk3, Mk4, & 1200LTD also include improved tonearm mounting and oxygen-free copper wire being used for the signal, improved vibration damping in the body, improvements to the pitch control accuracy and better LEDs.  
MK6 models
SL-1200MK6-K & SL-1200MK6-S (released in February 2008 in Japan) with minor improvements including improved tonearm mounting and oxygen-free copper wire being used for the signal, improved vibration damping in the body, improvements to the pitch control accuracy and better LEDs. -S model has a silver finish like the MK2.
SL-1200MK6K1 is the same as the SL-1200MK6 except with a matte black finish like the MK2. Released in 12 December 2007 (in Japan) as a special 35th-anniversary edition, in a limitation of 1000 only.
Special models
These were limited edition versions, with 24 karat gold plated metal parts including tonearm and buttons.
SL-1200LTD (released in September 1995) wholly based on the MK3, it has a piano black gloss finish with gold speckles, and its production run was limited to 10,000 units only.    
SL-1200GLD (released in 2004), another limited edition model, with only 3,000 units manufactured. The GLD has a piano black gloss finish without the gold speckles of the LTD. It is based on the MK5G model, with blue (instead of the regular white) target lights.
Sultan Lounge & OMP Entertainment presents an evening with..
DERRICK CARTER (CLASSIC, USA)
Supported by Kuala Lumpur's finest house DJs :
SHAZAN Z, KAMIL LAYALI, ALAM
plus special guest OKI KORO (DigitalSix Soundsystem, Indonesia)
After a successful outing almost 2 years past, we have decided to bring back one of the pioneers of house music, the legendary DJ hailing from the 'Windy City' of Chicago – Derrick L. Carter.
One of the pinnacles of Chicago house music's '90s wave, Derrick Carter began DJ'ing at the age of nine, spinning disco records at family reunions. Born and raised in the western suburbs, Carter was into music from a young age, but during his teens Chicago's house scene sucked him in for good. Before long Carter became a strong presence in the city's underground dance scene. "When I got my driver's license at 16 my sneak ability was validated," he laughs. "I was a fierce bedroom jock for a long time. After you mix for the love of it for six or seven years, you get it pretty tight and you can take it on the road." He got by working at dance-music specialty stores like Gramaphone and gigging at parties. Later he landed regular DJ stints at Shelter, Foxy's, and Smart Bar. Though he doesn't spin much locally anymore, when he does he attracts large crowds. Most of the time he works in Europe, where he's become a minor celebrity among dance-music aficionados :
"Its hard not to laugh on the occaisions when you'll make 20 times what you make in Chicago on a Saturday night, but back home there are also times when you just do it for fun… So many people come up to me and say 'Man, I had the worst day, My girlfriend left me, I locked my keys in my car, but you turned it around for two hours, and that made me able to get up in the morning' That's the best thing going."
———————————————————————————————
So what are you waiting for? Mark that date on your calendar and head down to Sultan Lounge. A night not to be missed.
The eyes of the world have turned to the UK in recent years and have found some of the most exciting, genre-defying young artists to emerge from electronic music.
You can't talk about electronic music without mentioning Detroit. That's why in the second edition of Real Scenes, RA and Bench went to the city which birthed the genre we now call techno.
INTERVIEW: ERIC DUNCAN
The NYC based DJ Eric Duncan has enjoyed a rather unique life. Motivated by a spur-of-the-moment job opportunity that came up at the X-Large streetwear label for whom he used to work, he found himself transplanted to the East Coast from L.A. Within 24 hours he had secured his first DJ slot in Manhattan, and before long established himself as one of the city's most respected figures in underground music. He's known as an edits don – his Dolly Parton tweak is particulalry memorable – and a prolific remixer under his Dr Dunks moniker. In addition to this he's also part of two production duos (Still Going and Rub N' Tug), both of whom have albums due out this year. His passion for playing and producing has only increased as his reputation has blossomed, allowing him to reside and work out of a large Williamsburg loft space, tour the world whenever he feels the compulsion, and pursue original and remix work when the mood strikes.
Despite being part of the dance music circuit for two decades, Duncan approaches every project with the sort of enthusiasm and creative gusto you would normally expect to see in someone just starting out. Duncan is involved with too many projects to count and relentlessly picks up new ones, and an attempt at summarizing what's currently on his plate reads as follows: the long awaited Rub N' Tug's LP is out this year, as is the debut Still Going album; his edit labels C.O.M.B.i. and Keep It Cheap are continuing to pick up steam; his globetrotting DJing never relents and there are several back-burner collaborative side-projects, including an unnamed one with Justin Vandervolgen. Our man in New York Nik Mercer sat down for a chat with him on all this and more.
So let's start at the beginning, with growing up in L.A. Tell me about that.
Yeah, I grew up in L.A, and for as long as I can remember, there's always been music around me. And growing up there, you're always driving around, so you're also listening to the radio. I got to a certain age and started skating and hanging out with friends and got into hip-hop. And then it just slowly progressed. I got into soul and then some Latin stuff. That moved into dance music and then, yeah―here I am today.
Sort of a linear way to go through the genres.
Yeah. And also about what was underground at the time. Hip-hop was underground to me at the time [I first got into it], and as it moved out of the underground, it became less interesting to me… and I'd move on to something else that was more stimulating.
Do you identify with L.A. or is it just the place you were born and raised?
I mean, I grew up there, but I moved out to New York when I was 25, so I've spent 15 years here. It's getting to the point where I've spent almost half my life in both cities. I love L.A., but… I'm stuck here like Snake Plisskin.
I lived in L.A. for a few years and found that it's a little bit harder to find and dig up the cool and worthwhile stuff over there.
Well, the driving thing's tough because you can never really cut loose. You always have to drive home. Like, that's always in the back of your mind… "I gotta drive home so I can't completely lose it." Here, you can just jump in a cab and not even remember getting home. Although there were times in L.A. when I wouldn't remember getting home and I drove home. [Laughs] Maybe that has something to do with it. But L.A.'s good for a lot of other things―it's not necessarily just about the party thing. The lifestyle there is really nice. You got the beach and the mountains and plenty of space for larger apartments and houses.
So you moved here when you were 25―what prompted that?
Boredom. I was DJ'ing a little bit and working for this streetwear company called X-Large in L.A, and they were moving their [NYC] store from Avenue A over to Lafayette. So I was like, Oh, cool―I'll come over and help manage that. I already had a lot of friends in New York―I used to live with a friend in L.A. who was from New York, which led me to meet tons of friends [in NYC]. People I met through the street fashion thing and stuff like that… so it was a super easy transition for me. Like, I got here on Monday and started DJ'ing on Tuesday. I played at a hip-hop party and the owner liked what I was doing so gave me a regular night. That was at Spoon on Ave A, but its gone now.
That sounds so rare because I feel like it normally takes people, like, two years to fully acclimate to the city.
Yeah―like I was saying, I got here, my friends were waiting for me. We started going out and drinking that night, and then, the next day, I bumped into these guys I'd met, and they were like, Oh, we've got a party going on tonight if you wanna come DJ it. It was a hip-hop party, so I played a bunch of old hip-hop stuff and it was really good.
Where did you first live?
Little Italy. Mott Street, between Houston and Prince. Right next to the cemetery from Mean Streets―that was right out my bathroom window. Stayed there for a couple months, then I moved to Chelsea. I bounced around, like, every year. 14th Street, then Canal Street―a couple of apartments on Canal Street. And I finally moved to Brooklyn, like, four years ago. Gave in.
Taking it back a little, what got you into DJing?
Well, when I was young, my friend Paul Takahashi―who does the Sarcastic stuff with Harvey in L.A.―he had a DJ setup at his house. This was the mid-80s, when we were, like, 15. So he had the whole thing―records, lights. He lived in a two-story house, and his parents never came upstairs, so we'd just be up there all night, drinking and playing music. So DJ'ing was already something I was messing around with. A lot of my friends had soundsystems and they would play parties – it was always around me. Then I moved to Australia…
This was before you moved to New York?
Yeah, it was in '94. I started working at X-Large in early '92 and in '94, this guy, Steve Pavlovic, wanted to open up [an X-Large] store in Sydney, so I moved out with him to help out. He had tons of records. He was a rock promoter at the time, bringing over Nirvana and Beastie Boys and groups like that. So I was living with him and he didn't have a TV or anything, so it was just music, music, music. Then I met Mario Caldato, who came out and stayed with us for a couple of weeks. Mario taught me a bunch about music and turned me on to so much great stuff. Then I moved back to L.A. and bought a DJ setup. I still have the turntables from then! Got a mixer and started buying more and more and more records. Then I stayed in L.A. for another year or so and moved to New York.
What was the deal with Spoon?
We used to call it Ellis Island because on Tuesday nights, it was like every kid in New York was there. It'd get so crowded at the bar that half of Avenue A would be filled with people as well. Crazy, crazy scene with all the young kids coming into New York at the time.
Was DJ'ing something you wanted to do when you moved?
Well, I brought my turntables out, I brought my records out, but I was coming here to help X-Large move the store . So that was my priority, but I was also DJ'ing. I wound up playing four nights a week, six nights a week, seven nights a week, and I became less and less interested in getting up and going to work at the store. So I stopped working for them after six, seven months, and started DJ'ing full time.
"I was in the circuit of all these bars and clubs – months and months would go by where I'd play every single night"
That's not something people really do anymore, DJ six or seven nights a week.
I was in the circuit of all these bars and clubs, so, seriously, months and months would go by where I'd play every single night.
How does that happen? How do you get into that groove?
Well, ya know, you have a buddy, and you play somewhere, and you meet someone, and they have a place, and you play there, and you find yourself in a DJ circuit where you cover for people who can't play [certain nights]. You get your little residency somewhere and… that's it. And it was going like that for a while, but in '97, I went back to L.A. to see Paul, who was doing a clothing label called Sarcastic. He had a party called Wax and he brought Harvey out to L.A. for the first time for that. In order to draw people, he brought Thomas [Bullock] down because he was from Wicked in San Francisco. So Thomas opened up for Harvey, and that's when I met them. Thomas was like, Oh―I just moved out to New York, and I said I had too. So that's how we started hanging out. '98 was when we started DJ'ing together.
So what exactly was the way in which Rub N' Tug came together?
Well, a friend of ours, Rui Pereira, came across this loft on Canal St. that was a massage parlour. It had all these little rooms that would just fit a tiny bed and shelf for lotion or whatever.  Well, hang on―let's backtrack. Me and Thomas did a party for As Four, the fashion crew, at their Silver Cage, which they still have, down at Forsyth Street. We brought in a soundsystem and had this mad party that'll go down in history. Everyone was there, it was winter time so we had champagne on the fire escape, That was '98 or '99. Then, Rui [asked us to do a party at the massage parlour on 59 Canal]. It was so small, we had to set up the decks from the windows to the wall opposite. You had to crawl underneath to get behind them. And that's where we did the first Rub N' Tug party.  So we were doing it there for a while. We kept knocking down walls to make it slightly bigger and get more people in. Some of those parties would go until, like, 12 noon. I remember one where people were sleeping in the corner while others were still dancing or trying to have sex with guys who were passed out. And everyone you can think of from the whole underground New York scene was there. Lots of the up and comers of the time… That went on for a few years until Rui tragically overdosed and passed away and that was the end of that. So we went downstairs to the second floor and started doing them there. We did a couple there and that was cool, but, like, as all this was happening, 9/11 happened, and that made things a little weird. We were doing parties before and after… and it just sort of faded out a bit. It became harder and harder to find venues. We started doing them at Passerby―those were good, too―and it began to move around a lot more, we weren't just staying in one place.
When did you make the transition from RNT being a New York thing with Thomas into a travelling duo where you were doing mixes and whatnot?
Well, the first remix we did was for !!!. Justin Van Der Volgen asked us to do one for "Hello? Is This Thing On?" Justin got turned on to us when we did a party at Passerby and his other band, Out Hud, was opening up. Justin was there all night, bugging out. He came up to us and asked us to do the remix, and that became sort of popular. Then, a bunch of people got their hands on the Live At Rui's CD [we did for aNYthing], which came out in 2004, but featured stuff from the late 90s and early 2000s. (Coincidentally, we just released a new aNYthing mix, which was recorded at Sarcastic in L.A.) So we started getting hired for out-of-town gigs. I think the first one was in Berlin. Then we started getting more and more offers for remixes―Coldplay, Roxy Music, Zero 7, all these big label bands. The Fabric mix came around and then the one for Eskimo, which was, like, live at Passerby.
The first Rub N' Tug 12" came out last week. What's the story with that? You didn't start making your own original stuff until somewhat recently…
Well, we recorded an album two years ago. But no, we didn't [until then]. Well, we did something a long time ago that we might still put out, but yeah―we got caught in that remix vortex. Once you do one or two, it's, like, boom, boom, boom, one after the other, and you never have a chance to work on original material.
You recorded the full-length two years ago!?
Yeah, after the summer of 2008. We did it in a weird way… sort of in a jam style. We had [the musicians] play for, like, 40 minutes at a time. Then we took those eight 40-minute tracks and made actual tunes out of them. Took a long fuckin' time.
Who were the musicians?
Matt Sweeney, who plays with Bonnie "Prince" Billy and was in Chavez in the 90s. He's a great guitar player also his cousin Spencer is on the drums, Justin V. plays bass, Cornelius B. is on the mic, Pete Z. on keys… and an old buddy of mine Rene Lopez did some timbale and other percussion work.
Who's putting it out?
We don't know yet. The 12" we put out ourselves. My girlfriend Edda P. financed it. So we're just gonna do this basically to pay the studio back. Hopefully it'll kick up some dust and draw interest.
Well, let's talk about some of your other stuff. How'd you hook up with DJ Spun and Olivier Spencer?
Well, the first thing I did with Jason [Drummond, aka DJ Spun] was How & Why. "Cruising." Danny Wang plays keys and Steven Hall plays guitar and me and J. came up with the beat. I asked Steven to play, which was awesome since he brought that whole Loose Joints vibe into the song. The record didn't gain much notoriety, but we did a few edits, too… I think J.'s computer broke, and that was sort of the end of How & Why. [Laughs]. Liv engineered "Cruising." Liv was always [at recording sessions], so we became friends, and one day we were like, Let's do a cheap piano house track―it'll be great! And that's how "Still Going Theme" came to be. That night, I went over to the DFA Christmas party at Studio B, came up to James Murphy (who was DJ'ing then) and said, play this, play this, play this! DFA wound up putting it out.
You're going to put out a Still Going record soon, right?
We've already recorded a bunch of stuff and got a lot of different people to come in to play. There're still a few more elements we need to add―the vocals and stuff like that―but we're gonna start putting the songs together. I had this idea to just get a bunch of our friends together and play music to certain tempos. Me and Liv, our strength is with remixing, we do loads of remixes, and we can make good club tracks out of more regular music or not-so-good music. So I just figured, why not do that, but with our friends playing a bunch of cool stuff. So, we're past the point of recording most of the stuff… now we just need to make the record!
Is that coming out on DFA?
I dunno. We'll see. Leaving it open and trying to get it finished first. With the Rub N' Tug album dropping as well, we'll have two things out this year.
What's the C.O.M.B.i. thing?
That's just a thing between a lot of people. It started as sort of a joke and now we're at "O," the latest release. It's just edits and bootlegs. It's some Japanese guys who just want to keep things secret, like, "tell no one" sort of stuff.
"I love L.A, but New York is way more stimulating to me. L.A.'s got tons of stuff going on, too, but… I'm stuck here. And you can't leave New York once you get stuck"
It's such a weird world over there. The guys around right now, like KZA and the Mule Musiq dudes, they all sort of came out of nowhere.
Yeah, man, there's a whole crew out there. Loads of great, inspiring people in Japan. I love going out there.
And you also have the Keep It Cheap label…
Yeah, that's also kind of a joke. We've got a new one coming soon. Justin V.'s gonna be the guest editor on the flip. Hopefully he and I will do a little trip to Japan for that.
Out of curiosity, what's the story behind Dr. Dunks?
Ah, that's just an inside joke between me and a couple of friends. I basically needed an alias because I was doing a few bootlegs.
Have you ever run into any trouble with the bootlegs?
Nah, if you just do one run and keep your face and your name off it, you're fine.
Okay, to finish: What motivates you to keep doing all of this? You seem to always be working on something. You're on tour, you're working on Rub N' Tug's album, the Still Going LP… it never ends.
There's always a new sound, things are always ever-evolving. So I just wake up every day and am, like, Ah! I wanna do that! Or, some days, I wake up and am like, fuck―I just wanna order a pizza! [Laughs] If you just keep working with people you like and bringing in new folks to keep things fresh and fun and inspiring, it's easy. I don't put too much pressure on myself, either. I don't commit too much to things that aren't mine, either. With remixes, I'll tell people to send me the parts, and, if I can get somewhere with it, I'll do it.
Building Your Own Sound Machines
Do you like music? Do you appreciate toys? Have you always been fascinated by music machines? Well, if you answered yes to these questions then building your own synthesizers and audio effects devices may just be for you. Sure, it's daunting at first, but with a little practice and self teaching, a newsgroup or two, and a good portion of Youtube research you will be off and going in not time at all and making sounds along the way. This is the world of "DIY" also known as Do It Yourself. More specifically, this is the world of Synth DIY, also known unofficially as a group of nerds for the most part singing or fingertips on soldering irons and straining our eyes looking at tiny parts and sometimes nearly invisible circuit board traces. But you may ask yourself, "Why build when you can buy?". 
Well, there are many reasons to build these "toys", and as a result you end up with different levels of builders out there. Functionality, curiosity, necessity, and boredom cover this rowdy group of hobbyists from East to West. One might think the main group of people wanting these self-built music machines are solely musicians. This is known as a bad assumption. Many of us, myself included, do make music, but are also deeply interested in what makes the technology possible. These devices represent a puzzle or challenge in the way a video game may to someone else. I am a self professed "Geek" and have no problem with the term at all. I "geek out" all the time on different things. Sometimes it involves a new professionally manufactured piece of gear, and other times it involves schematics, breadboards and the practice of avoiding popping capacitors and burning wires from bad circuit decisions or too many empty beer bottles on the workbench. 
Another group that must be mentioned are the professionals. These are the hobbyists that actually design stuff instead of simply assembling kits or projects from the PCB level. These pro's are the elite in the Synth DIY world if you will. The top level folks would be Bob Moog, Don Buchla, Dave Smith, Tom Oberheim and other notable synthesizer manufacturers from the birth of modern synthesizers in the 60's to date. Modern designers such as Paul Schrieber, Juergen Haible, Grant Richter, John Blacet and Dieter Doepfer also design projects and sell them as kits or finished modules. As hobbyists, many of us look to these designers as modern philosophers and teachers of a dying art, analog synthesis. Digital recreations of classic analog circuits are seemingly taking over the world. They do sound similar, but in no way do they completely replace analog circuits. An example can be found in analog delays that use Bucket Brigade Device (BBD) chips. These chips died out, manufacturers stopped making them when digital took off. But a void was clearly left as analog delays became coveted studio possessions, and the sterile tone of analog simulation effects left many and ear in need of warmth and the presence of noise that we mistakenly think of as bad in the music studio. Noise is in fact a part of natural, daily life. We are comforted by it. Unless you go into a sound proof chamber you will not find a truly noiseless place on earth anywhere.
via Natural Rhythm
INDONESIA'S EBBY (MELTINGPOD) IS EAST END'S FEATURED ARTIST FOR JULY
Commercial foray on one side, personal idealism on the other and nothing in between, right? Not for Ebby (a.k.a Fabian Nusi).
After quitting a successful 12-year career in advertising to become a full-fledged DJ and independent artist, Ebby finally has proven that there can be a balance between the two sides. A voracious music collector since his teens, Ebby decided to become a underground DJ back in 2001, playing anything from jazz, soul and afro funk to house and broken beats, he has been spinning one open-minded set after another at fashionable venues like Immigrant, Shy Rooftop, Tabac, 365 EcoBar, Bibliotheque, Prego, Cinnabar, Circa, Balcony, Parc and Manna House; as well as prestigious events such as the Java Jazz Festival (2005, 2006, 2007, 2008 & 2009), JakJazz Festival (2007), Jazz Masa Kini, Jakarta Crossover Jazz Festival & Soundrise Dance Music Festival Bali 2009. Ebby has played along his favorite artists such Osunlade, Karizma, Alex Barck & Jurgen of Jazzanova, Jacques Renault,Benji B, Amp Fiddler, Toshio Matsuura, Masaya (jazzy Sport Japan), Cro Magnon, Koop Daz-I-Kue and Afronought (Bugz in the attic). His sets are always a musical reflection of what his soul captures from the crowd and the vibe that the place emits. Eclecticism is the key, as Ebby likes to blend all his influences when he builds his set.
This passion for eclecticism is not confined to only his music, but is rather inherent in his overall being – something that has defined his broader artistic impulses, and is testified by the fact that he can be found these days splitting his time between DJ-ing, creating street culture-inspired works of art, and independent graphic designing — all of which garnering much appreciation from connoisseurs of these three areas.
For Japan's Kaori Ozaki, AKA Lady Something Different, music has always been a major driving force in her life. A veteran of over 15 years, Kaori's inception into clubland could be traced back to the music she grew up with.
Weaned on classic soul, rare groove and jazz, Kaori got into the game the same way most DJs did back in the day — by moving up the ranks without cutting any corners. Being an avid fan of music and the clubs that played the stuff she was passionate about, it was only logical that she would one day move on from being a mere supporter of the music, to one who would champion and push it. Having grown interested with the art of mixing, Kaori set forth to learn it with the dedication that has only been matched by her love for the music itself. Fueled and influenced by the likes of Derrick Carter, Johnny Fiasco, Mark Grant, and DJ Heather — Kaori embraced what her heroes were doing and kept on practicing.
Fortunately, the considerable time she spent practicing to sharpen those DJ skills paid off. Initially invited to play at a one-off, all female, soul/rare groove night in Shibuya – Kaori as well as the people there that night realized that there was something so fun and natural about what she did, that there was an immediate clamor for her to do more nights. And as her profile shot up with all those gigs coming in left and right, so did her skills with the many other genres she was interested in. These skills were fully acknowledged when she took her act to Belgium, and landed 3rd place overall at a DJ competition she was invited to join at. She may be known to play house music, but if need be, she could easily play everything from funk,soul and jazz, to deep house and techno.
These days, aside from being a fixture in the Pan-Asian region – with gigs spanning countries such as Indonesia, Shanghai, Sydney and Bangkok – Kaori could be found in Tokyo playing at Datura in Solfa Nakameguro, as well as co-hosting a radio show on Shibuya-FM 78.4mhz (every 2nd monday of the month) Motherhood hasn't stopped her from rocking as well, and has since embraced it by teaming up with other DJ moms to give "Playground" – A sunday afternoon party for the whole family.
Is there still doubt as to what the monicker means? Lady Something Different indeed!
Sad day for dance music: RIP Kenny Hawkes, Darryl Pandy, David "Shizuo" Hammer
Nothing feels worse than waking up on a Saturday morning, checking your Twitter feed, and finding out that the dance-music community has lost yet another member. Or, in today's case, by awful coincidence, three: the British house DJ/producer Kenny Hawkes, Chicago house vocalist Darryl Pandy, and David Hammer, aka DHR'sShizuo, who were all separately reported to have passed away. The news followed just days after obituaries for Martin Rushent, an engineer and producer known for his work with The Stranglers, Buzzcocks, and The Human League.
Kenny Hawkes, whose death was reported by a news website in his hometown of Brighton, was known and loved by London clubbers for his residency (alongside Freaks & Luke Solomon) at Bar Rumba's midweek party Space, whose forward-thinking programming emphasized deep crates and adventurous selectors, and served as a model for house-music culture at its most dynamic. His influence in the UK's dance-music scene was even greater thanks to his role directing Girls FM, a pirate radio station with a wide, committed listenership. (A 1995 set from Hawkes has been archived on SoundCloud here and here.) Hawkes was also a formidable producer in his own right, recording for labels like Slip 'n' Slide, Paper Recordings, Solomon's MFF (Music For Freaks), Brique Rouge, 2020Vision, and Rekids.
Darryl Pandy was a Chicago, IL area singer who has been credited for helping bring house music to a much wider audience. Known for his six-octave voice, Pandy sang lead on Farley Jackmaster Funk's 1986 cover of Isaac Hayes', "Love Can't Turn Around," the first house record to chart on the UK singles chart.  When it was re-released in 1996, it again charted in the UK, making it one of the few singles to to hit the Top 40 there twice.  Farley and Pandy released other singles together as well, including "Free Man" and "He's My Best Friend."  Pandy recorded numerous other records away from Pandy as well.  Darryl Pandy passed away following a long illness on June 10, 2011.  Cause of death was not immediately released.
Darryl Pandy
DOB Unknown – June 10, 2010
Finally, Foxy Digitalis reported the death of David "Shizuo" Hammer, citing Facebook posts by Cobra Killer and Hanin Elias. Hammer worked as an engineer for Atari Teenage Riot before releasing his own music under the Shizuo alias; his 1997 debut album, Shizuo vs. Shizor, was released in Europe on Digital Hardcore Recordings and picked up by the Beastie Boys' Grand Royal label. His Plunderphonic cut-ups and savage drum programming pushed his music to the forefront of the breakcore movement's avant-garde.
Our thoughts and condolences go out to all three artists' family and friends.
RAYMOND MARIO releases!
RAYMOND MARIO – MODERN MAN EP (Exclusive TRAXSOURCE – WE ARE HOUSE)
Artist: Raymond Mario
Cat no.: VBR0006
Release date: MAR/30/2011
Tracklist
1.Eternal Love
2.Modern Man 
3.Mystical Trip 
Written and Produced by Raymond Mario for Vibe Boutique Records.Copyright Control/2011.
Executive Production:
Brigetta Dunson & Alessandro Oliviero / VBR
TEENAGE DREAM EP DEEP NOTA (BROOKLYN, NY)
Tracklist
01. Raymond Mario - Ravel Yell [Original]
02. Raymond Mario - Teenage Dream [Original]
03. Raymond Mario - Extraordinary Man [Original]

NOMINATIONS FOR DIGITALSIX
DIGITALSIX as DJ SCHOOL OF THE YEAR in 2008 & 2010 at REDMA
OKI KORO as HOUSE DJ OF THE YEAR 2009 & 2010 / RESIDENT DJ OF THE YEAR 2010 (IMMIGRANT)
OKI KORO as RESIDENT DJ OF THE YEAR 2010 (IMMIGRANT) at PARANOIA / FREE MAGAZINE
DIGITALSIX RADIO SHOW ON HOMSES.NET
We had a pretty good run with a radio show on homses.net featuring our very own talents and guests such as Ebby and Anto Polski from the Melting Pod crew. When homses.net went idle, due to their web page reconstruction, all shows went idle with it. This went on for quite a while and unfortunately, we had to put our focus on other things viable and decided put our show on hold as they relaunched their new site. Plans of getting the show back on air is definitely on our list, hopefully in the near future as this show was a very nice platform for us to play b-sides and sounds we normally don't get a chance to drop in the venues. Be sure to check out their weekly shows featuring the best local Jocks, as our talents are frequently invited as guests as well. www.homses.net
DIMITRI FROM PARIS GETS DOWN WITH THE PHILLY SOUND.
The French DJ has curated yet another compilation for BBE, this time focusing on vintage Philly disco. Dimitri From Paris will release his fifth compilation for BBE in May, entitled Get Down With The Philly Sound.
This particular selection focuses on the Philadelphia disco sound that was so successful throughout the '70s, and paved the way for disco fever to spread across the United States. Most of the Philly disco material was actually recorded by a single set of players and producers (including Trammps founder Earl Young, Salsoul Orchestra originator Vince Montana, Norman Harris and TJ Tindall amongst others), whose signature sound of silky strings, propulsive bass and a pumping four-to-the-floor beat, eclipsed the popularity of Motown by 1975. Producers Gamble & Huff have now opened up their archive of multi-track tapes for the first time to an external label, giving Dimitri the chance to work his magic in a more sophisticated way than usual.
The main double CD package will be limited to 10,000 copies, with the first disc containing the original versions of classic tracks such as Harold Melvin & The Blue Notes' "The Love I Lost," Carl Bean's "I Was Born This Way," and The Trammps' "The Night The Lights Went Out," with the second used to showcase nine of Dimitri's extended edits. Current plans are also to release four additional 12-inch samplers, with the first three containing Dimitri's edits (with three cuts exclusive to the vinyl), and the fourth set to include exclusive new re-rubs by original disco edit kings Tom Moulton, John Morales and Francois Kevorkian.
Tracklist
CD1:
01. Teddy Pendergrass – You Can't Hide From Yourself
02. Eddie Kendricks – He's A Friend
03. Philly Devotions – Hurt So Bad
04. Harold Melvin & The Blue Notes – Bad Luck pt. 1 & 2
05. The Jacksons – Living Together
06. Harold Melvin & The Blue Notes – Tell The World How I Feel About 'Cha Baby
07. John Davis & The Monster Orchestra – Night and Day
08. Carl Bean – I Was Born This Way
09. The Trammps – The Night The Lights Went Out
10. Harold Melvin & The Blue Notes – The Love I Lost
11. Charles Mann – Do It Again
12. Teddy Pendergrass – The More I Get, The More I Want
13. T.J.M. – I Don't Need No Music
CD2:
01. Harold Melvin & The Blue Notes – The Love I Lost (Dimitri from Paris Super Disco Blend)
02. Philly Devotions – Hurt So Bad (Dimitri from Paris Super Disco Blend)
03. The Jacksons – Living Together (a Dimitri from Paris Disco Re-Edit)
04. Harold Melvin & The Blue Notes – Bad Luck (a Dimitri from Paris Disco Re-Edit)
05. Teddy Pendergrass – The More I Get, The More I Want (Dimitri from Paris Super Disco Blend)
06. Harold Melvin & The Blue Notes – Tell The World How I Feel About 'Cha Baby (a DfP Disco Re-Edit)
07. Teddy Pendergrass – You Can't Hide From Yourself (Dimitri from Paris Super Disco Blend)
08. Eddie Kendricks – He's A Friend (Dimitri from Paris Super Disco Blend)
09. The Trammps – The Night The Lights Went Out (a Dimitri from Paris Disco Re-Edit)
Check out the video here!
BBE will release the CD edition of Get Down With The Philly Sound on May 17th, 2010.
MIX OF THE DAY: KENNY DOPE SOUL TRIPPIN'
"Don't send me electrohouse & minimal shit!!!))) This kind of stuff is dead now and was always ass stuff! And please don't share with me your dj set's or i will stop follow you. Only 320kbp mp3 or better wav or aiff. If i can't download then don't wait for my feedback. You think i have time check 1000 tracks each day?"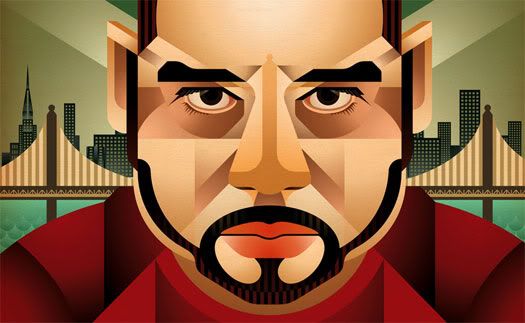 Kenny Dope has discovered SoundCloud and SoundCloud will never be the same. There was an old account there (soundcloud.com/kennydope) which greeted would-be Ableton Masturbators with that note. I have no idea if that was an imposter or what, but the account no longer works and the notice is gone from this new account, soundcloud.com/kenny-dope . Whoever wrote it, man do I sympathize… Anyway! Kenny Dope has been uploading short (less than 1 hour) mixes, each with a certain theme, and if you're up for an Ice Cube drop at the top, this soul-infused classic set, "Soul Trippin'" is hard to beat.
MIX OF THE DAY: ULTRA NATE
Should be pretty clear to you by now that I love Ultra Nate. She's certainly on anyone's shortlist of great House Music divas. She's been through the mainstream wringer and the underground too.
As an artist, her career ought to be taught in those Discovery Center management classes as a blueprint – nobody, ever, has done it better (and is and is still doing it, in fields like promotions in that many artists of her stature deign as not worth their time). She's worked with some of the greatest production teams in House Music history and her body of work is second to none. And I can say as an editor, she gives great interview.
And she's also become a fantastic DJ. Her mix for 5 Magazine is one of the most popular we've ever done – partly, no doubt, from people with a skeptical eye checking out her chops but also because it's really fucking good. People have a right to be jaded, too – there have been more "celebrities" sullying the name of DJing than ever, but the proof is in the mix.
Ultra maintains a podcast at podomatic.com - their players are ugly and that site is seriously a mess, so let's see if we can't spread the love over here. This is episode 6 - you can download the MP3 over there.
BLACKCOFFEE SA'S MALE ARTIST OF THE YEAR
Nathi Maphumulo, better known by those in the know as Blackcoffee, was named Male Artist of the Year in last weekend's South African Music Awards for his stunning 12 track album Home Brewed.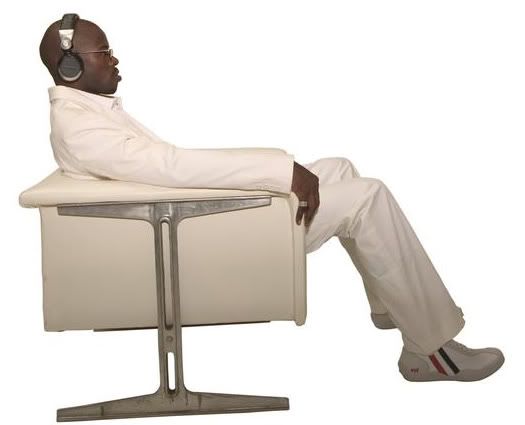 It may seem strange to people in the rest of the world that a House Music producer would have this kind of name-cred, but, yeah, as I've said before, House Music is hot in South Africa. But more than that, Blackcoffee's creations are tinged with local flavor as well as part of the global House sound. Elsewhere, local distinctions seem to be dissolving, probably on account of the Internet (when was the last time you heard something like the "West Coast sound" – and the record actually came from the West Coast?), but South Africa's new jacks have managed to adapt this music to their own time and place. What's that they say? Think global, act local. It's that gorgeous authenticity that makes their music sell here, for sure.
Oddly, Blackcoffee is currently midway through his long-awaited tour of the United States – tonight he'll be appearing at Boom Boom Room in Chicago, as fate would have it. And naturally 5 Magazine will be taking a few minutes of his time for an interview.
Photo via Blackcoffee's myspace. Pick up a copy of this gorgeous album here. 
courtesy of HouseMusicDaily
ULTRA CHIC: ULTRA NATE RELOADED
Any reporter could interview Ultra Naté every week – or every day – and walk away with a great story. The legendary dance music diva doesn't just have the personal charm and irresistible magnetism of a Hollywood star, but the wisdom of nearly two decades of experience in the mess that we call "the music business" to fall back on. 
But even for someone that closely follows her career, Ultra's hard to keep up with. After releasing her acclaimed 2007 album Grime, Silk and Thunder on her Blufire label in partnership with Tommy Boy's Silver Label, Ultra's launched a new imprint, Deep Sugar. She's going into overdrive with releases by a stable of singers including Jada (known for her Code Red releases "Love Is (Love Breeze)" and "If You Should Ever Be Lonely" with DJ Spen and Ultra) and dance industry powerhouse Sybil (vocalist on the 1993 classic "The Love I Lost" by Harold Melvin & the Bluenotes), with more to come.
In addition, Ultra's "Deep Sugar" party has hit the bigtime, attracting audiences from all over the Eastern seaboard that trek down to Baltimore once per month to hear Ultra with the likes of guest DJs Quentin Harris and Terry Hunter. And her name once again appeared on top of the heap as a performer with the unexpected hit "Twisted" with Louie Vega, which didn't even appear on Grime, Silk and Thunder but nevertheless became a dancefloor sensation in the first half of 2008.
And if being a label owner, performer, promoter and touring artist wasn't enough, Ultra Naté is also stepping out as a DJ with the one year anniversary of her residency on France's Radio FG and a mix CD included in the double CD package Alchemy: GST Reloaded, which includes remixes by Kenny Dope, Craig C., Quentin Harris, DJ Spen, Ron Carroll, Thommy Davis of the Basement Boys and more. It shouldn't surprise anyone that there's no resting on her laurels here: despite her name being a top draw, Ultra Naté takes mixing seriously, and you can check out her chops in a new mix posted on 5chicago.com in August as well.
I caught up with the wonderful Ms. Ultra in July, armed with a press release and what I thought was a good idea of what she was up to. And even I was surprised at everything that she has going on…
When we talked a little more than a year ago, you mentioned a number of singers you were signing to your label and working with. Is this the first release?

Yes! It's out digitally now and we're waiting on the vinyl which should be arriving any day now. It's by Sybil, called "Shining Star". This is the first official release for my new label, Deep Sugar.

How did you meet Sybil?

I've known Sybil for as long as I can remember – it's one of those things that come from being in the business for such a long time. I was a fan of her music way back in the day. I'm not sure what year we stumbled on each other – I just remember it always being that way. I'm sure there was one day that we met and just said, "Oh my God, I love you and you're such a wonderful person!" But we've been friends for a long time, and obviously fans of each other's work and music as well.

Who's the producer on "Shining Star"?

The producer is actually from Baltimore. His sound is known but his name isn't out there yet. He's been under the Basement Boys umbrella and the Jasper Street Company umbrella under DJ Spen. His name is Fruity, and he's been working with them for a long time. But this is his first official production under his own name.

I want to ask about "Twisted". I mentioned a single you had coming out on Silver Label to Wayne Williams last November, but he was all about this track. It just came out of nowhere to become a huge hit this year.

Yeah, we like that! [laughs] "Twisted" is one of those songs that's been an underground hit but also an "overground" hit. A lot of people who are not necessarily Househeads – in the neo-soul scene and other scenes both here and abroad – gave it a lot of play as well.

"Twisted" was kind of unforeseen. I had the release party for my album Grime, Silk and Thunder at Cielo for Roots, which is Louie Vega and Kevin Hedge's night. I performed a whole bunch of material from my four – now five – previous albums. I performed "Twisted" and Louie fell in love with it all over again. He came up with a new idea for it and worked with my old vocals and sent it to me. I really liked it, so we re-did it and let the chips fall where they may.

Now the Grime, Silk and Thunder album had already come out – that was the album release party for it, remember – so it was too late to put "Twisted" on there. But I'm putting out a new album called Alchemy: GST Reloaded and it's on there. It's a double-CD album with the commercial remixes from Grime, Silk and Thunder backed with CD #2, which is a DJ mix done by myself called The Sugar Sessions.

Wow, you're really stepping out as a DJ now!

Yeah, I am! Alchemy is coming out in August and I'm really excited by it. There's a lot of material that people haven't heard yet, with songs that we were thinking about putting out as singles but didn't, or songs that did come out as singles but didn't have all of the remixes. We put together a real, real dope package. It's on my label, Blufire, in partnership with Tommy Boy's Silver Label.

Let's talk about the Sugar parties for a second. I saw some bit of internet gossip that they had ended and then been reborn as "Deep Sugar" at a different spot in Baltimore.

The Sugar parties ended because I wanted to leave the venue where we'd been for the last four and a half years. I felt the venue was too small and we'd kind of outgrown it. I wanted to return to the Paradox – there's lots of room, there's great sound and really great lighting. The owner, Wayne Davis, really wanted to bring our music back to the club. This music is what he started with back in the day, but they kind of veered off to the left over time as the music and the scene changed a lot. Our effort as a team to reinvigorate and revitalize the scene here in Baltimore has really paid off.

The venue is really, really important to me. There have been parties that have been continuing for years now, on the smaller tip or in venues that are really restaurants, where they kick back the tables after everyone finishes eating, or in bars that have a DJ booth – a lot of makeshift stuff but not a place that's like a home for our genre of music.

You know, you're not alone in feeling that way. That's happening in other cities as well.

I'm so over the whole "Martini House" thing! [laughs] That's not where I came from. It's cute, but it's just cute – you don't come away from it feeling gratified or anything like that.People who have gotten into the music in recent years have been kind of cheated because they don't know that power and passion that you can experience in a venue where this music and this scene was intended to be played, like the Warehouse in Chicago or the Paradise Garage or the Loft or Shelter or any of those kind of places.

So I wanted to go back to a place that would return our music to where it should be. We re-started in June as Deep Sugar at the Paradox, going monthly every second Saturday. In July we brought Terry Hunter from Chicago as our guest DJ along with myself and Thommy Davis from the Basement Boys.

You started out with the Basement Boys – you're still close to them?

Oh yeah! Those are my big brothers, and I hope that will never change. We're still family and I couldn't be where I am today without those experiences and those emotions driving me. They'll be an integral part of me no matter where I go.

You mentioned your radio show earlier. Someone's actually playing House Music on terrestrial radio and not an internet station?

Yes, it's actually on the radio! It plays in France and all French-speaking territories, and I've been a resident DJ on there since last summer. My spot is every Sunday night at 9pm French time, so wherever you are, you just need to backtrack – that'd be Sunday at 3pm on the East Coast or 2pm for you in Chicago. It's an hour-long show called Radio FG. They stream it on the internet as well, so you can go to radiofg.com and hear it every week.

When we talked last year, there was still a lot of buzz about you DJing at the Winter Music Conference in 2007. Are you gigging now as both a DJ and a performer?

I do gigs where I may just be singing or may just be DJing or I may be doing both.

I'm sure there are DJs in certain cities that will sit back with their arms folded and wait to hear you – probably more than they would with any other out-of-town DJ.

Oh, I'm sure there are because of my name. But I've been doing this now for five years, since Sugar began.You know, I grew up in DJ culture, and I grew up with really great DJs and I listened to what they played and how they played it. This goes all the way back to when I was just a club kid dancing around on the dancefloor. I have an understanding of that relationship with good music and programming and how music should sound both technically and emotionally. It translates from one to the other.

As an artist, it's not that difficult for me because you know what you like and what you get a response from and you can understand from that how to program for the dancefloor. The tough part as an artist is learning the technical skills that go along with it. That's a matter of practice.

I'm sure there are people who will have their arms folded, waiting to see, and that's fine. I've never been terribly worried about people who are overly critical. It's a question of, "Are you a DJ because you play out and put yourself into a position for people to critique you?" If you play music and you're into it, that's what DJing is really about to me.

I got into the music business because I was adventurous and experimental – I wasn't a trained vocalist or an expert songwriter or had any training of any sort before I went into the Basement Boys studio and wrote "It's Over Now". That's how I've always approached everything I've done in the music business. Whether it's up front or behind the scenes, I approach everything I do with the spirit of adventure and with no fear of making a mistake, because that's where the real lessons are learned. Fear is what holds people back more than anything – people are afraid of making a mistake or making a fool of themselves or hearing what people will say. That's never been my hang-up.

So if I trainwreck, which doesn't happen often… [laughs] It'll at least be a trainwreck between mixing two really great records by François K. That's been my attitude and it will never change.

I think it's because of the celebrity culture in dance music – there are a few people we can probably name who made their career as performing artists, and then switched to DJing when their stars dimmed a bit. And that's great, but some of them don't attempt to be GOOD DJs or learn any of the technical know-how – they're just banking on their name.

See, that's just unacceptable. If you're going to do it, you really need to bring it! When you're coming from a place when you've excelled in something else, some folks are naturally going to hear news that you're branching out into something else with a bit of skepticism. I'm not going to do something where I'm just using my status in the community as the get-over, because that's unacceptable to me. That's a lot of stuff you have going on! Let's recap here all of the releases that you have coming up.
"Shining Star" by Sybil is out now on Traxsource, Beatport, all of the download sites. We also have a track by Jada called "Beautiful" produced by DJ Spinna. We're in the process of getting the remixes together and I'm forecasting a release of that in early September. And Alchemy: ST Reloaded will be out mid-August.It's been an interesting year so far, for my own projects, for the new label, my radio show and all of these collaborations with singers and producers – there are a lot of irons in the fire!
Ultra Naté is online at myspace.com/ultranatemusic and at ultranate.com. For booking information, check out peacebisquit.com. Ultra Naté's radio show can be heard on radiofg.com (and on radio in France). And keep your eyes peeled for Alchemy: GST Reloaded, Sybil's "Shining Star" and more!
EXCLUSIVE INTERVIEW: DJ STACY KIDD.

 
Stacy Kidd is a "House" hold name, but he is not done reinventing himself yet. Welcome the Soul Element!
BY DJ 1
Stacy Kidd is an established name in the Chicago House scene and beyond. During his 20-plus year career, he has released five full-length albums and produced, remixed, and dropped more tracks than one can count. He has worked side by side with living legends of the House scene and beyond, and is continuously on the road.

Most people reaching such a point in their career would simply keep doing what they are doing, but not Kidd, he's actually reinventing himself. His latest chart topper 'How Bad I Want Ya' featuring Peven Everett on vocals was released under the name Soul Element, his new production name.

We had the good fortune of catching up with Stacy Kidd recently for a quick one on one session and asked him about the new moniker. With Soul Element, Kidd's aim is to help his fans better distinguish his various styles. Well, we'll let him tell it, but don't worry, the tight production you've come to expect from him, is still there.
1200Dreams: Before we get into how you are reinventing yourself, let's talk about the beginning. Legend has it that you started DJing with two tape decks!
Stacy Kidd: Sure, and yes I started with the duo-tape deck radio, recording mixes off the radio and then playing them together to match the beats. Those was the days.
1200Dreams:Tell us about the first House song you ever heard. What were you up to personally and professionally?
Stacy Kidd: Well the first House song I heard was 'Jack Your Body' by Stevie Silk Hurley that really got me to want to do House Music. Before then I was doing Hip Hop and back then it was when slow songs were played at the parties. But that track made me want to get into House.
1200Dreams: Was that the song or experience that really opened your mind up to the whole scene, making it clear to you that you wanted to be a DJ or producer?

Stacy Kidd: I was DJing all styles of music for a while before I locked in just on House, and that day my whole career made a turn to the better.
1200Dreams: Did you play any instruments before you discovered the turntable? Did you completely abandon them once you did? 

Stacy Kidd: I couldn't play anything before I start on the turntables, I made myself learn how to play keys after I got into production back in 1990.
1200Dreams: Now, we are called 1200Dreams for a reason, so I have to ask, what was your first experience with the Technics 1200's? What is your opinion of them? Do you still have a set?

Stacy Kidd: Man, I love the 12's and yes I still have mines and will never give them up.

1200Dreams: The business of DJing has changed a lot since you first began from exposure of artists to the technology itself. What would you say is the biggest change for you personally?
Stacy Kidd: Well, first it changed when they put the hammer down on raves, those was the fun days, and then it changed when everything went digital, but it's still great to me. I feel if you keep putting out good music things will never fade, because music will never die, no matter what changes.

1200Dreams: Vinyl, CD, Digital (Serato, Traktor, etc), or a combination – what's your method?

Stacy Kidd: CD's & Vinyl.

1200Dreams: You are constantly working, putting out your own productions or appearing on others', what motivates you, how do you keep everything fresh?

Stacy Kidd: I stay motivated because of the love of the music, and then the fans that I always get fan mail from keep me going also. There's nothing greater than doing a show and all the fans come out to enjoy your music.

1200Dreams: You've been working a lot with Peven Everett lately, he is an enigmatic figure and undoubtedly establishing himself as one of the most talented singer/songwriters in the House scene. How did you two meet and come to work together?

Stacy Kidd: I went to school with Peven & we grew up in the same neighborhood, we just reconnected after all the things he been doing and all the things I've been doing, and finally had a chance to hook up and do some music together.

1200Dreams: So, 20 plus years in the game, countless singles, on just as many labels, you are an established name, why reinvent yourself as Soul Element? 

Stacy Kidd: Well I wouldn't say 20 years (he laughs). It's been 16 years professionally, but I have been DJing for 21 years. And the reason why I use Soul Element now, is only for my Soulful & Deep House productions.
I've noticed over the years that with my real name Stacy Kidd, I've produced, Soulful, Funky, Jackin, Deep, Hip House, Jazzy, Hard & Gospel House. By doing that, when I get booked to DJ in a city I draw all the fans of the Stacy Kidd style, but I was booked to play maybe Funky/Jackin House and I get some of my Soulful/deep fans that come thinking they are going to hear that style. Same goes when I'm booked to play Soulful/deep and I get the fans that come wanting to hear Funky/Jackin House. So at times I've disappointed some fans that came to see me. So, I said I'm going to stop that, and now I use Soul Element for my Soulful, Gospel, Deep, Tribal House Music and use Stacy Kidd for my Jackin, Funky, Jazzy House Music. Now, no one can get mixed up when they see the names, they will know what to expect.

1200Dreams: So you will continue to release productions as Stacy Kidd? What can we expect from Soul Element in the New Year?

Stacy Kidd: Yes I will still release under Stacy Kidd & Soul Element. Soul Element for Soulful, Deep, Tribal, Gospel House and Stacy Kidd for Jackin, Funky, Jazzy, Hard House, Hip House.

1200Dreams: So, what can we expect from Stacy Kidd and Soul Element in the new year? 

Stacy Kidd: I have new Soul Element productions coming soon, feat. Peven Everett, Matthew Yates, Stephanie Cooke & Dajae. New Stacy Kidd Productions also with Defected Records & a Daft Punk remix coming soon.

1200Dreams: What advice do you have for the new breed of DJs out there trying to get into the game?

Stacy Kidd: Always love what you do and do what you love and never give up. Even if labels turn you down, or clubs don't let you play or promoters don't give you a chance, still go, because, I was that same guy at first in my career. Also, House 4 Life!!!
Make sure to cop the latest from Stacy Kidd and Soul Elements on Traxsource.
Soul Element featuring Peven Everett "How Bad I Want Ya" This track hit the #1 single and #1 on the top download list November 19, 2010 on on Traxsource

New Release 12/21/10:
Soul Element feat. Peven Everett & Maurice Joshua "Groove Thang"
Source: 1200dreams
J-BOOGIE X SANDISK PRESENTS.. WAKE UP YOUR PHONE
Another epic musical adventure from the renowned J-Boogie. Heavily saturated with past, present, and future sounds of soul, he takes you on a journey into hip-hop with a bird's eye view. J-Boogie's natural navigational skills through the universal language of music are un-paralleled, and showcased beautifully in this gravity defying mix. Let J-Boogie beam you up and enjoy your auditory ride through time and space on the hip-hop tip!
CLICK HERE TO DOWNLOAD  http://www.wakeupyourphone.com/en-us/music/#/en-us/music
SanDisk Corporation, the global leader in flash memory cards, has teamed up with indie label Om Records to release a 26-track mix from J-Boogie, as well as five tracks from dubstep giant Bassnectar. You can download the track from SanDisk's interactive site dedicated to the program at WakeUpYourPhone.com for free. The program was designed and executed by Flavor Group, a San Francisco-based leading creative agency.
San Francisco resident and world-renowned DJ/producer J-Boogie has continued to challenge the boundaries of the music world across genres, styles, languages and borders throughout his 15-year career. This truly unique artist speaks to his listeners through a diverse musical language that he has created, integrating various techniques and musical genres including dub, soul, hip-hop, reggae, funk, Latin, afro-beat, bhangra, dancehall, disco, electro and house. Constantly revolutionizing the game, creating new sounds, and always keeping fans on their feet, J-boogie has and continues to lift music to its full potential through his distinct approach and one of a kind style.
source: RA
NEON HITCH USED DEADMAU5 TRACK WITHOUT HIS PERMISSION IN "I CAN'T BEHAVE MYSELF" SONG
Neon Hitch released a song called "I Can't Behave Myself" that featured an instrumental track called "Seeya Next Tuesday" by a popular electronic artist Deadmau5.
"Deadmau5 comments:
"and were back! and here i am… telling it how it is. ive been hearing alot about this Neon Hitch track… so i looked into it… holy shit. what do you know… its actually Seeya Next Tuesday. now ask me if i ever asked them to write / "sing" on it…. yeah… no.  i didnt.
in fact, ill do you one better… a few months back we had this guy working with my management company… and i gave him a shitload of old tracks just to send out to writers and whatnot… and seek out possible collabs with other artists.. you know… basically keeping it internal… and just putting feelers out to see if i could vibe off anything.. and part of those MP3s i sent out, was my old (vocal-less) Seeya Next Tuesday….  so, someone obviously over at their camp, or EMI's camp obviously felt liberal enough to say to Neon Hitch "HELL FUCK YEAH, WRITE A FUCKING WICKED CHEESY POPPY VOCAL TRACK OVER THIS.. WHO GIVES A FUCK WHAT THAT DEADMAU5 GUY SAYS."
but i think im just pissed off because, look at all this shit really…  hitch just got probably 25,000 new views (to be super conservative) … rusko got what? 10,000+ twitter followers the following week of that epic cry fest…. shit.
sucks that im now in this kinda almost-mainstream level marketplace where bitchathons like this actually counted for publicity, whereas the actualy music in question is almost completely thrown out of the equation.
take me back to the faxing berlin-ish days, where i was sitting in a basement  apartment writing tracks and the most drama i would usually encounter was about some local DJ who talked copious amount of shit which may have reached a grand total of 4 people, and then that was the end of that.
now it seems we have this crazy multimillion audience who propel this shit around the universe and back again for years…
excuse me for speaking up about it and all that… but really? fuck… is this what becoming jaded actually feels like? … well as long as i can still sit here and be open about it… i'm perfectly fine… because i know meowingtons doesnt give a fuck about ANY of it…. just as long as something bumping out of the speakers and he's got food in his dish.
probably doesnt help that im bitching about it either… but if it gives neon hitch another 30,000 profile views… then i guess i contributed to the music industry after all.
then… at least im contributing to something… right?"
A MESSAGE TO DJS AND PRODUCERS WHO HAVE BEEN IN THIS GAME A LITTLE TOO LONG
You know that awkward kid who greets you with indefatigable enthusiasm and hopes for even a nod of recognition? The one who knows your achievements, who can recite every song in your discography, who sweats you a little too much? He treats you like a God and you can only shake your head in dismissal at what a lame he is. Well that kid is our future. And he's going to kick your ass one day and leave you in the dust.
Many times you get inundated by lots of budding producers with plentiful material, some not quite ready for the masses and yet they push on hoping for a review, a well-named DJ to play it or even for a handful of positive comments on their Soundcloud page. As an editor it can get a little overwhelming and tiresome dealing with these extras in the midst of a heavy workload of interviews, meetings and the general running of day to day life. Personal emails and multiple Facebook inbox messages implore you to critique their new track, and lord knows how many god-awful promos sit in your inbox!
But in the past week something changed the way I look at things. I was in the presence of a number of well-known DJs, producers and artists of yesteryear who are still living in the glory of their past. They were old (in spirit), bitter and still expecting the same accolades and treatment as if we were inhabiting a time machine. Well I have news for you. In the past 15 years that you have masturbated to your past, the world of House music has moved on every single second-minute-hour-day-week in all those years that you have sat on that ass that you're expecting everybody to kiss! Do we respect you? Yes. Do we recognize all the hard word you had put in and the groundwork you have laid out for future generations? Absolutely! But like grandpa in the rocking chair remembering the good old days, belittling the new generation is not very becoming.
These talents are just as hungry as you were, made the same mistakes you did and are carving out a path towards unique artistry for their future generations to look upon. And you know what? These kids are on their shit. They handle their business like true professionals and take nothing for granted. Guaranteed, a lot of them are going to be moving up in the game, getting charted, getting gigs overseas, getting distribution and making a name for themselves. There are too many entitled people that have been in the game for too long, and the number of years you've been in it doesn't guarantee you SHIT. So stop knocking the new guys down and lift them up instead. Encourage them, help them, say something nice. For 2011 let's friggin' help one another so we can all move up. Otherwise you can sit back down in your rocking chair and watch the kids pass you by.
by Czarina, Editor In Chief of 5magz http://5chicago.com
MIX OF THE DAY: PURPLE MUSIC PODCAST WITH ALFRED AZZETTO
Jamie Lewis and Manuela don't just have good music on catalog, but are releasing some of the dopest cuts at a pace that approaches a frenzy. By time time I get one review for a hot track in print, a second is already climbing the charts. It's sort of humbling when your ears can't keep up with a label's quality releases.
They're also doing a few things that other labels should keep an eye on. For instance, their one year "promo club" membership - receiving advance promos for really the cost of about one release a month, from a label that's dropping good tunes damn near every week – is an interesting proposition for a label that has many hardcore fans. I have no idea if these things are monetarily successful but they certainly bear interest for labels struggling to survive in today's market (which is, really, just about everyone).
They're also releasing podcasts – again, pretty close to weekly – featuring not just Jamie but also some of the frequent flyers on the Purple family of labels. The latter fact is, I think, the key point here, as by promoting artists that present the "Purple Music sound", they've been spreading like wildfire (and leveraging Purple's considerable PR talents doesn't hurt for the artist either. Witness this article.) This one from Alfred Azzetto hit me in just the right spot. Lego actually tipped me off about this guy something like a year ago, and everything I've heard from him since then confirms the confidence he had.
It's not embeddable so you can listen and get the playlist on Purple Music's podcast page (and I think you're gonna want to get the names of a few of these tunes). Enjoy.
VINYLRECORDER T560: CUT YOUR OWN VINYL RECORDS
Fritz and Ulrich Sourisseau are self-proclaimed vinyl-cutting aficionados, based in southern Germany. Their latest venture is the development of a contraption that fits on to a Technics 1200 or 1210 MkII (as 'industry standard' as things get in DJing circles), and enables the user to cut their own vinyl discs. 
The VinylRecorder T560, as it's called, looks a little like something from the Frankenstein's drawing board, but is in fact a custom-made, hand-built and incredibly complex device. The vinyl-cutting process requires a heated stylus, an RIAA frequency-curve encoder, a miniature vacuum-cleaner, various motors as well and numerous other precision components. All these — as well as a lamp and a 40x microscope to check that the process is going to plan — are included in the T560's 3200 Euro price (IDR 45 Million at the time of writing). All you need is the turntable to get cutting. 
Fritz and Ulrich are keen to stress that their device cuts music on to actual vinyl discs, not acetate 'dubplates', the latter of which tend to deteriorate in quality with frequent playing, and especially when scratching and cueing. The T560 can record at speeds of 33rpm, 45rpm and 78rpm, and at 33rpm can squeeze 30 minutes of music on a 12-inch disc. What's more, using the standard equipment fitted to the Technics turntable, users can monitor directly from the disc while it's being cut. 
For further details, head to Fritz & Ulrich's web site, where prices for vinyl blanks and optional extras are also available.
HOW TWITTER TRACKLIST APP WILL CHANGE EVERYTHING
Richie Hawtin's Twitter app announcement this morning hasn't had much time to properly sunk in yet, but already I've been having some major thoughts about how the broadcasting of DJ tracklists in real time will change everything.
With Traktor quickly becoming the standard for electronic music DJs, the addition of a Twitter app will bring a level of transparency and fluidity to DJing in one fell software update that is likely to have a long-lasting impact on electronic music culture.
Here are my initial thoughts on the pros and cons of this development.
Music discovery
Since the beginning of DJ culture, tracklists have been a major source of music discovery. Everyone wants to get the best music that a DJ plays, and identifying the tracks that make up a DJ's set has become a sport of sorts, that has spawned a number of valuable ideas.
From the culture of Track ID requests online (our own BeatDetect section is part of this system), to the dissection of Essential Mix tracklists on the BBC's website, to the kids down the front who ask what every good beat is, the system of identifying good dance music is as much a part of the culture as headphones and vinyl.
It is a social, crowd-sourcing system that aligns itself well with dance music's inclusive community roots.
But the system has never been very efficient. In the days of vinyl, punters used to try and read the title of records as they spun round and round on the platter. In a dark and smoky club, at 45rpm, the ability to catch the words of a spinning record was a skill in itself. White labels didn't help, and DJs drawing symbols and smiley faces on records only further led to confusion.
When CDs came along, punters who were desperate to find out the name of a tune had no option but to hound a DJ for its name. People still hold up mobile phones in front of a DJ's face today asking 'Wat tune is dis?'
The development of protected DJ booths in clubs, with high walls that are unable to be scaled by fans, was probably in part, fueled by the increasing amount of hounding.
Then laptops came along, and punters received a polite and shiny Apple logo in their face. The internet, YouTube and the proliferation of digital cameras then unlocked the wisdom of the crowd and satisfied the hunger of some, with fans able to upload dodgy clips of a dancefloor in motion all under the banner of 'Track ID?'
However, the system of Track IDs too has its inefficiencies. The internet is a wasteland filled with video and audio clips of music that will never be identified, and crowd sourcing, as great as it is, is rather slow.
A Twitter app that broadcasts what a DJ is playing in real-time changes everything. Here is a list of instant benefits that I forsee:
Pros
The unsung heroes of dance music gain a voice
Dance music has always been an anonymous movement, with producers hiding behind aliases, and DJs being the public face and stars of the scene. With real-time tracklist broadcasting however, the artists that produce the amazing music behind it all will gain deserved visibility and valuable promotion.
Think how many new up and coming artists could gain important attention from the worldwide dance community if one of their tracks is played by a Sasha or a Pete Tong in a club in one far corner of the world.
Real-time data analysis will be powerful
If you thought Beatport's Top 10 chart was a powerful indicator for what's hot, imagine then, the possibilities of being able to see the most popular tracks being played in clubs right now. By aggregating the tracklists of all Traktor users who are tweeting, it will bring a level of transparency and vibrancy to global dance music culture like never before. We'll be able to see the scene breathing, moving and reacting like an animal, akin to the volatility of the stock market.
New trends could be discovered through the statistics. For instance, in a time of recession, are DJs playing more dark and more stripped back music? In the summer are happy vocal records and melodies a big theme? What's the biggest electro house record right now? Are there differences between countries? Is classic house music coming back? Is trance getting harder?
The questions are limitless, but the answers could be found through the analysis of such data.
Man hours saved, good for the environment 
The culture of using digital cameras for the purpose of identifying good music later will be obsolete with the introduction of real-time tracklists. Think of the amount of man hours that will now be saved worldwide each year by people no longer having to encode and upload their videos for track ID purposes. From the DJ's standpoint, that means no longer having to write down a tracklist after a set which has always been an annoying encumbrance. This all equates to energy saved, which could have a small and beneficial impact on the environment.
Leave us DJs alone 
DJs will no longer be hassled by overzealous fans at the booth and will be able to concentrate on just playing. No more annoying phones in the face, no more taps on the shoulder. Whoopee!
Goodbye chin strokers 
Chin strokers – those annoying nerds that stand next to the DJ booth showing off their 'knowledge' for shouting out the name of every single beat have just been replaced by Twitter on the iPhone (which smells a lot better).
Accuracy 
Technology is accurate, humans are generally not. So those hard-to-pronounce German techno records will finally be spelled correctly.
Memory? Who needs memory? 
How many times have you asked a DJ for the name of a record, only to forget later? With tracklists now appearing accurately on Twitter there's no need to remember anything from a club, every again. Is that a good thing?
More sales, convenience 
Us here at Beatport have already been speaking about the integration of Beatport links to any tracks that are tweeted and available to purchase. If that becomes a possibility, then that means more sales for labels and artists, and convenience for users who will not have to manually search for tracks online. Everyone wins.
Cons
Whilst there are obvious overwhelming benefits to broadcasting tracklists in real-time via Twitter, there are also a few cons.
The hype circle irrelevant, mystique gone, piracy up?
In the days of vinyl, the dance music hype circle – the idea that DJs hype music simply by playing it which brings more sales down the line – was rather large. Some estimates put it at about six months, and when you take into account the exclusive promo period that DJs enjoyed, the white labels and the test pressings, the second tier promo lists and radio play, that seems about right.
When CDs, the internet and digital downloading came along, the hype circle got squeezed. Information traveled faster, and knowledge was no longer the privilege of a dancefloor veteran. Information wanted to be free, and in dance music this could be seen by the end of an idiosyncratic era – the days of a DJ playing an unknown white label that took take six months to be identified was over.
And with each new technological development the hype circle has been getting smaller. Some labels now only promote a record once it's available to legally purchase online because they've realised that hype these days only leads to piracy and illegal downloading if the music is not available. For better or worse, internet consumers has gotten used to the convenience of 'now'.
The development of a Twitter app that allows for the broadcasting of DJs tracklists in real-time renders the hype circle pretty irrelevant. By the time Dubfire has finished his set in Tokyo, the exclusive promo white label that he dropped for the very first time that night has already been identified in Borneo. Its name is freely available on the internet and it has already virally self-promoted.
Fans will already be searching futilely to buy it, and the pressure for someone to rip and upload an illegal copy of it just went sky high.
More significantly perhaps, is the fact that the mystique surrounding what a DJ plays, the excitement of tracking down that amazing life-changing moment that you heard on a beach in Thailand, just disappeared. The satisfaction of finally ID'ing that bomb that you heard in Ibiza will no longer be realised.
Exposure too soon?
Twitter tracklists in real time will bring deserved attention to the producers behind the music, but is there a danger that an up and coming artist will get worldwide exposure too soon?
There is something valuable in the old process of hyping new talent. The top down table of exposing new talent in dance music – DJs recommending music to other DJs, which in turn leads to magazine and blog coverage, and then finally the public – generally gave the artist enough time to develop their sound. A slow rising push slowly brings attention and the early days can be very important to the career development of an artist.
With real-time music discovery taking place on Twitter, a new artist with a debut release could get global attention when they're not quite ready for it. The subsequent pressure of producing an equally successful hit, and the pressure of signing to a label, might not be very beneficial.
The loss of context
A good DJ is greater than the sum of the tracks they play, but with tracklists appearing online in real-time, there is a danger that the other audience (online and not down front) will lose all context and gain critical potential.
Fans who were not able to attend a club gig in person, might watch the set unravel on Twitter and after a few minutes respond on their Twitter saying 'By the looks of things, I'm not missing much'.
What's more, the Twitter application will broadcast every track played regardless of whether it was actually audible – digital DJs are increasingly experimenting with the mixing of parts and loops, and the app will list a track when in fact only a four second loop of it was actually played.
Other considerations
Update
Since writing this post, Minus have uploaded a press release about the app with some more interesting notes.
"By providing the necessary information to track what is really being played in clubs, the Twitter DJ application would not only drag the likes of GEMA, PRS and SOCAN kicking and screaming into the 21st century, but make sure the real artists get paid instead of performance payments simply being carved up between the Madonnas and U2s of the world. If record sales are slowing down and performance is now the key area where artists can achieve financial stability, better solutions need to be found and a workable structure put in place as soon as possible. We hope that our Twitter DJ application is a step forward in the development of these types of systems."
That means that Minus have been thinking two steps ahead, and realise that their Twitter app is a much better system then the blanket public performance music licenses that most venues worldwide use. The hope is that the producers behind the music might actually receive money based on their contribution (the amount their music is played in clubs) rather than it just going to the major labels to spend as they will.
An excellent idea, but the reality is that GEMA, PRS and SOCAN probably can't/don't want to build a system that accurately collects data with such magnitude. There are probably too many venues in the world with too many songs being played for the performance payments to be carved up proportionally.
The gap just got wider
The gap between digital DJs and physical DJs just got a lot bigger with the introduction of real-time tracklist broadcasting. Physical DJs generally play tracks in their entirety and tell a story through their mixing, whilst digital DJs are increasingly mixing on a molecular level. With tracklists appearing in real-time, digital DJs are transparent, whilst physical DJs still have a certain mystique to them.
As a reaction to this we might see digital DJs in the future, who broadcast tracklists via Twitter, deliberately mislabeling their music or using anonymous phrases in place of track titles in order to retain exclusivity on some of their most upfront cuts.
Your thoughts
These are just my initial thoughts and are not backed up by any data or facts. I would love to hear what you all think of this new and exciting development, and what it means for our scene.
SOUTH AFRICAN TAXIS DRIVE SALES IN DANCE MUSIC
For discerning clubbers around the world the hottest sound in dance music right now is coming not from New York or London, but from the townships of Pretoria, South Africa. DJ Mujava's "Township Funk" became the surprise global club anthem of last year, an instant favorite on dance floors everywhere, with its ear-popping mix of incessant, driving snare drums and retro electronic noises.
Its distinctive sound is part of a larger scene known as Township House that comes straight from the townships of Pretoria.
But its improbable journey to glitzy superclubs around the world may never have happened without the help of South Africa's taxi drivers.
South Africa has long been a voracious consumer of imported European House music, but over the last few years a small group of producers in Pretoria have begun experimenting with their own sound, more representative of the music of the townships they live in.
They came up with a style that mixes the raw beats of the South African hip-hop style called Kwaito with House music's tempos and electronic sounds.
But the problem for the Pretorian producers was getting their music heard. Neither the radio stations nor the big record labels in South Africa were interested in their rough-and-ready sound — so the producers decided to go directly to the public.
DJ Qness writes for South African dance music magazine BPM and works for Mujava's record label, Sheer Music. "In South Africa, the easiest way to the people is through the taxis," he told CNN.
South African taxis are actually small mini buses and are by far the most popular mode of public transport in a country where car ownership is limited. A Pretoria University study estimates that between five and 10 million South Africans use taxis every day.
The Township House pioneers began to give CDs of their tracks to taxi drivers. The drivers played the CDs to a captive audience of commuters and the response was incredible.
Passengers wanted to know where they could buy the tracks they were hearing, and with no record stores stocking the music, taxi drivers began selling CDs directly from taxi ranks and roadside stalls.
Do you think Township House is the next big thing in dance music? Sound off below.
Qness said that even without radio play the township sound began outselling imported dance music and the record labels began to take notice. "These people created a demand," he said. "Then Mujava's 'Township Funk' blew up on the streets and everything went crazy."
But the Pretorian producers aren't the only ones to realize the power of taxi drivers when it comes to promoting a cause. Pretoria-based Gospel Taxi Club spreads the word of God by giving taxi drivers CDs that mix music with messages from the Bible.
In the run up to the recent general election, South African opposition party the Democratic Alliance (DA) gave taxi drivers CDs featuring specially recorded songs that promoted the party message.
The idea was the brainchild of Makashule Gana, of the DA Youth. He told CNN that giving the CDs to taxi drivers to play in their vehicles was a way of reaching as many people as possible, and that while there was no way of quantifying its effectiveness, he believed that the party had received extra votes because of the CD.
Once Pretoria's taxi drivers had generated a buzz about "Township Funk," Sheer Music stepped in, signing Mujava. The track got a low-budget video of township dancers demonstrating their best moves while Mujava DJs at the roadside.
The video was posted to YouTube, where it was spotted by British labels Warp Records and This is Music. The result was a worldwide release, big-name remixes and a global club sensation.
Mujava's success has created an international buzz about the Pretorian sound. Producers like Bojo Mujo are starting to make waves, McLloyd's "Tembisa Funk" has just been released by British dance label Positiva and Mujava is currently scheduled for a European tour, but has had to cancel because of illness.
Qness told CNN, "By combining the electronic sound from European House with the hard drum and the raw snare they've created something totally unique. You can't find it anywhere in the world — only in South Africa."
Only in South Africa — and thanks to Pretoria's taxi drivers, in clued-up nightclubs around the world.
KERRI CHANDLER PLANS 3D HOLOGRAMS FOR DJ SETS
US deep house hero Kerri Chandler has always been the experimental type, and Southport Weekender in Britain has always been there with open arms welcoming his creativity to the DJ booth.At the 2006 event, Chandler played the keys to 'Bar A Thym' and some of his other hits using a laser string (see the video after the jump). Last year he went one better and shocked the crowd by mixing flawlessly using only three consecutive reel-to-reels.
And just when you thought you had seen it all, Kerri Chandler has now announced that he plans to incorporate 3D virtual projections of singers performing the exact tunes as he plays them at this year's Weekender.
That's right. Holograms of the actual original vocalists in the DJ booth, singing along to the songs that he plays. Wow.
Beyond his motives for revolutionising DJ culture, Chandler's 3D holograms are a result of his frustration at what he sees as the diminishing importance of singers in today's dance music climate.
"I am very upset that the newer generation of clubbers coming to the parties don't have any idea, don't know or even care about the "real" songs that so many [singers] put [their] heart and soul into," he says.
Using the very latest in digital technology, Chandler has been busy filming and preparing his holographic performers (photo above). Barbara Tucker, Monique Bingham, Lisa Shaw, Joi Cardwell, Marc Evans, Dawn Tallman and others have all been filmed and are ready to appear as 3D apparitions during his set.
Kerri is planning to launch his never-before-seen spectacle at Santo's Party House in New York this Saturday, before debuting his special holographic performers at Southport Weekender in May.
We can't wait to see them!
More Kerri Chandler DJ booth experiments
DISCOGS: VINYL REVOLUTION
Record stores are slowly dying off, but one marketplace is healthier than ever. RA's Richard Carnes takes a look at how Discogs has changed the face of record buying.
Where do you buy your records from? While many vinyl lovers lament the closure of countless record shops due to the rise in internet shopping and a growing digital-only audience, diggers worldwide have had to find new ways to source their fixes of the black crack. Warehouse operations such as Juno and Chemical Records, and popular specialist electronic outlets like Phonica, Boomkat, Hardwax, Rubadub and Piccadilly may be the main ports of call for listeners only interested in brand new records, but if you talk to people who are interested in disco, boogie, '80s and '90s house, UK garage, jungle and other genres of yesteryear, it's likely at least some of their collection has been procured via a website which holds no stock at all: Discogs.
Discogs has become an online phenomenon within the music world, providing a detailed and searchable catalogue of nearly two million releases that currently attracts four million unique visitors, who managed to rack up a staggering 100 million page views between them during January of this year. Portland-based programmer Kevin Lewandowski is the brains behind the operation. He got his first electronic music kicks via some DJ friends at university before going on to buy his own turntables after his graduation. Originally, Lewandowski had planned for Discogs to be a comprehensive database strictly for electronic music, due to the dearth of information on the internet about the subject.
"I had the idea for Discogs in 1998 or 99. At the time I was running a discography site for drum & bass producers Ed Rush & Optical, but it was all manual work. After seeing Open Directory Project and Slashdot, I thought I could do something similar but for discographies," says Lewandowski. "It took about six months working nights and weekends on Discogs, and I launched it in November 2000. It was very simplistic compared to what it is now, but it started growing right away."
Contributors to the site would submit details for a release, and these would then be voted on and made live by a team of moderators in order to ensure factual correctness. "It was just a hobby project for the first two years," Lewandowski continues. "It became a full-time job for me at the end of '02. My employer offered voluntary severance and I thought that was the perfect opportunity to work on Discogs full time."
By June 2004, Discogs had amassed a network of 15,788 contributors—who had cumulatively helped to input 260,789 different releases—and had begun to expand to other areas of music, such as rock, jazz, funk, and reggae. Its growth hasn't all been a smooth ride, however, as Lewandowski and his team came under fire in 2008 because of a number of changes that were made to the site's contribution process. Submitted releases and edits would be made live immediately, and users who "meet certain undisclosed requirements" would be able to vote on the correctness of the release page. Many thought this would accelerate misuse of the database. 
Even though many users and moderators committed "oggercide" and vowed not to return to the site, Lewandowski has stuck to his guns and opened up the submission process, even allowing for digital releases and podcasts to be catalogued. "I still think it was the right thing to do. Over the years, I've had to make several changes to the submission process that would better handle the growing number of contributors. I knew a lot of people would be unhappy about the V4 changes, but I also knew it was something we had to go through to make the submissions process fairer for everyone and inviting to new users."
The site has become an invaluable asset for DJs, journalists and fans, providing unprecedented insight into artists with multiple pseudonyms and providing tips about rare and highly rated records (Discogs users can rate each release on a scale of one to five, which is then averaged out into a prominent mark on its respective page), but it's as a gateway to individual record sellers that it really excels. "I knew it could be a bigger business after the marketplace launched." Kevin explains. "The growth there was very good, it seemed like a perfect fit with the discography content." Discogs is unique in the respect that it maps a comprehensive cataloguing system to a marketplace feature, and as each release page is specifically tailored to accommodate versions from different countries and special limited editions, buyers can be certain of the product they're actually getting. The seller will then pay a 6% fee of the total price to Discogs after something has been sold and paid for.
Glasgow's Rubadub is one major shop that uses Discogs as a means of selling records, and their retail manager and partner, Jason Brunton, is generally positive about the effects that Discogs has had on record buyers: "Like the internet generally, it's allowed people who are outside of the major cities—where the vast majority of larger music retailers and specialist shops are—to access and find music they might never have in the past. It's also helped knit together a community of like-minded obsessives who can share their knowledge and information."
Lewandowski, on the other hand, is empathetic about the effect that the site has had on physical shops around the world. "I'm not sure, but I'd assume their sales would be down just because the internet gives buyers a huge selection. But I'd like to work with physical stores somehow, if for example we could create a Discogs application that could help them." After I inform him that Rubadub's Richard Chater had expressed a desire for "a means to take immediate payment for records" (sellers currently have to message the buyer with a total including postage and then request a PayPal payment), Lewandowski is enthusiastic, but hesitant to confirm anything. "We'd really like to do this but there are some technical problems. I can't say when it will happen, but we're still looking at it." 
Whereas it's unsurprising that a major player in the retail and distribution of vinyl like Rubadub sells the majority of their records via their official website, the site has become a vital lifeline for smaller independent shops like Newcastle's Beatdown Records. Of their sales via the Discogs Marketplace, Beatdown manager Nick Wrightson informs us that they're "creeping up at the moment to around 25% [of total sales], and it currently generates way more than our actual website. This is mostly because of the difficulty in marketing a record shop website, and driving folks to it without spending a fortune on Google AdWords."
More and more sellers—both record shops and your average consumer—are making the switch from eBay to Discogs, partly because it enables them to list their stock for an unlimited time until it is sold, and also because they don't have to pay a fee to simply list something. The site has gone from selling 76,000 items in the marketplace's first year (October 2005-06) to almost 1.2 million items in the past twelve months—a fifteen-fold increase in under five years. Beatdown's Nick Wrightson made the change over to Discogs a year-and-a-half ago, but he cites another reason for switching sites. "eBay's unfair—in my opinion—multiple charges and imposed policies on shipping costs meant that we ended up almost losing money on any new records sold at regular prices."
A steady increase in the number of people selling through the site has meant that there are now over five million items currently listed in the Discogs Marketplace, and the now transparent Market Price History function of the site (up until 2008, only users who paid a subscription fee of $12 per year could get full access to this data) has meant that pricing records fairly and accurately has been made much easier for shops, even if they don't sell via Discogs. 
Sellers are also competing in a market where buyers can find out the price of a record elsewhere by just glancing down a single list, meaning that in order to secure sales, they have to be competitive with their prices. That said, for rarer items, sellers are able to set their prices in either monopolistic or oligopolistic conditions, leading to high prices due to low levels of supply. For example, E.R.P.'s Evoked Potentials (Part One) 10" commanded prices of up to €99—over six times its original price—just a month after its release via the Semantica website, due to it being limited to just 100 copies. The ease of resale is a problem on this occasion, as standard consumers become priced out of the market due to in-the-know profiteers. However, the breakdown of regional barriers—where a certain record is prevalent in a certain country but not another—has also helped to curb high prices for some older obscurities.
So does Lewandowski think that Discogs has democratised the market for records? "Yeah, I think so. It's now possible to buy almost any record you want on Discogs. There are cases where another site may have an item at a lower price, but I think that will change as we get more and more sellers." Beatdown manager Nick Wrightson's views on this new age of internet digging are mixed, though: "It's not necessarily a bad thing, but it's added to a culture where nothing is hard to find anymore, where even the rarest record is instantly available if you are prepared to pay the asking price. This has made the joy of crate digging a little obsolete, especially as even the charity shops now regularly check prices with Discogs. On the other side of the coin, it brings customers to shops like Beatdown from all over the world, and we've had a few customers visit the 'real world' shop after discovering us on Discogs." 
With Discogs positioning itself as the market leader in the record selling market, it looks as if it's going to be around for a while, and a recent update to the layout of the front page has further helped to cement its image as a slick and professional operation, showing recent reviews, lists and even YouTube videos which have been added to the site. "In the short term we're going to be working on API improvements, a revamp to the artist page, and more social features," Lewandowski states, but he's not shy in his ambitions for the site. "In the long term, I think Discogs will be one of the top music websites overall." 
courtesy of RA
INDUSTRY FOOTBULLET OF THE DAY: INTERNET RADIO
Last week, this handy infographic began to make the rounds. It purported to show how many copies of music in varying formats an artist would need to sell to make the equivalent of the USA's minimum wage. Many artists and labels made a public display of sweaty hand-wringing in response to these giant pink blobs.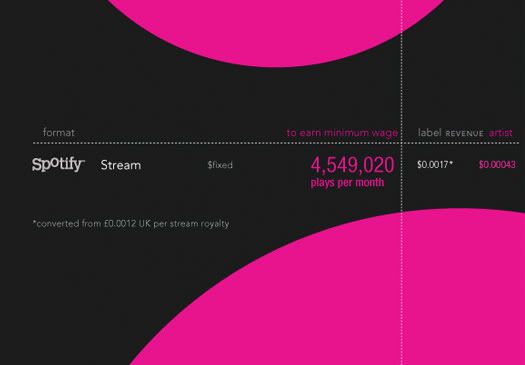 It's unclear where this infographic came from (the site listed as a source comes up with a 404 page), but a link at the bottom goes to this spreadsheet where the raw numbers are listed and sourced.
Many people are debunking this graphic (including in the comments of the original gizmodo article) with the claim that with a few exceptions, musicians never made a living wage off recorded music. This is true – if you're not Mick Jagger, your royalties probably didn't buy a goddamned thing, much less provide you with a living wage.
In fact, one of my favorite reads of the last year was this blog entry by Tim Quirk. Who is Tim Quirk? Back in the 1990s, he was in a band you might have caught on MTV's 120 Minutes called Too Much Joy. These days he works at Rhapsody, the online music service. And back in December, he posted about Too Much Joy's latest royalty statement from Warner, which not only has him owing Warner Music $395,000 a couple of decades later, but also states he's made a grand total of $62.47 off digital royalties.
The money shot? Too Much Joy's indie albums, which the band controls, have made about $12,000 off digital royalties. Their major label records? $62.47.
But beyond this, there's one important column missing. Radio. As in, AM, FM, got-a-big-tower-and-call-sign radio. Radio has no column in this table because terrestrial radio is completely exempt from paying performance royalties: the size of the big pink blob representing how many times your music would have to be played on terresterial radio to make minimum wage would be larger than Planet Earth.
Streaming internet radio's royalties might be absurdly low, but for terrestrial radio they don't exist at all. You could take over a radio station and force the staff at gunpoint to play your souled-up disco cover of "Can't Turn Around" for hours on end and you wouldn't see one penny from it. A fraction of a penny isn't much at all; yet even this purely theoretical sum is more than the billion dollar terrestrial radio has paid in performance royalties.
That's what's kind of irritating about it. The point of this graphic is to show that, hey, burning your own CDs will make you more than internet radio, but fails to mention that those gigantic pink circles represent a revenue stream that until the internet came around did not exist at all. People made billions in terrestrial radio, and they did so entirely on the backs of these same artists. Internet radio – as small as the sum may be – is payingsomething. It represents something new and experimental, but if this graphic is indicative in any way of the industry's sentiments, it's already been written off as worthless.
courtesy of HouseMusicDaily
A SHORT INTERVIEW WITH FRED EVERYTHING BY AL VELILLA
A few weeks ago we had the oportunity to interview Fred Everything at the Om Studios about life,the Universe,San Francisco and his upcoming project in Om Records.
This was the result ;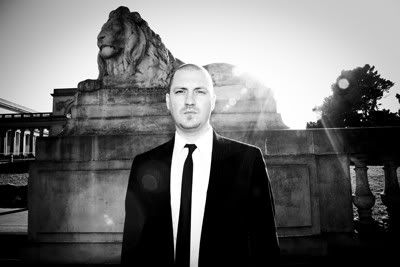 AV ; Welcome Fred:
I'd like to start to talking about San Francisco.
You are originally from Montreal but you have been living in San Francisco for almost 3 years.
Which are the main differences that you see and what do you think about the current San Francisco scene?
FE; I think that San Francisco is a great city for so many different reasons.
The scene here is really good, and probably one of the best in the States, but there is so much more to the city. So much outdoor activities ,great restaurants, museums, music etc….. It's a very complete city and i love the diversity you can find in the different neighborhoods. Each neighborhood has its own identy (and even micro-climate) yet it all remains "San Francisco". Unlike LA where I find it hard to get a feel of, San Francisco has a more personal feel which reminds me of Montréal.
AV; During the 90´s San Francisco had a very solid scene with a very characteristic sound.
How do you see things now?
FE: I know that it's changed and people who've lived here all their life might say : it's not the way it used to be, but when you think about it, things are not the way they use to be anywhere. There are new generations of people with new tastes and new needs and it's up to us to adjust to this, without losing touch with who we are. Generally speaking tho, I think it's a very healthy scene. In two weeks I´m playing at Temple. The same night, Greg Wilson is at Triple Crown , Jimpster at Mighty and Mark Farina at Supper Club! All of these clubs will have hundreds of people attending. Considering there are less than a million people San Francisco, I think it's pretty impressive. You couldn't have so many parties catered to the same crowd in most big cities. It also amazes me how there are very little politics considering amount of promoters, djs and clubs in this city. It's good to have the freedom to play in different clubs all the time without worrying about local politics.
AV: But do you still think that the San Francisco scene has an identity as it used to have?
FE ;It's not as "hippy" as it used to be but there is still a free spirited vibe about it I think. The music has evolved into something a little more experimental but It seems that House is back more and more. In fact I'm quite pleased of what I hear in the Techno scene, some nice fusion, more musical and slower music.
AV; You have been into the music business for quite a few years and you probably started producing electronic music with synthesizers, midi cables,old sequencers and lots of vintage hardware.
Now a days,you can buy a 500$ laptop and become a famous "musician". How this fact has affected to you?
FE ; The music industry has changed drastically in the past few years where production has become more of a business card for touring.
It's very hard nowadays to even justify recording musicians and singers or buying new equipment for the studio. I still do because I love it and this is what I do. Before, you could easily justify the expenses related to paying musicians, studio upgrade, etc. Nowadays it's a lot harder as there is very little money in the production. We rely a lot more in the trade factor, where there is a lot of swapping. Unfortunately, not everyone wants to work for free and you can't pay your rent with a mixtape! I manage the situation with passion and hard work because Im always making music and I always will. It's just a little harder to juggle with. You can't take 6 months off tour to write an album anymore, it's just not possible.
AV ; And what is the role that technology plays in all this in your opinion?
FE ; Technology has democratized music a lot. I bought my first synthesizer as soon as I was able to work as a teenager, washing dishes in restaurants. At the end of the summer, I was able to afford only one keyboard. You couldn't do much with just that. You had to spend thousands of dollars to just be able to make a decent demo.These days,kids are very spoiled. For a few hundred dollars, you can get Logic and make tracks from A to Z in it. This means that there is a lot more music out there, well produced but often lacking in a certain "je ne sais quoi".
AV : I was some time ago in a conference listening to Francoise Kevorkian complaining about the amount of time that he usually spends trying to find music he likes in between the avalanche of weak releases on the digital portals. Do you think that so much music is something positive or negative for the market?
FE : Both. It's good that people have access to the medium. It should´t be only accessible to people with money or with certain equipment but on the other hand so many tracks floating around, It's overwhelming. Everybody is using the same equipment and everybody is starting to sound very similar and even if there are still different ways to work your sound into something unique, using the same technology, often people rely on presets and a certain "recipe" sound.
Before, every producer had his own signature from the equipment they were using and the way they were using it.
I think that back in the Disco days when everything was so much more difficult to do, the production was so much more amazing.
I was just listening to some old Gino Soccio record (he is actually form Montreal too) and his production sounds so amazing and so current that is incredible.
I'd love to just go back in time and being in one of their sessions and see how they were doing this with all the old vintage gear, tapes, Fx, etc…..
I still use a lot of old equipment but I mix it with new technology.
AV: Lets talk about your label ; what is Lazy Days?
FE ; Lazy Days is a Record Label that I started in 2005. I started the label as an outlet to release my own projects and eventually release other people's music. I was frustrated to have to please certain labels with a certain sound and wanted to have more freedom about what music I wanted to create or release. At the time, I was shopping "Friday", our first release, and nobody wanted to release it. It was a blessing in disguise as it sold 4000 copies on vinyl and got licensed to 10 compilations. A lot of people told me that It was the track of the summer in Ibiza that year.
The name came from a beach bar in Grenada (in the Caribbean) named Lazy Days where they had these big ply wood-carved letters spelling Lazy Days placed on big speakers. I took many photos and it became an inspiration for the label. It felt right with the philosophy of the label which is to release music at a slow pace, only when great stuff comes around. I also considered myself a Lazy Workaholic. I work all the time but at my own pace. Since then we have been releasing over 15 releases and throwing parties in different places all around the Globe like in Montreal, Fabric in London and Miami WMC. In the fall there's gonna be a special release for the 20th single and 5 years of existence. We will have 4 great remixers doing their versions of their favorite track from the catalog. There's also gonna be a retrospective mix compilation as well as a tour.
AV ; You are about to release a new project on Om Records which is the first installment of a new line of products called Om:Master Series. What is behind the concept behind it?
FE ; It's a mix cd/showcase including all music that I've been involved with. It could be an original song, a collaboration, a remix that I did for someone or a remix that somebody has done for me. I'm really excited about the project and I think its good once in a while to be able to put a collection together especially since a lot of people not necessarily get to hear a lot of this music.
AV ; What has been the criteria to select the tracks?
FE ; Anything that I'm proud of or that I think stands out in my catalog.
I decided to concentrate on the past few years rather than doing a full retrospective. I also decided to only do one concentrated cd rather than a double or triple album. I'm gonna do a worldwide tour for it from May to September to promote the project. This is an in between albums project, until my next full artist album.
AV ; Your last album is a great collection of very solid pieces of music. What are you intending to do for the new album? Can you speak about it?
The last album, Lost Together, was written over 3 years ago already. Music has changed, my life has changed, I have different influences. I don't think It will be a shocking change but more like an evolution. Unfortunately I can't say how it's going to sound until it's done, as I don't know myself. I know I've been slowing down the tempo slightly and looking at new collaborators. I'm planning on writing this year for a spring 2011 release.
LOOK FOR OM:MASTERS by FRED EVERYTHING ON SALE FROM MAY 2010
courtesy of OM Records
+ CHUCK LOVE: THE 5 MAGAZINE INTERVIEW
Chuck Love (website, facebook, ilike, myspace, twitter, discogs) is literally a one man band. From playing the flute to the drums and from the bass to vocals, he does it all in his live show while mixing songs. He also incorporates self-produced videos – and even adds his pet parrots to the mix.
I've heard you're a trained musician. How long have you been playing for?
Trained? I don't know about that! [Laughs] I've been an ear-player since I was a tiny kid, picking out melodies on the piano and stuff. I'm really just a self-taught, ear-trained musician.
So have you taken any lessons at all?
Early on I took piano lessons and I was in the school band. I didn't take too well to the lessons, I kind of already had my own thing figured out to the point where it was almost like I was slowing the process down and taking a step backwards trying to learn to read the music.
What are all the different instruments that you play?
Currently when I play live I have guitar, flute, trumpet, melodica and hand percussion as well as vocals, but I also play drums and bass. It's pretty much a full rock band complemented with a few wind instruments.
At what point did you decide you wanted to start working on production?
I was doing multi-track recordings of my own music back in the day on a quarter-inch four track open-reel tape deck since I was about 12 years old. I went to school a little bit for audio engineering later on but the process of assembling music has always been interesting to me from the start.
When did you get the itch and decide to try your hand at more electronic-based music?
I had been playing all the instruments and did the recordings, but I was always into synthesizers because they sounded cool. I had an old school 16 segment analog sequencer (the kind of stuff they would record on a Pink Floyd album). That's always been a part of the equation before there was a DJ or any of that type of thing associated with electronic music. Stuff like Walter/Wendy Carlos and Jean-Michel Jarre; artists that were the cutting edge of electronic music 20 years before there was anything like DJ culture.
Where did the transition to House and the DJ aspect come into play?
Through the 1990s I was doing various productions, running a studio and doing stuff for television, commercials and film – that sort of thing. Along the way I dabbled a bit into House Music production. I had actually gotten a few tracks ready to go and signed to a local label here called Celebrity. That kind of got the whole ball rolling with the process focusing on DJing the music that I produce.
Were you already incorporating singing and the instruments into your DJ sets from the beginning?
Yes, before I was even DJing, I was doing basically what you would consider a live PA. I would do that typically with my Roland workstation. I had my backing tracks on it and created the mic inputs in order to play the hand instruments and stuff like that. Playing instruments of what the prerecorded stuff was before it was House Music was always part of the deal.
Have you thought about doing the House band-type thing with other members?
I'm content with what I'm doing at the moment. I could see it happening but probably not in the House context. It might be more eclectic than a House band in that respect. If I were to do something with a full rhythm section or involve some other players it might be more mixed tempos. I could see an earlier set mixing up more instrumentation and segueing the later portion into House. I'm definitely open to the idea but as of right now I don't have any plans for that.
Last year in Miami at the WMC we saw you play on top of Jay-J's set at his Shifted Music party. Do you do stuff like that often where you play over other artists?
I've done it quite a bit. That's one of the ways I got into House Music. I was in a group called Tambuca that consisted of DJs and a couple of us did percussion and I did everything else. I've played with Colette, Jay-J and Mark Farina recently. Last time Farina was in town I played a full percussion kit. We try and do stuff that like that as often as possible – plan it advance and get everything wired up. Especially now since I have the record out with Colette.
You also incorporate video with your show too, tell us about that.
I prepare some video stuff. It's kind of hard to keep the content current though. I'm looking for better ways to deploy that. I would love to get a fully realized set full of material that's all supported with video, in that I can play it from one source, which is Serato Scratch live. It's pre-recorded and pre-edited. That's the beauty of it: you can bring your special guest vocalist along on video singing right in time. It requires a lot of post-production. You would only come at it from the discipline of being a video editor, which is something I do.
You have a Santiago & Bushido remix on there which is kind of a big room banger. Are you planning on incorporating more mixes like that on the releases?
I think it's a good idea for the label, especially in this case where Colette and S&B have had a success at that level recently. It has name brand recognition and I definitely see stretching it to make the biggest impact out of a release. I also have the Network Rework which is more like a rocked out mix.
Tell me about your birds!
I've got birds! I've got a parrot sitting on me right now. She rings like a Motorola flip phone. It's horrendous! I got her with that and I've been trying to set her to vibrate ever since! Her name is Abigail. I have two, and they've been with me for 7 or 8 years. Merton is about 16 and Abby is 7 or 8.
You've incorporated them in some of your tracks, right?
Abigail by accident because you can't not hear her sometimes, so her ring is on a couple of tracks. Merton actually is featured fairly prominently on "Soul Symphony" doing his little zipper sounds. You'll hear him especially in the dub mix. Abigail you can hear on the flute solos of "Funky Ass Beat".
What kind of music were you putting together back then?
Back then I was really into progressive rock like Yes and Emerson, Lake & Palmer but there was room for stuff like Stevie Wonder and some Gospel roots too.
courtesy of 5chicago
WEEKEND WEAPONS…SHINEDOE
Boxes. Mankind loves them. Territorial borders, city blocks, ring roads, skyscrapers, shopping malls, libraries, houses, sidewalks, restaurant patios, books, paragraphs, sentences, and these very words. Boxed.
Yet despite our obsession for organisation, categories, structure, and classification, we don't like to be caged. No one likes to be pigeonholed, especially artists.
Dutch producer and DJ Shinedoe hates boxes so much that she named her new album 'No Boundaries'. "When I DJ, the music can move in any direction. I don't limit myself to one or two music styles, it's simply about the rhythms that make my heart skip a beat," she says. "Music comes straight from my heart."
Shinedoe has always followed her soul. As a result, 'No Boundaries' floats freely into dub, funk, jazz, techno and house. She explains, "This is a totally different record to 'Sound Travelling' [Shinedoe's debut LP]. To me this is a signal that I've grown as an artist, it's become a lot harder to label me in one particular music style."
The dancefloor is one place Shinedoe won't mind being tied to. Her reputation for providing intense underground journeys into house and techno proceeds her, and her deep understanding of dancefloor dynamics is apparent in all of her club-focused productions.
It's about time we recognised Shinedoe's skills as a DJ, so we dedicated this week's Weekend Weapons to her. Here are Shinedoe's current top three tracks, taken straight from her very own box.
taken from beatportal
STEVE ANGELLO HUMILIATES PARIS HILTON, DJS WORLDWIDE REJOICE
The princess of bottle service culture herself, Ms. famous-for-no-particular-reason, Paris Hilton, was publicly humiliated by Swedish House Mafia man Steve Angello in move that will leave DJs around the world cheering his name till the end of time. The LA-based diva turned up at the 1OAK party at Angello's showcase at WMC on Thursday night/Friday morning, and found his music "was not even danceable and was frankly giving me a migraine." 
Hilton asked one of her friends who runs the hotel to change the music and the manager said between emphatic kisses of her ass, "I'll lead you up to the DJ booth and he'll play whatever you want." 
The age old battle between ignorant, over-privileged wannabes and DJs trying to do their best just went front and centre. Brilliant. 
Angello claims Hilton repeatedly asked him to play hip-hop. Hilton claims she only asked him to play Bob Sinclar or Daft Punk. But whatever went down, it led to a big fight. Hilton's friend Doug Reinhardt and her entourage got a kicking for apparently slapping Steve Angello. 
Angello on his Twitter said: "For someone who claims to make records…don't come into a booth and ask me to play hip-hop and then have your doorman slap me. Or at least if you wanna do that…..don't moan about it when we all kicked off. Don't be so fucking rude." 
Hilton's response on her Myspace blog portrays her ignorance and self-importance in the ugly light of day. 
"The DJ (I don't even know his name cause he sucks so bad) was playing the worst music ever!" she says. "I think he was jealous cause Bob Sinclar is a far better DJ then this guy by about a million times. 
"He was so unbelievably rude and all because I asked to play one good song. Then out of nowhere his bodyguard (don't ask me why he has a bodyguard, like he really needs one. Ha) pushed me really hard, that's when my boyfriend, like my knight in shining armor, stepped in and told the guy to keep his hands off of me. Then all hell broke loose, it was like something out of a fight movie, it was so frightening." 
Whatever the truth, the fact is Hilton thought her fame granted her the right to use Steve Angello as her monkey DJ for the night. How many times have we DJs been requested to play terrible records by clueless self-serving wannabes who want nothing more than to bask in their own glory? Steve Angello just stood up for himself and his music. He went head-to-head with the biggest celebrity in the world and won. DJs around the world should rejoice.  
Exclusive from beatport
THE FANCY THINGS FAMOUS DJS GET
"Ooooh!" said Josh Wink yesterday at the Beatport Pool Party, "Look at my fancy headphones with my name all engraved on them. Aren't they pretty?" 
Ok so Wink didn't really say it like a girl, but we're going to pretend he did because we're a little bit jealous of his personally engraved Pioneer headphones that were given to him yesterday as a present by some dudes from Pioneer.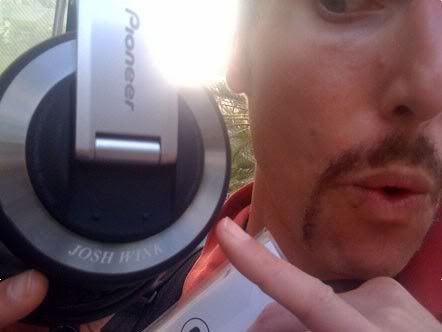 We want some too please! 
exclusive from beatport 
DIGI LABELS (IT'S NOT ROCKET SCIENCE!)
A few pointers, please feel free to add as I think we should get an IDIOTS GUIDE TO RUNNING A DIGI LABEL started as it seems a few people need one!
1. If you are a producer try to arrange remix swaps with other producers, this way everything is equal and it doesn't matter as much if you don't cough up the cash.
2. If it's going to take ages to pay people make sure you put it in a contract!
3. Don't call it something stupid like TRENDY MULLET RECORDINGS! (This is the most important thing! Think about your name!)
4. Try not to sign any old rubbish from someone just because they have had a few releases on semi decent labels.
5. Get your tracks mastered
6. Dig into your own pocket if you owe someone some pathetic amount of cash!
7. If your going to spam someones email a least make it a semi decent picture!
8. Don't spend your royalties money on weed and coke.
9. Give an advance no matter how small.
10. Semi decent artwork please!
11. Don't mention jackin heaterz in your press release.
12. Mail outs to magazines, they might even review a track one day!
13. Get some Chinese Illegals to do your spamming for you! Why waste your own time!
14. Send extra large myspace spam the twats who spam your page!
15. Be a little fairer than your bog standard 50/50 split! Say 100% for the first so many sales then lower the split each time. This way you will work more for your cash! 
16. There is more work to be done than uploading the tracks to a store! (It seems a lot of people forget this one!)
17. Tell people how many tracks they have sold (even if it is 5!)
18. Oh and producers if someone has mugged you off, just write it off and be more carefull next time! Try asking for a small adavance. if you're that good and they want your tracks that much they will pay up! (It maybe all you get, but a least you got something!)
   courtesy of dirtydave – underground house
WMC INTERVIEW: THE MARTINEZ BROTHERS
At 17 and 20 years-old respectively, Chris and Steve Martinez are one of the most talked about duos in dance music circles. Even the New York Times got in on the action and proclaimed The Martinez Brothers as the saviours of New York's house scene. US deep house god Dennis Ferrer has taken them under his Objektivity wing and given them a series of releases on his high profile label. It's about high time we caught up with The Martinez Brothers to find out if the hype is well deserved so I met the brothers a few minutes ago for a quick interview in Miami.   
Is your father with you today? 
Yeah, he's here. He introduced us into house, so he's really the person who got us into house music. 
But Dennis Ferrer has been instrumental in our success – he gave us our first club gig and as far as production goes, hes been a teacher to us. He also set us up with the right manager. 
How are you finding fame? All the photos and autographs? [at the Beatport Pool Party, there was a photo request every 2 minutes] 
We're not overwhelmed by the attention because we're having fun. 
But it sucks for me [Chris], because I still go to school. Like after WMC, I get back on Sunday night and I have to get up on Monday morning at 6am for school. 
It's like two different worlds, but sometimes the two worlds do collide. The other day I went to the computer lab and the person who had last used the computer I jumped on was on our Myspace. 
The teachers however don't care too much for what we're doing. 
Although after we had that piece in the New York Times, their attitude changed a little. I was sitting in my Earth Science class a few days after the article came out, and the teacher was staring at me. 
I said to her, "What are you looking at?" and she replied, "Are you a DJ?" And I said, "Yes" and she was very supportive and said she was impressed. But she doesn't give me any slack for handing in homework late or anything like that. 
Why not jack in school and just do music full time? 
School is essential. There are so many DJs who come and go, but we want to have the background. We want to know what we're doing from a business sense and you need education to really excel at that. 
We definitely want to do this for the rest of our lives. None of this was planned, like we met Dennis Ferrer by coincidence and we never really reached out to people. 
We never imagined we would be playing the main stage of the Beatport Pool Party. Never. Ever. 
I heard that you two used to play in a church band. Is church still important to you two? 
We came from church music – we used to lead the local church band. Drinking and partying never caught our attention, drinking never interested us. We just like the music. It's not the party for us, it's the music. 
We try to incorporate all styles of music into our sets, and we do live remixes by layering and looping beats and throwing accapellas and vocals over the top. 
In our DJ sets, we try to play soulful sometimes and techno at other times. Ricardo and Luciano inspire us, but so does Louie Vega. 
Our style is a mixture of everything. 
Some have suggested you guys are just a gimmick, but there's much talent behind the fact you're so young. 
At the beginning, on forums and stuff, we were just being called gimmicks, but we do what we do and I think we've shown people what we're capable of. 
You know, we've got a lot of kids our own age into house music and that's really important to us. There are kids who come up to us and say "we're really into your music". We have 16 and 17 year olds sneaking into clubs to see us play. 
We want to introduce our friends to the music, and sometimes they see YouTube clips of our gigs, and want to come and see us play. 
But we're not the only ones flying the flag for young people. James Zabiela, Deadmau5 – they are still young too. 
How did you two end up in production? 
We've been musicians for years. We were the leaders of the church band really. The music aspect has always been a part of our lives from the beginning. 
But the equipment and studio stuff we were introduced later by Dennis Ferrer. He helped us with all the gear and technology. 
Plus Steve went to Berlin two or three times, and he got inspired by the sounds there. For instance he met Argy there, and we have a new track coming out with him called 'Who Made Who?" 
What's next for you two? 
We have a compilation with Strictly Rhythm coming in June, and we'll be making more music.    
Exclusive from beatport
WHY MOST NIGHT CLUB DJ'S FAIL
For a minute, let's put down our turntables and forget about music.
I want to talk about something that most DJs overlook: the business of being a nightclub DJ and their purpose in the clubs.  Do you think that when an owner of a club starts his club he just automatically thinks to put a DJ booth in?  No.  He has many options from live music, to karaoke and a simple jukebox.
But the owner opted to put in a DJ booth, pay for the equipment, and also pay the licensing fees to play music. This wasn't just a stab in the dark, but yet a calculated decision.  He thinks that a DJ will sell more drinks and b a better investment than all the other options.
Let's look at what I just said: He thinks you (a DJ) will SELL MORE DRINKS than the other options.  Your job in the nightclub is to sell drinks.  This means that after all is said and done, whether you mixed a perfect night or not, the truth about your skills come in the form of the cash that went into the registers from drinks sales.  And what's even more eye opening is tht most nightclub owners don't even come into the club at night but wait to see what the sales are the next day.
I worked for a club in Flagstaff Arizona where I would get hourly reports of the drink sales. At the time Arizona bars closed at 1am.  My job was to increase bar sales from 9pm to midnight with the last hour being the biggest seller.  This was my job.  I had to increase sales through the night.  While this was a little strict I can say that all club owners and general managers watch the sales numbers on a nightly basis and unfortunately the DJ is always the first blamed if something tanks.
I am not writing this to scare anyone, just to let you know what goes on behind the scenes.  While your practicing your mixing, the guy who signs your checks is watching the sales on your night.
How do you increase sales? You can use music and microphone skills to increase bar sales.  All you need to do is put your ego aside for a bit and realize who you really need to impress in the club.
FATBOY SLIM CHECKS OUT OF REHAB
After a month in a UK rehabilitation facility, Fatboy Slim – aka Norman Cook – has checked out and returned to his home in Essex. Cook had been at the Providence Project clinic in Bournemouth, England, since March 2nd, having entered the facility for treatment after battling alcoholism.
Australian music fans bore the brunt of Cook's alcoholism first hand when he toured the country as part of the Good Vibrations festival in February. The reaction to his somewhat shambolic sets varied, and when the story broke of his admission to rehab last month it quickly became our most read item.
To stay on track with his rehabilitation Norman has pulled out of his headline spot at this weekend's Snowbombing festival in Austria, and has also announced he won't be taking any DJ gigs until after June, hopefully giving him enough time to fully recuperate.
DENONDJ WEBSITE – RELAUNCHED
Denon DJ, a leading manufacturer of reliable, premium-grade DJ equipment, announces that it has completely revamped its website, www.denondj.com, launching a brand new interactive platform that offers professional and aspiring DJs a unique and informative online environment for learning about their craft, exploring the company's cutting-edge products and more.
Among the site's many new features is an innovative new "Denon DJ Club" service that will allow all Denon DJ customers to register their products and enjoy direct access to news and information relating to these specific products, as well as firmware updates, instructional videos, manuals and more.
Denon DJ Brand Manager Silvio Zeppieri stated, "The professional DJ arena is an incredibly fast-moving and fast-changing world in which working DJs really need to stay up-to-date on all the latest technology and artistic developments. Our new site will help give our customers the edge by literally plugging them into what's really important in the DJ universe, including the latest news in product development and innovation. Most importantly, it will give working DJs a unique resource for learning how to perfect their DJ skills and improve as creative artists."
In addition to the "Denon DJ Club," the new website will feature its own music player on each page, offering visitors the opportunity to hear the latest hits from artists on a wide variety of record labels. Other key areas of the site will include a dedicated Artist page, Support page, "What's Hot" page, Products page and News and Events page.
Visit it @  www.denondj.com
SCRATCH LIVE VERSION 1.9.0 FINAL: AVAILABLE FOR DOWNLOAD
Here is the latest press release from Rane/Serato about the final 1.9.0 release of scratch live, tons of new features and a little feeling that this is almost done, we just hope they'll keep adding up features.
Scratch Live version 1.9.0
This is a new cutting edge version of Scratch Live that introduces many new features including the SP-6 Sample Player, LiveFeed, Loop Roll, enhanced History, native Pioneer MEP-7000 support, Show Album Art on Deck, Key tag support, and many other bug-fixes and improvements.
Installing this version will by default overwrite any previous version you had installed, however it is easy to have more than one version of Scratch LIVE installed if you wish.
If you have an important gig coming up, you might like to stick with the version you know until you are comfortable with 1.9.0.
Here's how to do it:
Windows Users – before installing, find the ScratchLIVE executable (by default it is in C:\Program files\Serato\ScratchLIVE, and rename it – for example call it ScratchLIVE 1.8.3.exe. When you install the new version, the old executable will not be deleted, and you can choose which you want to run by going into that folder and double clicking on the executable. You can still do this if you have already installed version 1.9.0 – just rename the executable to ScratchLIVE 1.9.0.exe, and then reinstall the version you were previously running.
Mac users – before installing, rename the existing application file as above (like "Scratch LIVE 1.8.3″) – you have to be admin to rename it. (If you aren't admin, you can copy it to another location, and then rename it.)
Backing up your data:
Before you make any changes to your Scratch LIVE setup, including installing a new version, as a general rule we highly recommend that you backup your data and your music files. The easiest way to backup your data is to simply copy your Scratch LIVE folder to another location on the drive:
- For the drive that contains "My Documents" (or your Home drive on Mac), just copy the ScratchLIVE folder which is in "My Documents\My Music\" to another location on this drive. Alternatively make a copy of the folder where it already is and rename it by adding the date to the folder name so you know what's in the backup.
- To back up the database and crates from an external drive, copy the _ScratchLIVE_ folder (which is in the root of the drive) into another folder on the same drive.
Downloads:
Mac: Download [Mirror 1 ] or Download [Mirror 2]
Windows XP and Vista: Download [Mirror 1] or Download [Mirror 2] (unzip and run setup.exe)
As with all releases, we highly recommend that you try this new version at home before playing out live with it!
FRANCIS GRASSO INTERVIEWED
By stitching music together in a narrative, and using it as a tool to work his dancers, rather than just playing a night of unrelated records, Francis Grasso founded the craft of modern DJing. He taught the first generation of New York's disco DJs, he dated Playboy bunnies and he spent more than his rent on drugs. After a youth spent at full throttle he retired to a reclusive existence, and died in March 2001 a few days short of his 53rd birthday.
So you're from NY originally?
Brooklyn. Born and bred, lived in many different places.
And you started off dancing, didn't you?

Yep. One of the original Trude Heller go-go boys. Dancing on a little platform with a live band. It was in the Village, Sixth Avenue, on the corner of 9th Street. You had 20 minutes on and 20 minutes off, and you could only move your ass side to side because if you went back and forth you'd bang off the wall and fall right onto the table you were dancing over.
What were you wearing?

Slacks, you know and you'd have a partner, and they'd play Cloud Nine by the Temptations for about 38 minutes [laughs]. It was the most exhausting job I'd ever had in my life. I was beat that night.
What was Trude Heller's like? Was it ritzy?

Kind of. Kind of like date oriented. Couples, very few recorded records, and she was just somebody who became famous. It was the hardest 20 dollars I ever made in my life. I'm going home, my muscles were killing me. I remember on the train it was…
How did you get into that?

What? Dancing? I got three major motorcycle accidents, so I couldn't co-ordinate my feet and the doctor suggested for therapy that I try dancing.
So it was a therapeutic thing?

Yeah, sort of. Very very wacky sort of way. I never thought I'd go down that sort of trail, cos I'd gone to college for literature, and I never thought I'd go down the trail…
How did dancing turn into DJing?

Well, I was managing a clothing store on Lexington Avenue between 57th Street and 58th Street. It was upstairs. And the bartenders used to come in from a club called Salvation II, and I'd become familiar with Salvation One and Bradley Pierce [?]. So they said come by. Back then it was couples only. And there was a disk jockey named Terry Noel in Salvation II, and I went there on a Friday night, and he didn't show up for work. Which later I found out when he showed up at 1.30 and he'd taken acid. It's not a good start, to a Friday night! And they so liked me they asked me if I wanted to try.
You were dancing there for money or just…

No just dancing there. It was a Reco-Cut fader with two Reco-Cut turntables and the fader was just somewhere in the middle of both turntables. I was pretty familiar with the music, and I had a ball.
And the club had the records at that time; they didn't belong to the DJ?

The club had the records. For a long time that was the way it always was.
What was the set-up? What were the turntables?

They were Reco-Cuts, probably not even in existence now, like radio quality at the time, motor driven. Not belt driven.
And all you had was a switch to cut between the two?

No. It was a knob, a fader. It was a fader, so you could do mixes. Sort of. If you knew what you were doing. But this was my first night
Do you remember the first record you played?

I don't know, but I had a hell of a good time. And they paid me a lot of money, and I said 'Wow, they paid me this much money', and I would have paid them. I had that much fun. I know when Terry showed up he was fired.
Because he was unreliable and you were the new kid? ?

Well. I played better too. He used to do really weird things. Like he'd have the whole dancefloor going and then put on Elvis Presley. I kept em juiced. He would play bizarre records… He's still bizarre, but anyway. But he showed up at 1.30, which is now Saturday morning, the club closes at 4. It's not the right time to show up for work. And the owners had probably had enough of his attitude.
Can you remember the kind of records you were playing the first few times?

Proud Mary was very popular. I played things like 96 Tears, Temptations, Four Tops, Supremes. There was no Jackson 5 then. Uh…
Can you remember the date when you first played?
Ooh no.
You remember the year.
1967 or '68. Then Salvation II closed. So I was sort of out of work. I was doing air conditioning work. And I was at this club in Union Square called Tarots, which was on 14th Street. And I asked them if they needed a disk jockey one night and they said go. And he just had a switch, he didn't have a fader. He just had a switch; you went from one to the other. And back then it was basically the same tunes. Knights In White Satin was very popular.
How long did you play there?
Until the bouncer from the Sanctuary came to the club on a Sunday night. He turned around and said to me, "You know the guy we've got at The Sanctuary really sucks, so would you like to, you know, audition?" I said sure. And at the time I had Brian Auger & the Trinity and Julie Driscoll. I went there and they were practising for a fashion show, with models. And in eight records I had the job. I thought if I can't do it in eight I'm not going to do it all night long. Next thing I knew I was at the Sanctuary.
And they were the wild years.
No. Those were the quieter years. It was when the Sanctuary was straight and it was mostly couples like Salvation II. But really it was what was really funny was that the manager of Sanctuary used to be the manager of Trude Heller's. And we all thought the day manager and the night manager hated each other. But in reality they were shacking up, and they took off with like $175,000.
This is from Sanctuary?
The original Sanctuary, the original owners. The one on the church. It's the one that was called the Church first; open two weeks and the Catholic Church got an injunction to close us down. Cos we had this mural that I would face that was unbelievably pornographic. And what was interesting about it was the devil; this guy painted a distinct feature of it was that no matter where you stood in the club he was looking at you. Angels were fucking and… So what they did was they changed the name to the Sanctuary and reprinted everything, and they stuck plastic fruit in various places, bunch of grapes here, you had red grapes, you had green grapes.
To cover everything up.
Yeah, cos it used to be some kind of German protestant church. But cos this guy took the $175,000 they had to change hands. So they wanted to make the first gay bar.
This is what year?
1969? And they fired everybody, cos they didn't want women. Cos this was after Stonewall, suddenly…
Well, it was the first time they'd taken the concept of a gay bar without a jukebox.
And not being secret…
Well, I remember the Stonewall. I was at the Haven the night of the Stonewall riot. I remember seeing the police come in a city bus. It was like wacky. They locked the doors, the cops were clubbing people, they were throwing bricks and bottles. It was a wacked out night that night. Anyway, they were gonna keep me, to try me out or whatever. So it became evident that I had the job. We used to close Mondays and Tuesdays, now we're open seven days a week. And we're packed.
I used to go to the men's room, and customers always tried to pick me up, so I remember one time I was in a urinal pissing and this guy was in a business suit, and he said something to me, I said, employer policy is that employees cannot date customers. Then I started going to the ladies' room cos there were no ladies. I remember one time there was a fellow named Alan who used to stand by the door and greet people. And somebody was doing an article with somebody and they said do you get straight people here, and he went "Yeah, there he goes."
I had such power at that time that two female friends of mine came to visit. They were just friends, at two o'clock in the morning, a weekday night, and I had James Brown Live At The Apollo on, 25 minutes and 32 seconds, and I said if you don't let them in, you better get somebody up there to change that record. So after about five minutes of this stalemate, they let them in. Jane Fonda filmed the movie Klute there. She had a big argument with Seymour and Shelley because they wouldn't permit lesbians in the club. I'm the disc jockey in the movie, and I had like three weeks work, doing the whole thing. It was fascinating to watch. Only thing is I was doing double duty, I was showing up at the movie set at 7.30, driving home, to Brooklyn, walking my dog, shave and showering, going back to work, till 4 o'clock in the morning. It took its toll.
I bet.
It was like summertime and they would have a big table with coffee and bagels and doughnuts and everything that you wanted. And then the cops came in, cos to get the feel of real hookers they had real hookers. Then they sent the cops in cos there was a lot of drug-dealing going on – in between takes! It was a lively crowd!
So you didn't play at the Sanctuary that long?
Oh, about a year. Then I remember when I was working at the Haven, the [Sanctuary] manager, Michael Crennan called me up and said somebody been fooling around with the cartridge in the back. And could I take a look. I said I could stop up there before I go down to the Haven to work. And when I walked in and the customers saw me behind in the booth, they all applauded, there was this big cheer. I'm like [shrugs] I'm not staying.
From what I've read, the Sanctuary was a wild place. Did it change?
It got wilder. In the summertime they were having sex in people's hallways.
Not in the club? Did that go on?
Only me! Cos we were open all night. We're a juice bar now. We lost the liquor license. So they had to be doing something. We were staying open till 12 o'clock in the afternoon – Saturday afternoon. And Sunday afternoon, and they'd be so smashed, in the summertime they'd be in peoples vestibules, in their hallways… It was a very. I have articles on it. I still have them. Daily News used to call it a drugs supermarket.
What drugs were people doing back then?
Back then? The biggest drug people were doing back then was Quaaludes, the small ones, 300 milligrams, the pills. And you had the capsule which was 400 milligrams, and back then they went for 5 dollars apiece. I had a pharmacist friend of mine and he used to get them in a sealed bottle and I'd sell them for a buck a piece, to my friends, who came in. made a lot of swaps for tapes, back in those days. It got pretty… I'd be out walking my dog; people like scream out your name on the street, in the supermarket. I would do average things; they'd yell "Francisss"
But that must have been great! It must have just been people you knew from the clubs.
You'd be surprised. If you put an average of 1500 people in a room, for however many years I was playing: 17 years, a lot of people are gonna get to see you… I made a lot of fans in New Jersey. I made a lot of fans everywhere.
Cos you were pretty much the first DJ that had that kind of following, there were guys before you, what were you doing differently?
There wasn't really guys before me. Nobody had really just kept the beat going. They'd get them to dance then change records, you had to catch the beat again. It never flowed. And they didn't know how to bring the crowd to a height, and then level them back down, and to bring them back up again. It was like an experience, I think that was how someone put it. And the more fun the crowd had, the more fun I had. See I really loved the atmosphere. I just wouldn't have wanted to have been a customer. I loved being in the room, but I couldn't see myself like being amongst one of the customers, being on the dancefloor, because I couldn't handle that. I really hate crowds. But it's fun to absorb it.
So how did you develop all of that?
I was a dancer! I was a dancer, so it was rhythmically… not hard. And I play a few instruments.
Really, what do you play?
Well, I started on the accordion. I was young then. Then I went to guitar and then drums and saxophone.
You say musically it wasn't a problem, and I can understand that. If you're a dancer you know what you want to dance to, but technically, technically it must have been a real problem… with the equipment you had back then…
Today you've got a disc jockey that puts on a 20 minute 12 inch. I'm changing records every 2 minutes and 12 seconds, on average. These guys don't really work today. Unh-uh. I mean if you're playing mostly 45s… I had like certain bathroom records, certain records you played only when you had to go to the bathroom.
What were they?
James Brown Live At the Apollo, then I used to play the Befour album, Brian Auger & the Trinity. I played a lot of English music. I had gotten a lot of imports over my time. I would hear things and I would have a deal with the record store where I used to live. He would let me take in all the new 45s, go in the back with this little portable Victrola, listen to them.
So technically, you pretty much invented slipcueing right. How did that come about?
Well, to tell you the truth, when Bob Lewis was a disc jockey on the radio, at CBS, before they went to oldies, way back when they played rock and roll, the engineer had taught me. But I found with the two slide faders, that I had gotten so good, cos you see the reflection off the record, you can see the different shades… of the black. And I got so good I would just catch it on the run.
You would just drop the needle on it?
No I could catch it in the beat.
But that's by holding the record.
No, without. The records spinning, you put the needle in it, right into it. And you just practised. I guess I practised live. I guess. You start out with records like, say, The Staple Singers' I'll Take You There, now that's a slow beat, and you build slowly and slowly, till you get them dancing fast. Like I used to play Immigrant Song by Led Zeppelin, I loved playing that. I discovered a lot of records too: Abaco Dream, which was really Sly And The Family Stone, [a tune] called Life And Death In G&A was a biggie, discovered James Brown's Sex Machine.
So when did slip cueing come in with felt pads?
Not till around the disco convention started. And the Bozak started coming in, the Bozak mixers. But by this time I had already been tired of disco, because they had basically put everything except Mary Had A Little Lamb with a disco beat. It was just the same sound; there was no variance. Went to a club, it was like moronic.
So what year were you able to beat mix, and completely segue?
I was able to beat mix right away.
That must have been so difficult with the records back then.
It was very difficult.
What were your peak records?
You're The One by Little sister, which was also Sly And The Family Stone. Hot Pants was very big, by James Brown, when it came out.
How long were you at the Haven?
Oh, I think about 69 to er… things were starting to happen. People were approaching me with business deals and stuff, always wanting to make a dollar quick. And I always loved that phrase; "well we don't have enough money!" And I would make a deal with them, could you invest it in equipment, cos I had always believed I was only as good as my equipment. The only limitations I would put on myself was the equipment I was working with.
Who were you working with equipment wise, Alex Rosner?
At first it was Alex Rosner, then it was Dick Long. Not Casey that much, he came in later on. Richard Long used to be Alex Rosner's fix-it man. If something happened during the night, he'd send Dick Long out. Then they had some kind of disagreement or whatever and Richard, he outbid him, he outperformed him, and he out-equipment-wised him. Dick and I used to have some really serious conversations about… Dick was into perfecting it and making it more and more reliable.
What was the first system he built for you? ?
Who Richard Long? Um, I would say the one I had in my apartment, when the equipment was stolen along with my records. It was called Disco Associates; it was a Bayer with a triple volume control, single headset. Richard was really on the cutting edge. And gave me separate microphone, and he was always toying with improving it.
Was it a big celebrity scene at Sanctuary? Did famous people come in?
Oh yeah, all the time. I dated Liza Minnelli for a while. When it's people like that you'd just nod hello. Recognition is like… people expect it to be really cool, but a lot of times it isn't cos you're expected to be always on. My second fiancée took a picture of me once, waking up. My hair was like this, you know, She's caught me in the middle of a yawn. And she went "This is the real Francis." Because I was so vain and my hair always had to be impeccable. Even my dungarees had a crease. I'm serious.
That's what you wore in the booth.
At Sanctuary? No, I wore dress clothes. But at the Haven I made dungarees popular. The 501 Levis. Button fly.
Were you able to see what your influence was on other DJs?
Yeah. I taught, two of the most prominent: Michael Cappello and Steve D'Acquisto.
How did you meet up with them?
Hanging out. From them coming in as customers. And I basically needed somebody reliable and who knew what they were basically doing, at least had an idea. I had to teach somebody. I was teaching in secret because it was really hard to do what I do. I may teach you the basic moves, but it's your interpretation that makes or breaks you. Then I had that business of opening Club Francis. I had this idea of starting like the apex technical school – see that commercial? – said I wanted to open a disc jockey school they said I was crazy. Then we had Club Francis which was the old Cafe Wha.
What was the story behind that?
I forget what year.
But that was after everything else?
It had to be around 73, 74. I knew a lot of famous people. Knew Jimi Hendrix very well, fact when he died, his main old lady, after she flew his body back to Seattle, when she came back to New York, she moved in with me. She wasn't a fiancée, a little off the wall! For my… Not too stable. But nobody was stable back then.
What kind of kick did you get out of it? When you first played.
It was just feeling the excitement the electricity that was in the air. It was just it was phenomenal. I said I would pay them (they didn't know it). It was that much fun. It wasn't until the middle 70s when everybody got into disco and Saturday Night Fever, and then it became so routine and mundane, and everybody wanted to be a disc jockey. Like hey, everybody's a disc jockey. Everybody and their mother's a disc jockey actually.
Tell me about Club Francis. Did you actually open it in the end?
Yeah, we did. I dissolved the partnership.
Wasn't the story that you got really badly beaten up? What was that?
That was opening up Club Francis. My nose has been broken about 12 times. Least that's when I stopped counting.
That was from another club?
Yeah, the Machine.
Cos you were so successful.
Yeah they didn't want me to leave. And they had the Mafia sit-down. The guy in the corner had instructions not to hit me, but to scare me. Only the guy they sent got carried away.
Shit! How bad was it?
Kept me home for three months. Bad. I remember sitting in St. Vincent's hospital. I told the cops that I was went out to get a breath of fresh air, from the club, and these guys were coming up McDougal Street, and they hit me with beer bottles. And I remember these two doctors, I was in the emergency room of St Vincent's hospital in Manhattan, said "shame, must have been a good looking guy." I had to reinvent myself so to speak, sitting at home for three months. And really when I walked my dog people thought I was Frankenstein. I was a teenage Frankenstein looking with the bandages the whole bit.
Was that the end of Club Francis?
No that was the beginning. That was the first night of Club Francis.
You were home for three months. What happened with the club?
It went on…
Where was it?
On MacDougal Street, over the old Cafe Wha,
And were they the real wild years. I mean if there were women in there…?
Oh, I was caught so many times getting oral sex in the booth it was disgusting.
While you were playing?
I would tell the girls bet you can't make me miss a beat. Gave them a little challenge and away they go! In fact one time the manager waked in. Michael Krenne. He walks into the disc jockey booth, in the Sanctuary, and he sees this girl on her knees, and I says, don't bother me now. If you're gonna yell, yell later. I had such an amazing experience with women over the years.
What were the other rewards? You got pretty well paid?
Oh I was making a lot of money. I think my drug bill was… at that time drugs were a lot cheaper, was about two-fifty a week. And that was for what I'd give away. I'd go to work I'd have 20 joints. I'd buy pot by the pound, bring 20 joints to work with me. Buy an ounce of speed.
Did you get any interest from the record companies recognising the promotional value of what you did?
Yeah, some, but back then everyone was caught up in their own thing. It was like I'm doing my thing, leave me alone.
I know you were noted for your mixing. What sort of records were you mixing together?
I had been known to make mixes like Chicago Transit Authority's I'm A Man, the Latin part, into Whole Lotta Love by Led Zeppelin. I played a lot of African music. I started African music in nightclubs. Michael Olatunji's Drums Of Passion, which bothered me when Santana came out because they didn't give Michael Olatunji credit for Jingo, and it's not even pronounced that way.
What were some of the other big mixes that you would do?
I was responsible for bringing Osibisa's Music For Gong Gong, Earth Wind And Fire, Sweet Sweetback's Badaaaasssss Song. Mitch Ryder went with the Memphis sound. Mitch Ryder and the Detroit Wheels went to Memphis and it was called the Mitch Ryder Experiment, which was very good.
Did you ever have two copies of the same things and extend things?
You're The One [by Little Sister] was similar, with part one and part two on the other side.
So how would you work that?
Well, you always get two copies, cos you only had like two minutes.
You had two copies of everything?
Mostly. If they were really big, like James Brown's Hot Pants, that was big. Cos people wanted to dance , it's summertime, the tube tops were in, no bras, the whole bit.
If you had two copies, how long would you work it?
I'd never push it more than three times. On Little Sister's You're The One, part one ended musically, part two would begin with a scream, so you could blend right into the scream, and then go back to You're The One. Or the scream twice. Play it twice, part two, flip it over and play it, twice. They didn't know I was playing two 45s.
But you didn't cut it up any more. You didn't say right I'm gonna play the intro, then another ontro, that kind of thing. Did you do that?
Occasionally. It would depend. I just basically tried everything there was to try.
When did you call it a day?
1980, 81.
And that was because…?
I got disgusted… this bullshit. And the people had changed. As it turns out I was lucky to get out, cos it was just the advent of AIDS and I had always thought that AIDS would develop into a heterosexual disease too. And Richard Long died of AIDS. I lost 38 friends. Then I found out Richard Long died, it was 39, all of AIDS.
So what's your greatest memory behind the booth?
I think its that one night, when I went in to fix the cartridge when they just saw me up there and applause just started. People stood up; the house lights were all on.
Did you ever make tapes and sell them? ?
I traded. For clothing. I'd make like cassettes for clothing and things like that. But as far as going into making a tape, like I'd do it for friends. If somebody… Albert Goldman had a fourth of July party one time; I made a tape, reel to reel that he played at his party.
You were friends with him?
Yeah.
Did he get it right in his book [Disco!]? Is that all correct?
Basically he got it right. The Penthouse article that it was taken from, my mother went out and bought so many copies. She had framed the picture of me in Penthouse. Its like a centrefold, they took the staples out. So you see this naked broad Ginger and then the next page is me.
How come you never wrote a book about it all?
It's not over yet. My life is an adventure.
What do you think makes a great DJ?
A lot of persistence. And a lot of being aware of your surroundings, and you gotta have a natural feel for rhythm. I mean guys that work at weddings they work four or five hours they get paid 500 dollars. I went to two weddings. I sounded better than that practising.
What makes a bad DJ then?
[laughs] The wrong records.
© DJhistory.com
Interviewed in Brooklyn by Frank Broughton, 4.2.99
SAVING THE RECORD STORE
My first Mecca when I started DJing and collecting music was Trackmasters in Romford; a great place, run by an awesome guy with a solid knowledge of dance music; it was purely the digital revolution that killed them off. All across the UK, independent music stores are closing at an alarming rate, as the buying habits of the general public have changed remarkably, and the shift from CD to digital is now obvious for all to see.
The 'adult' shoppers who were wanting to replace all their vinyl and cassette collection with new CDs have pretty much completed that transition. Getting them into new music on a regular basis is pretty rare. That leaves the general music buying youth, and, well, they are obviously all illegal downloading pirates (according to the RIAA/PRS/ASCAP etc), who rarely set foot in a physical retailer for anything anymore.
There is hope. In order for these traditional retail stores to keep afloat, they must adapt to the new music 2.0 world and attract customers by a variety of means. They must expand their revenue sources in order to survive. I'm sure that some if this will involve mp3s, and developing a working strategy for in-store downloading. For example, a customer can come in with their personal mp3 player, maybe share a few songs with an in-store music specialist, then receive recommendations for new music purchases. A 'top-up card' system could be implemented, where a customer can buy 5/ 10/ 25 downloads in advance, select tracks from in-store machines, then insert the card and link up their mp3 player to receive their new tracks. This will also sell well as presents for friends and families at Christmas. Branching into mp3s can also tie-in with the sale of personal mp3 players, mobile phones with music packages and the accessories that accompany them i.e. headphones, earphones and mini-speaker / home stereo link-up systems.
Box sets and limited edition CDs are a good way to add extra value, relative to the price of a 'normal' CD. They could have extra features that are not available with the original, such as extra photos and information published in the inlays(s), enhanced CDs that will play music videos in home computers, and possibly bonus tracks / unreleased mixes / original studio recordings / remastered versions. Much of this would not be available online, or at least would mean more to own physically for the loyal fans of each artist.
Brick-and-mortar retail outlets should also consider moving into other products associated with a variety of mainstream and niche artists and strong music brands, from Michael Jackson concert DVDs to Marilyn Manson dolls to Def Jam T-shirts to Glastonbury / SXSW tickets. Supporting local bands is one way they can even have an edge over the large brands such as HMV / Virgin etc. Rather than trying to sell a thousand megastar albums, selling 25 albums of 40 different local acts will create the same income and possible evolve more loyal, longer term custom.
Anything they can do to think outside the box and expand their store into a community once again is the way that the physical retailers can fight back and survive. I, for one, would hate to see the last remaining few disappear from our streets, and honestly think that by becoming more of a community / lifestyle / hang out joint, and turn the shop itself into a trusted, authentic and knowledgeable brand, then they can regain not just one-off customers, but regular long-tail fans.
Lee Jarvis.
Also posted at UK Music Jobs - the premier online community for music industry professionals.
PARAMOUNT BAR BY TOM DIXON (LONDON)
Renowned English interior designer Tom Dixon is behind Paramount, London's hottest new venue located on top of city landmark Center Point tower. The bar's aesthetic is a blend 60s retro and futurism, articulated through the use of hard-edged materials like concrete and stone to create a kind of space-ship meets super-club. The star of course, is the spectacular view, which is only enhanced by Dixon's clean, modern interior.

Anyone hoping to pay a visit to Paramount better get to work on their "applications" for membership, a process which, rather frightfully, mirrors a job application. Aspiring members must be "assesed" by a panel including English actor Stephen Fry. We're not generally fans of such pretense but thanks to Dixon, it looks like all of the hoopla may actually be worth it. Start typing.
Taken from: TheCoolHunter
LUCIEN FOORT – THE SHAME [STEREO SUSHI]
After 14 uber cool album releases, and many years of playing the world's finest crowds in some of the most exclusive clubs it's time for Stereo Sushi to step into the singles market. This label is all about bringing fine House music to the world and the first release comes from the Dutch DJ and producer Lucien Foort. The track is entitled The Shame and there is nothing a Shame about this track. The nice guys at Stereo Sushi have supplied you with 6 mixes on this track, Warren Clarke, Baggi Begovic, Funky Soldiers and of course the Original are all featured.
The Original mix has a very deep house tech vibe going on, and very strong vocal throughout. An almost hypnotic sounding key rift starts before the vocal comes in. This is one you can expect to hear on local radio shows, a beautiful Spanish guitar is present around the 4 minutes 30 into the track and as other mixes on this package it has that Ibiza feel too it. 
The Warren Clarke mix has his trade mark tribal sounding bass with a few nice breakdowns. This is the type of track you could expect to hear walking along sunset strip in Ibiza. This is the mix which is going to appeal to the slightly more Funky Soulful floors. Also Warren Clarke has kindly supplied an instrumental version too. 
A slightly tougher mix comes from Baggi Begovic, this is going to work so well in those peaktime Hed Kandi moments, the elements from the Warren Clarke and Original remain but with a whole new twist, a nice electro vibe words well but it still keeps it funky vibe. Beautiful sounds keys take you into a nice build up and the track has that hands in the air moment. Baggi also delivers a Dub which has a very stripped down vocal but still works so well. 
Funky Soldiers are up next on this brilliant first release package. Same brilliant vocal with a version that would fit nicely onto a Stereo Sushi compilation or any Soulful set. All in all a brilliant new release for Stereo Sushi and with more tracks like this is going to be an exciting year.
TOUGH TIMES…
Is the music industry in serious decline or is it booming? Well… both.
'Economy', 'Credit Crunch', 'Recession'. All very real to some people, but at the same time as the job cuts, the music industry is reaching more people who are consuming more music and more artists are making a living from it (some are even selling downloads and merchandise by the truckload). So what IS going on?
Forward thinking music 2.0 businesses that should be expanding are being forced to cut back.
Sirius XM laid off 50 staff including some disc jockeys, Pandora had to cut their team from 140 to 120.
These businesses are thriving in one sense, with more members, fans and subscribers every day – Pandora also stated that their listenership is 'growing rapidly' – and yet they are still struggling to fund their staffing costs. I think that this is because their ideas and business models are sound, but the market and industry as a whole is just not ready for them. Not just yet. The ones that aren't adapting are looking even gloomier; Time Warner is expecting to cut 1,250 jobs across the media and entertainment sectors following it's recently reported fourth quarter loss.
Then there are the small music businesses that are doing well, making a successful living from the music industry (isn't that what it's all about?). More people are doing so every year. They are selling downloads, CDs, T-shirts… it's great!
Music businesses are split into two sections in my mind. There are the businesses of old, who have always relied on selling huge numbers of a physical product and ignoring the new ways of connecting with music fans. You'll hear from them that 'pirates' are causing job losses, but in reality, they are selling less physical products than they were 10 years ago because 10 years ago people were still buying CDs in bulk to replace their out-of-date cassettes and vinyl. Those figures were unsustainable and it was unrealistic to expect that surge of purchasing to continue. The other trouble with that strategy in today's digital world is of course, single song downloads. Why buy a turkey of an album for $15 when iTunes offers the best song for $.99? So yes, Sony's music profits have declined 41% and Warner music can increase digital revenue yet the total revenue slides 11%. These companies are struggling to find a new way. We all know that.
The other section of businesses I would call music 2.0 businesses. People and teams who are looking for new models for success in the music industry. They may be online distributors or sell music-related products or services. They may be websites streaming to consumers for free (gasp(!)) or an artist giving their tracks away. What sets them all apart is how they look at building a community and reaching out to fans, with a view to creating real interaction, enjoyment and value for the consumer. Often on a personal level, because blogs and websites may be run by independent bands, and therefore often it's the artists themselves answering the emails. This makes their music genuine, appealing, and because they don't blow hundreds of thousands of dollars on old media marketing of average artists, they can (and do) succeed woth a small yet loyal fanbase. You could even put a band such as Radiohead in this sector, because although they are affiliated with a major label, their idea of branching out with a new concept and a 'name you own price for our album' strategy created a stir as it tried to push music consumerism forward.
Many successful careers and companies are crafted during tough economic times, let's face it, people can't throw money around so they only make the smart decisions (Gary Vaynerchuck taught me that). The smart advertisers and investors are siding with the 'future' of the music business, and shifting away from the dinosaurs, hence the split in the news headlines.
Maybe you should think about where your music career is now, where you want to be, and how you can appeal to fans and investors alike in these tough times, in order to create a relationship that you can both benefit from.
THE HELVETICA MOLESKINE & THE ROLAND SH-09
I've got a little something this week for both typography enthusiasts (because I know there are so many of you out there) as well as fans of vintage synthesizers. Strange bedfellows to be sure, but I figure both groups of people are equally obsessive… so maybe there is some overlap after all. To be fair, a cool notebook is useful to all humans interested in writing things down, so the appeal widens a bit with that one.
First off, I have been a bit of a Moleskine nerd since they started popping up in shops again a few years ago. They're nothing really but high-end notebooks, journals, and planners of various sizes targeted at design/art/writer types… partially because they really are damned high-quality books, and partially because of their historical legacy (their tagline is something like "The legendary notebook of Picasso, Hemingway, and Jesus"). I've been buying them for people as gifts a lot, and I've got more than a few myself (what can I say, I'm a victim of marketing). Anyway, to coincide with a recent exhibit at Tokyo's Laforet Museum Harajuku called Helvetica: A Tribute to Typography, and certainly because of the popularity of the film Helvetica with "normal" (read: non-designer) folks, Moleskine Asia has released two special-edition typography themed notebooks to coincide with the exhibit, limited to 500 pieces each. You can order them from the Asian site up there — don't be scared by the price… those are 198 Hong Kong dollars. The books come out to something like $25.54USD apiece, and are still available as of the time of this posting. I'm not sure if I'm going to actually use mine when they arrive (do you think they might be worth something someday? I'm being totally serious with this question), but they sure are purty!
Moving on with our general fetishism theme, I also was lucky enough to come across an old Roland SH-09 on eBay yesterday that was not only in excellent condition, but had a BuyItNow price of under three hundred dollars (which is a total steal, so thank you Whoever You Are). I snapped it up quickly and am now waiting patiently for it to arrive. For those of you not familiar with Roland's S-series of synths — the most popular of which is Roland's SH-101, which came out a few years after the 09 — they are the precursor (and more fully realized synthesizer) cousins of the famous TB-303 Bassline, and most of them share much of the circuitry and filter technology (some of the VCF filters and other circuitry in the S-series are actually identical to the 303) of that famous acid gadget. The (huge) difference is that you can grab an SH-101, SH-2, or SH-09 for under a grand, a
nd often for under 500 bucks. As good-condition 303's become more and more difficult to find (and wildly expensive) because of how incredibly popular they became in the nineties, you would be wise to seek out one of the S-series synths (manufactured before and at the same time as the 303) to get that classic Roland analog sound (they can create the exact same sounds as the Bassline, including that acid twerk we all love, plus much much more than that little box is capable of). Rather than give you my convoluted explanation of what this synth can do, below you can check out a really great SH-09 demonstration video I found on YouTube. One thing I will say is that the 09 came out a few years before the whole x0x plastic mid-range synthtoy series came out, and was a sort of lower-end professional analog synth. But because of that demographic, the 09 is sturdy, metal, and heavy versus the x0x-series' light n' plastic engineering. OK. check it out! I'll post an update after it arrives!
taken from: Sizzled
7 WAYS TO IMPROVE YOUR CHANCES OF GETTING A MUSIC JOB
1) Update your Music Jobs profile! I can't stress this enough. I see lots of profiles for people who sign up, no picture, no CV, and then sit back and wait. The industry doesn't work like that, you have to show what you can do. That includes on your profile page; scores of companies view hundreds of pages every month (stats) – make yours one of them.
2) Become ACTIVE in the social communities. They really are shaping the future on so many levels, from the way people share feedback on internet radio to Obama's US election campaign. If you are potentially going to become one of my employees, I want to know that you are serious about the industry. One way I can see this is if you comment on the big music news; it shows that you are on the ball and that you are able to form an opinion. This is a whole new dimension to networking in person, and that has always been a key to the industry. Now, I'd honestly say that BOTH are of equal importance.
3) Start a blog. A blog should be seen as an extension of your resume. It can offer proof of your knowledge and insight, as well as a way to exercise your brain and keep you on top of your game, even if you only get 10 hits a day. This article should fully convince you, and also offers start-up tips, in the form of due diligence (not as scary as it sounds), finding your true voice and beginning in 'stealth' mode.
4) Keep your CV up to date. There are endless websites offering helpful tips, including how to make your CV a good, readable length, a smart and original layout and even helping to explain recent layoffs and career changes. Suck at spelling and grammar? Get a friend to check it over with you.
5) Internships. Yeah, I know, working for free sucks, and maybe it shouldn't be allowed. But to be brutally honest, supply exceeds demand in the music industry, like many of the arts. Internships should not be seen as a step down, as they can open up so many new avenues and a whole new career opportunity. Even if they don't lead directly to a new position, your CV will look so much stronger if you have got off your butt and worked one day a week at a radio station for a few months, then you spent 6 weeks helping out at a magazine. If you've not had anything music related since your education (or at all), you should really think again about internships.
6) Create your own work. There has never been a better time to go Indie, and you can apply that way of thinking to any aspect of the industry. Start that record label you and your buddies have always talked about. Invest in some equipment so you can hire yourself out as a Mobile DJ. Even write your own e-book. You will be surprised where it may take you, onto remix work for other labels? A regular gig at a guy's bar (who's brother's wedding you performed at)? A publishing deal or magazine column? It may take a while, but you stand a far better chance if you are out there hustling away doing your own thing. Again, it's proof that you are dedicated.
7) Go to events. Prepared. I'll be honest (again!), this is something that I'm slacking at. I know it is important to get out there and meet new faces, check out new technologies, swap details and then follow up, but I have been a bit rubbish over the last couple of years. Being prepared simply means spending a reasonable amount of time and money on some good business cards/ CDs/ DVDs/ Press kits. I know it will greatly improve my media and marketing base if I get out to parties, conferences and exhibitions, and that is what I'm going to start doing. Join me.
So, there you have it. Of course I'm not saying this is definitive, and results may fluctuate with the weather, but I promise that these are fundamentals on your path to success.
CATES & DPL – NEW RELEASE 'THROUGH THE WEEKEND'
The debut from Om's new dynamic duo – a journey through all things electronica – full of driving rhythms, lush atmospherics, and stunning synths! When two talented forces come together unifying their knowledge of everything music – something special happens; enter Cates&dpL. With backgrounds in the industry as both musicians and as tour management, Jon Cates and David Lind have grown and developed together to push the envelope with their unique sound. 
Cates&dpL have been noted for their musicianship since they started in 2003, and over the past five years they have matured alongside their musical techniques and devices. Not wanting to sound like every other electronic act, they have put more attention on being a team rather than solo artists. This effort stands out in their carefully crafted music, and they gain influence from one another every day…giving each track they produce its own character and feeling.
When considering what would be the best for their newest recording effort (which will actually be their third studio album), Jon and Dave were determined to present their new material to the public in a way that shows the real side of their artistry, a side that displays true musicianship.
Although many people would consider them newbies, Cates&dpL have been achieving success since day one. Triumphs for the duo have put them in coveted spots including #1 placement on Beatport's Breaks Downloads, a feature on James Zabiela's DJ Mag covermount CD, as well as a feature on the Global Underground Paris compilation – mixed by Nick Warren. These successes have only pushed the two harder. Their recent remixes of Ladyhawke, Michael Jackson, and Nina Simone have seen heavy blog rotation and support from Carl Cox, Mike Monday, D. Ramirez and more.
In support of the release of 'Through the Weekend,' we've decided to give you a free download of an oldie but goodie. Released on the Samantha James 'Angel Love' remix ep, the somewhat slept on Cates & dpL (Portland Beaver Mix) is a nice introduction of their remix work. Keep an eye out for more remixes from the up and coming production duo as they've finished current projects for Wolfgang Gartner and current boots for Zion I, MIA, Ladyhawke & Pink Floyd. 
Click here to download a 320 MP3 of Samantha James 'Angel Love' (Cates & dpL Portland Beaver Mix). 
And least but not last, the production duo just hit me with a special podcast showcasing their new productions with select songs from 'Through the Weekend' and the whitelabel remix of Ladyhawke. 
You can stream or download it on the podcast page here. 
Through the Weekend Podcast Tracklist
1.Prolectro
2.351
3.PeerPressure
4.Through The Weekend
5. Ladyhawk – Magic (cates&dpL Make Magic Bootleg)
6. Late Night Nothingness (outro)   taken from: OM
DJ ZEPH MIXTAPE PT 1
When it comes to blends and mash ups, DJ Zeph reigns supreme. From the infamous duo Zeph & Azeem as well as being the production house of the critically acclaimed L*Roneous 'Dreamweavers' album, Zeph has been staying busy rocking shows on Technics around the bay area and beyond. 
This mix is nothing short of a Zeph Classic as he blends new with old, rock with hip hop. Featuring classics of yesterday and new bangers of today, Zeph turns out Pt. 1 of this two part mix quite nicely. Keep your eyes open for Pt 2 dropping in a couple days. Click the banner to redirect to the podcast page where you right click the link to download. 
Track List for Pt. 1 
1) Hood Nigga / Get it Up – MIA 
2) Distortion2static / Roots/ In Da Club – 50 Cent 
3) La Di Da Di – Slick Rick / The Rascals 
4) Hypnotize – Herb Alpert / Notorious BIG / David Byrne / Brian Eno 
5) Go Ahead – Santogold 
6) Royal Flush – Big Boi 
7) Give It Away – Red Hot Chili Peppers / Common 
8) Blister in the Sun – Violent Fems / Azeem 
9) Cool Like Dat – Digable Planets 
10) Yay Area – E-40 
11) White Gurl/ Lets Go All the Way – Sly Fox 
12) Live Together / Fly Girl – The Boogie Boys 
13) Live Together / Bring Em Out – Nickodemus / T.I. 
14) Live Together Remix – Timmy Thomas 
15) Why You Wanna / Work It – T.I. / Missy Elliott 
16) Thank You / Work It – Sly Stone 
17) Make You Feel That Way – Blackalicious / Justin Timberlake 
18) Give It To Me – Timbaland 
19) Make Everything All Right – Kraak N Smaak 
Click here to peep the Zeph & Azeem 'Rise Up' album.
TEN AWESOME HOMEMADE GUITARS
HEY GUESS WHAT!!! We spent the entire day at work searching the words "made guitar" and "built guitar"!
Here are the most interesting ones we found:
1. Dude built a guitar from legshield of a vespa scooter 
2. Nicest cigarbox guitar I've ever seen 
3. Hardcore homemade (Africa) 
4. Another African homemade guitar 
5. Croissant-a-caster? 
6. Skate-a-caster? 
7. Dear GOD, my eyes!
8. THE MOST UN-SAFE FOR WORK GUITAR KNOWN TO MAN
Of lesser note, but still interesting:
J-BOOGIE & BEATSAUCE ON BROOKLYN RADIO | REVOLUTION OUT NOW!
Since 1993, Beatsauce radio has been holding down the airwaves of the SFC with resident djs J-Boogie, Wisdom and Raw B every Sunday evening. Known for their innovative shows showcasing the who's who in hip hop, ticket giveaways and a long list of guest appearances including the likes of Common, Gangstarr, KRS-ONE, J5 and many more.

Along with Om Records, this year marks the 15th anniversary of Beatsauce, and as the seasons change so does radio. Beatsauce has now parted ways from KUSF and had teamed up with Brooklyn Radio and it's affliates for a bi monthly broadcast where you can stream and download the current hotness. Not just hip hop, they've decided to open the format to include multiple music genres including funk, soul, house, afrobeat, reggae, dancehall and disco. They've also enlisted Dj Diversify to join the team.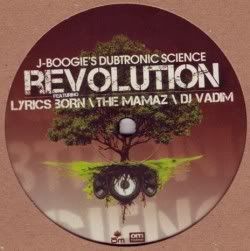 In the new music world, the Revolution 12 inch featuring Lyrics Born, The Mamaz and a nice remix from DJ Vadim finally made it to wax and you can get your own personal copy online at Turntable Lab or on the shelves at such stores as Amoeba. Don't miss out on this limited edition 12 wax before it goes out of print.
taken from: om
KERO ONE IS MY HOMIE
Kero One is my homie! He makes beats, writes raps and likes dope kicks. Continuing with the Mushroom Jazz 6 head space, Kero is the man behind track 4, Groovin,' which is one of my personal favorites.
Pursuing the quest for quality hip hop fused with influences of jazz, blues and good ole fashioned soul, Kero is prepping for his next full length release which is dropping in April on his own imprint Plug Label. However, just to give you a taste he's dropped a new single 'When the Sunshine Comes' which is available on itunes. If you ain't got the time to get to the itunes store, click the image above for a special download of 'Welcome to the Bay' courtesy of the man himself.
DJ SNEAK LIVES THE TRUE-SCHOOL HOUSE LIFE.
"I have this campaign going right now, with T-shirts and things that say i'm a house gangster," DJ Sneak says over a shaky phone connection from Amsterdam, where he's in the midst of a tour to promote a new release. "People go, 'What's a house gangster?' A house gangster is someone who keeps it real, that's what it is. And that's what I am." The veteran producer, age 38, might sound like an arrogant tough-guy, but he speaks the truth; when it comes to authentic, no-frills, thumping Chicago house music, Sneak has few peers. He'll prove it on Valentine's Day, when he spins at Sullivan Room for the Basic NYC and KGB crews. 
Sneak, born Carlos Sosa, is traveling the world to push his edition of the NRK label's Back in the Box mix-CD line, a series that serves as a retrospective of house's mid-'90s golden years. This is a job that suits the Puerto Rico–born, Chicago-raised, Toronto-based DJ's predilections well: It's the era in which he first came to attention as part of the Windy City's second wave of house jocks, releasing cuts on Cajmere's revered Relief label. "I had been playing a lot of those older tracks lately anyway," he says, "so when NRK asked me to do it, I told them, 'Shit, I'm ready to do it right now!'?" The resulting mix has a classic feel, in part thanks to the inclusion of driving, disco-tinged tracks like Johnny Fiasco's "Conduction," Paul Johnson's "Hit It Up" and Sneak's own "You Can't Hide from Your Bud."
But it's more than song selection—the mix's flow itself has a refreshingly straight-ahead vibe that's hard to find nowadays. "I did one CD in one day, and the other one the next day," Sneak explains. "It's all live, no special effects or anything like that. There's a couple of edits because some of the songs are so long, like ten minutes, so a bit had to go, you know? Other than that, I basically just played the tracks."
It might all sound a bit meat-and-potatoes, but it's as savory a meal as the house world serves up these days. Take the spontaneous, stream-of-adulation reaction of Tony Lee—a local house stalwart and admitted Sneak freak who's spinning an opening set at Saturday's party—when asked his opinion of the headliner. "Oh, man, his music picks me up by the shoulders and bounces me around the room!" Lee excitedly shouts. "It's the thump, man: bass-driven and really jacking, that slappin'-the-funk Chicago style. I love>me him!"
As does a whole new crop of fans, thanks in part to the techno world's recent fascination with the traditional house sound. Last summer, for instance, Sneak played a tag-team set in front of a techno audience at Romania's Sunwave festival alongside one of minimal's most severe auteurs, Ricardo Villalobos. Search on YouTube for the many videos of the gig—the sound is closer to Sneak's than Villalobos's, and the crowd is eating it up. "I think all the people into minimal are finally realizing that it's all just house music," Sneak muses. "A new generation is coming, and I'm trying to get them to listen on the house tip. I'm trying to have them understand what real house is."
Not that Sneak has a choice in the matter; his chugging sound is pretty much the same as it was when he released his first records, something admirable in this microtrend-fixated age. "I just know what I'm good at," the DJ says, "and I know I can't do things I'm not good at. I've worked really hard to get to where I am, and to try and compromise what I do to maintain my status, well, that's never been my plan. I've had to wait out changes in the scene before, but things have always come back—and now is one of those times."
Still, even a tough guy needs a little guidance now and then. "I'm married, dude, and my wife gives me an honest opinion about everything I produce," Sneak admits. "I'll play her something, and she'll go 'I don't like this one. It's not for the ladies.' And the stuff she thinks is for the ladies is good, old-fashioned back-to-the-roots house."  
source: realcooltime
TOUCHSCREEN TURNTABLES
In the digital age of music, Turntablism has long remained a bastion of the analogue, a smoky backroom where arguments over white labels, pick-ups and the merits of the 'S'-shaped tone arm are the order of the day. Only recently has the turntable been dragged into the digital spectrum, beginning with the CD models ten years ago and being followed now by the emergence of hard-drive based decks.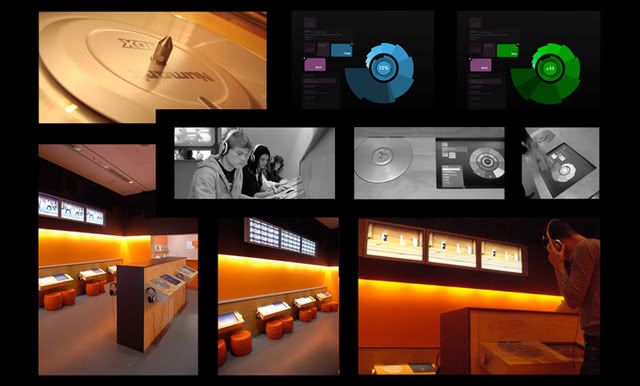 The recent Picasso & His Collection exhibition at the Gallery of Modern Art (GoMA) of Brisbane, Australia, managed to take the digital deck another step further. A significant part of Pablo Picasso's genius was the posthumous influence he had on modern Europe following his death in 1973, something GoMA's curators were excited to capture in their Contemporary Media Lounge, the centrepiece being the introduction of a touch screen turntable.
Co-ordinated by GoMA's Multimedia Designer, Aidan Robertson and calling on the skills of both the gallery's exhibitions team and post production company Cutting Edge's Interactive Designer, Dan Treichel, the brilliance of the turntables lies in the linking of a platter taken from a Numark HDX deck with an intuitive touchscreen. As the platter spins, the user is able to manipulate a range of adjustable filters onscreen to build, rearrange and reinvent the MP3 songs on the drive. While relatively easy to pick up and play, the turntables also possess a steady learning curve, letting the more committed and ambitious users create works of intimidating aural dexterity.  
Thus Robertson, Treichel and their collaborators managed to weave together the practicality of both old and new, keeping the tactile response of the high-torque HDX platter but matching it to the easy access of media and filters provided by a touchscreen. By doing so, they created a compelling experience and in the process made the touchscreen-turntables an unexpected star of the exhibition.   
source: thecoolhunter
RAPPER'S DELIGHT
22 years of our favorite rap records, one show per year, mixed by Cosmo, Eleven & Ayres. Feel me, dawg?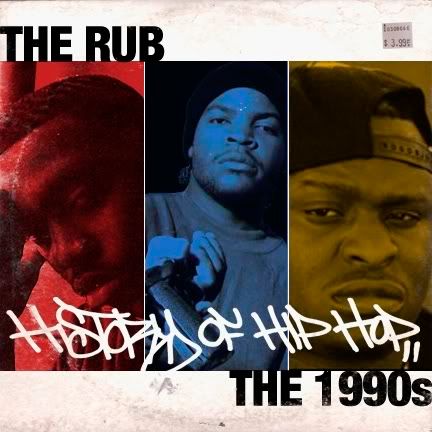 Dig tha thang here: 
IT'S THE RUB!
The Rub's own Ayres, Cosmo Baker and DJ Eleven have selected 2 hours of their favorite songs of '08, combining them in a nice dj mix that i think everyone will enjoy.

From Qtip to Weezy, Santogold to our own J-Boogie this eclectic mix features remixes and reworks that you might never heard before. Click the banner to visit The Rub site and scroll down to the big 2008. Props to Eleven for sending this through!
Dance Music Production Honor System
1. Try to emphasize content over form.
2. Challenge yourself. If it seems too easy, it is questionable at best.
3. Personalize all sounds, effects, and arrangements wherever possible.
4. Refrain from releasing or submitting any track that:
     a. sounds like it could be the work of another producer,
     b. sounds redundantly like other works of your own, or
     c. only evokes the emotion of being in a club.
5. Treat every track as you would a loved one; support and encourage its individuality, and never misguide or manipulate it for popularity purposes.
6. Study and consider the history of dance music and make every attempt possible to carry on its creative and positive traditions while respectfully avoiding mimicking, re-treading, or capitalizing on its origins for content.
7. Honestly question your motivation and objective, particularly if your interest in dancing and dance music is a result of certain chemical experiences.
8. In-the-box, laptop-only productions sound LIKE SHIT. 
9. Plug-ins effects DO NOT sound as good as hardware units.
10. It is a sin to think that a tape delay emulator is dubby.
11. A synth output sounds much better than any laptop sampler or soft-synth.
12. As useful as they can be, physical modeling synths sound HARSH and have NO SOUL.
13. God made the audio sequencer, the Devil made the "quantize" button.
14. Surprises in music are a GOOD thing. Knowing what's coming up each 16 bars is BORING. 
---
LAW & ORDER
DJs shall respect their roles as stewards of musical history (not simply musical trends) by keeping accurate set lists and an online record of their play activities, and will share information openly with fans, center-label trainspotters, etc. Furthermore, audio documentation and relationships to radio and net broadcasters are encouraged and expected.
DJs shall respect their roles as stewards of musical culture— as fans of the highest order— by communicating their gratitude to labels, artists, and producers whose work they are performing.
Producers, musicians, and artists shall respect their roles as cultural producers by dedicating numbers of vinyl pressings to devoted DJs in kind and offering communication about their work, their intentions, and their artistic desires to the DJs who are performing the work.
Producers and DJs shall respect the history of techno, house and disco by collecting actual vinyl and establishing an understanding of their roots, not just in dance music, but in all musical forms, doing their best not to copy the sounds of the past but to draw on the inspiration of originators and honor their legacies by innovating with previous risk-taking practices humbly remembered and cherished. Risk-taking shall be the guideline for all music deemed "good" by fans, artists, labels, DJs, etc.
Labels shall respect their roles as cultural producers by maintaining a dedication to actual manufactured formats; to shops who remain open in spite of rising rents and costs; and to paying artists who produce the work (when profit exists). Most of all, labels should help shift trends by offering products that differ from whatever trend is staling on the shelves. It is not the label's role to give people what they want— it is the label's role to provide what people did not know that they will soon be wanting.
Fans shall respect their roles as cultural consumers by always asking for something more, something different, something visceral, something real and above all something that sounds good. They should be proud to pay for the work.
---
THE HISTORY
From its roots in Chicago, where it rose from the ashes of Disco, House music became the soundtrack to every fashion show, after–show party, premiere, and club opening around the world. 
Today, House is used by leading mainstream music stars, from Madonna to U2, to break into new markets and to update their sound. In fact, House has influenced more artists than any style since rock 'n' roll.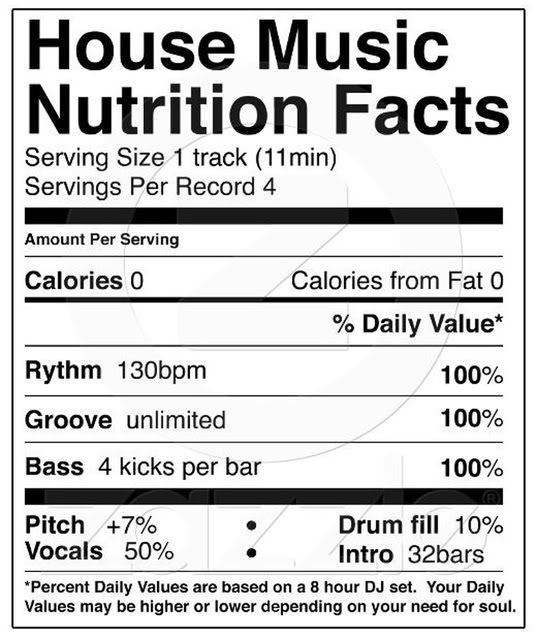 TWITTER WITH DEFECTED
A hybrid of social networking sites and blogging, Twitter has exploded in popularity over the last few months, and now it seems that everyone is twittering on about something or other.
Initially founded as research and development project back in 2006, it has fast become the prefered choice for web junkies to keep up to date on the latests news and gossip from every sphere imaginable. High profile Twitter accounts have surfaced from the likes of Steven Fry and William Shatner, Britney Spears and Barack Obama – even MC Hammer's in on the act, no doubt preaching the benefits of absurdly baggy trousers and square haircuts.
Now, the guy behind Defected TV Nick Navaro has taken it upon himself to provide you with all the latest, concerning any and everything Defected, from what's going on in the office to the latest upcoming releases and…well, you'll just have to tune in to find out exactly what.
Click here to start Twittering…
FLUENTIAL RE-FLEXES IT'S MUSICAL MUSCLES
Fluential is back after a 3 year hiatus. It's been hanging in the shadows patiently (some would say in re-hab) waiting to bounce back and mess up a few dance floors once again.
Fluential is the legendary label that could be considered the black sheep of the Defected label family, it's like Defected's bad brother, the one that's a little edgy, unpredictable and goes to the all best clubs. now, Fluential the bad brother is back on the scene. 
From its initial conception in 2002 it has always been an outlet for the development of new up and coming artists. The labels sound is on a much deeper, techier tip and it was the label that first put out tracks by Kidstuff, Paul Jackson, Tedd Patterson, Chus and Cebellos and Roland Clark. Always remaining a special and well respected imprint designed to put out new underground tracks to house heads everywhere that would not necessarily fit the typical Defected profile. 
Previously considered a vinyl only label, Fluential has now become future proof and will release Digital only tracks. Look out for three new singles planned to drop within the next month. 
Zoo Brazil – Gainer, Mike Dunn – Deep Down (The Underground) and Sultan and Ned Sheperd – Block Party (Pierre J & Patrick M Remix & DJ Wady Remix).
DON'T PANIC! – OFFICIAL TRAILER
Yes, it's final words has been spread out. The official trailer for the 1st Jakarta's Most underground Jackin House music party is released!!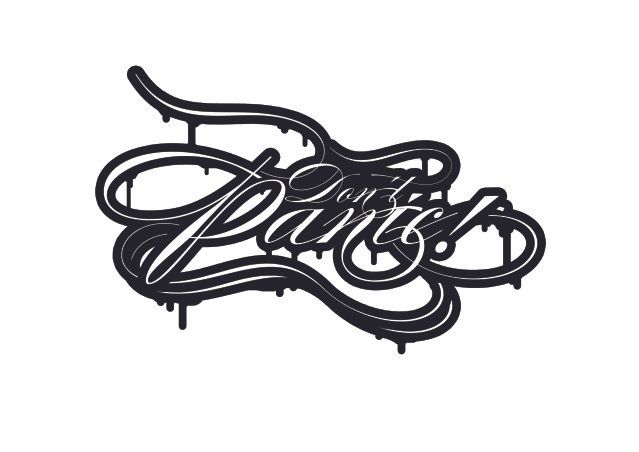 DON'T PANIC! is the logical evolution of the traditional House Music Scene in Jakarta to a New School, Eclectic, Uncompromising in quality, Inclusive, and exciting "anything-goes-as-long-as-it's-good" format that seeks to focus in the extremely wide range of sounds and possibilities that all fall under House Music's wide umbrella. Click the image above to know what's coming your way.
TSUBA LAUNCHES VINYL ONLY OFFSHOOT
The London based house label Tsuba, known for output from artists such as Peace Division and David K kick off a special new sub-label, Tsuba Colours. Each release will be shrink-wrapped, feature artist-chosen coloured sleeves/vinyl and artwork and will feature material from artists known mainly for vinyl-based exploits, in a celebration of the precious format. 
It's quite fitting, then, that the first release comes from label-boss, Issst man and house music lynchpin, Kevin Griffiths. Named in honour of legendary kickboxer and sometime footballer, Eric Cantona, 'Cantona Kung Fu' is a trippy, tracky, late night slice of house music. The artwork itself also lends a nod to Cantona, in a lawyer baiting homage which again, harks back to the good old days. Remix duties have been passed to Sascha Dive, a young producer known for his passion for both vinyl and true house music sensibilities. His aptly titled 'Chicago Blue Chucaracha Dub' is a stunningly honest piece of percussive house which features an additional vocal which really lifts the mix. 
Kevin Griffiths best explains the premise behind Tsuba Colours and this release. 
"Poor old vinyl keeps getting it in the neck so I wanted to do something to celebrate the format. The deluxe packaging and shrink-wrap reminded me how special a 12" can be; a feeling you don't tend to get with downloads. The music will be a bit deeper, so I'm delighted to kick start the series with my new single along with Sascha Dive. Moodymanc has delivered the next release which is a bit special, too." 
Kevin Griffiths' 'Cantona Kung Fu' is released on the brand new Tsuba Colours imprint early-March, 2009.
NOISE REDUCTION (THEORY + PRACTICE)
OK, a real quickie here for you guys. I was checking my email this morning, and came across what I thought was just another spammy update from Sony for Soundforge users. And while it kind of was that, it also happened to contain this very useful little article on Soundforge 9's newer noise reduction features.
You can read the article yourself, but what Sony has done is actually apply an old acapella-extraction studio trick to their audio editor as a method of eliminating unwanted noise from a sample. It's the kind of simple (and awesome) idea that goes overlooked as a software feature for years. Honestly, you could do this by hand in any audio editor – but this takes a lot of the tedium and guesswork out of things. 
Right, so the acapella trick is something that I actually learned from Frankie years ago. The theory is that if you have a tune with a vocal in it that you want to extract, you should be able to cancel out the background elements of the song by exactly laying the instrumental (with the phase inverted or "flipped") of the same track over it (it's important that the songs are sonically identical, minus the vocal), and because of the positive and negative phases, they should cancel out and leave just the vocal behind. In practice, it only kind of works. Sometimes. But when it does, it's a very helpful little trick. This is basically what Soundforge is doing to eliminate hum, and it's far more useful! Like I said, you can always do it by hand as well. OK, and on that note — enjoy the weekend!
Source: Sizzled
BOYS SAY 'YES'
Pet Shop Boys have announced that their new album, 'Yes', will drop on March 23. It will be preceded by new single Love Etc, due out on March 16, which Neil Tennant describes as 'a post-lifestyle anthem which sounds like nothing we've done before'. The set has been produced by the prolific Xenomania, the team behind the likes of Girls Aloud and Sugababes. Former guitarist with The Smiths Johnny Marr also joins Chris Lowe and Tennant on the record. Said Lowe: 'This album is amazing and it was great working with Xenomania!', while Tennant added: 'It's a fantastic, wide-ranging, pop record.'
Here's the tracklisting in full:
Love etc
All Over The World
Beautiful People
Did You See Me Coming?
Vulnerable
More Than A Dream
Building A Wall
King of Rome
Pandemonium
The Way It Used To Be
Legacy
The duo are set to receive a Brit for their Outstanding Contribution To Music at this year's awards ceremony on February 18. 
source:dft
INTERNATIONAL MUSIC SUMMIT MARKS 1ST ANNIVERSARY


The INTERNATIONAL MUSIC SUMMIT returns to Ibiza on May 27-29 2009, after an incredible response to it s inaugural event. The IMS has been created by six leading professionals to help re-set the agenda for electronic music culture, at a time when the industry needs it most.
Set again at a special location in Ibiza, the IMS covers three intense days of business programming, networking and activity leading straight into the official opening weekend of the Ibiza season. There will again be a very limited number of delegate badges available, increased in 2009 by 100 places to 400. Yes, the International Music Summit will continue to be the G8 of music conferences.
The International Music Summit will expand into 2009 with the addition of exhibition space for 30 companies only, all approved by the IMS board, and IMS: The Manual, a definitive guide for all registered delegates to take home. The IMS finale will be a spectacular outdoor event in Ibiza, featuring the hottest live acts, DJs, and of course, our very own Pete Tong. There will also be special showcases / workshops from partner Pioneer.
Central to the event is our exclusive five-star accommodation at the Ibiza Gran Hotel, for which we have again secured an incredible discount price. IMS will be set in a luxurious resort to help give all delegates the space to think, debate and network for the future of their companies.
 
source:dft
THE END'S FINAL BEAT
Soon-to-close London venue The End is already anticipating issues that may arise on its last ever party, taking place on January 24.
The club has issued advise to punters hoping to get in on the door on the big night.
'The End Closing party opens at 8pm,' reads the statement. 'Please plan your night – we envisage that not many people will be leaving the club between 11pm – 4am, so fewer people will be able to enter the venue between these times. It's hard to exactly predict, but from 4am the queue should be moving again.
'From 6am, we will be charging a reduced price of 20, for entry into the whole venue and afterparty. The party will be in full swing at this time, with the main room open. The headliners from The End will all be playing at the afterparty in AKA, and the DJs will continue well into Sunday afternoon. So please consider staggering your entry; you will still have plenty of time to enjoy the closing night. We want to let everyone have an opportunity to join the party and say goodbye.'
As if this wasn't enough, Westminster Council is giving the club permission to closing off the whole of West Central Street on the night, where a marquee will be set up with a silent disco and drinks provided to the queuing hoards hoping to pay their last respects.
On the bill for the final curtain is Laurent Garnier, Layo & Bushwacka!, Mr C, Erol Alkan, Ben Watt, Jimpster, Will Saul, Rory Philips, Don Mac and Frankie Valentine.
Check www.endclub.com for more information. 
  
source:dft
50 YEARS OF MOTOWN
Motown Records is celebrating its 50th anniversary.
The legendary label was founded as Tamla Records in Detroit on January 12, 1959, by ex-boxer Berry Gordy with a loan of $800 from his family. It later became Motown Records, named after the principle industry of the city the motor car.
In its 50 year history, it has produced nearly 200 number one singles, and still has a glorious reputation today, recently unleashing material from Q-Tip, Erykah Badu and Lil' Wayne.
Acts that forged the reputation of the label included Marvin Gaye, The Four Tops, Martha & The Vandellas, Smokey Robinson, The Commodores, Rick James, Stevie Wonder, Michael Jackson and The Supremes, of whom singer Diana Ross started out as a secretary to Gordy.
It was also home to the legendary songwriters like Ashford & Simpson and Holland-Dozier-Holland (brothers Brian and Eddie Holland and Lamont Dozier), who were largely responsible for creating the label's soulful sound, writing tracks like Baby Love, Reach Out I'll Be There, You Can't Hurry Love, You Keep Me Hangin' On and Jimmy Mack.
Other benchmark tracks to come out of the label include Stevie Wonder's Superstition, Marvin Gaye's Heard It Through The Grapevine and Smokey Robinson & The Miracles' Tracks Of My Tears.
Since its heyday a breadth of acts have covered the songs it produced, including The Beatles, The Jam, George Michael, The Slits and The Beach Boys.
RAASHAN AHMAD FEAT. GIFT OF GAB 'STICK EM'
I was digging through my itunes library yesterday and came across this little mixtape gem from Raashan Ahmad's 'Bootlegs, B-Sides and Rarities'.
Live and Direct from Raa & Gift of Gab, they give an ode to the old school with a throwback freestyle session. Wordplay is the theme over the 'Human Beat Box' and the original 'Stick Em' beat laced with some nice Fat Boy Drums. Don't be shy, click the banner to download.
ROGER SANCHEZ RELEASED RENAISSANCE 3D!
In a day and age where mix compilations are a dime a dozen, Renaissance decided that something needed to be done to set them apart – welcome the 3D concept. The idea is simple….get an established and respected dj/producer to mix three discs: Club, Studio and Home, each depicting a different side of the artists' musical repertoire. Following up the highly acclaimed releases by Satoshi Tomiie , Faithless and Tom Middleton, the legendary Roger Sanchez steps up to the plate giving us a rare insight across the spectrum of his musical life.
Whether it's hosting and playing legendary 7/8 hour sets at his 'Release Yourself' parties in Pacha, Ibiza and around the world; compiling and mixing an annual compilation of the same name, or producing as himself or the S-Man, there's no question Roger Sanchez is one of house music's most revered ambassadors.
Aside from running his own label (Stealth), supporting house from the ground-roots up, Roger has also found time to remix some of the world's best artists such as Madonna, Michael Jackson, Jamiroquai, Alicia Keys, Daft Punk and many, many more… Put simply, the S-Man was tailor-made for 3D!
"This is the first compilation outside of my own 'Release Yourself' series I've done in a long time, and I was excited by the opportunity to do something different, as presented by the Renaissance 3D mix. I feel this captures the essence of the many different vibes I have, be it on the dance floor, in the studio or at home." – Roger Sanchez
We first catch-up with Roger in the club for a current snapshot of his live club sets, drawing on friends and producers such as India, D.O.N.S., Outwork, Wally Lopez, Hatiras and Richard Grey. The result is archetypal Sanchez, a heady mix of soul, funk and electro.
As we follow him to the studio, Roger presents his seminal remix of the legend that was Barry White alongside key favourites such as Carl Kennedy, Artificial Funk and A Tribe Called Es. The rest of the disc accurately portrays his incredibly prolific studio output, fittingly spear-headed by his crossover smash 'Another Chance'.
Finally, Roger takes us home for an eclectic musical travelogue that begins on the tranquil shores of Ibiza with Afterlife's 'Clear Blue Sky'; jumps across Europe to enjoy the cream of Britain's electronic artists, Massive Attack and Finlay Quaye and, later, looks a little closer to his Manhattan home by way of Black Science Orchestra's 'New Jersey Deep'. He adopts some Gallic charm via Daft Punk before winding things-up in true festival mosh-pit style with the Klaxons seminal 'Not Over' cover.
Tracklisting:
Club (Disc 1)
1. The Transatlatins Feat. India – I Can't Live Without Music
2. Vlada DJ, JP Candela & JP Vignau – I Love Hit (Julian the Angel Remix)
3. Robert Livesu & DJ Eako feat Geneiva Hallen – Hold Your Head Up High (D.O.N.S. vs. Menck Remix)
4. Louis Botella – I Feel Love (Nari & Milani Remix)
5. Nari & Milani Pres. DEK 33 – A.T.C.
6. Outwork feat. Mr. Gee – Thank God For Music (Jesse Garcia Mix)
7. Wally Lopez, Rene Amesz & Peter Gelderblom – Strike Me Down (DJ Pedro & Stephan M Mix)
8. Funkerman Feat. JW – One For Me (Prok & Fitch Mix)
9. Cubetronix – That Sound (Diego Abaribi & Paolo Aliberti Remix)
10. Noferini – C'Mon This
11. Joey Seminara & Danny Nagels vs. MC Flipside – Just The Tip (Hatiras Vocal Mix)
12. Richard Grey – Massive
 
Studio (Disc 2)
1. Roger Sanchez – I Never Knew
2. Roger Sanchez – Again (12" Mix)
3. A Tribe Called Es feat. Jaquita – Dancin (Roger's Release Mix)
4. Artificial Funk – Together (S-Man's Don't Give A F**k Mix)
5. Carl Kennedy – The Love You Bring (Roger's S-Man Vocal Mix)
6. Roger Sanchez – Another Chance
7. Roger Sanchez – Take A Chance
8. Roger Sanchez – Contact
9. Pure Orange feat. Shane Nolan – Feel Alive (Roger's Release Mix)10. Roger Sanchez – Hot 4 U
11. Barry White – Love is The Icon (Roger's Midnite Luv Mix))
Home (Disc 3)
1. Afterlife – Clear Blue Sky
2. Massive Attack – Weather Storm
3. Finley Quaye – Even After All
4. Dawn Penn – You Don't Love Me (No, No, No)
5. Tom Tom Club – Genius of Love
6. Patrice Rushen – Forget Me Nots
7. Black Science Orchestra – New Jersey Deep
8. Daft Punk – Fresh
9. Ben Watt – Guinea Pig (Vocal Variation with Julia Biel)
10. SIA – Breathe Me (Mylo Mix)
11. Klaxons – It's Not Over Yet
  source: OMR
VERY RARE QUICKFIRE INTERVIEW WITH DERRICK CARTER
Ok as you will probably know Derrick Carter rarely does interviews as his busy life dosent give him much time.
So in preperation for the forthcoming Baker Street Label parties I managed to speak to the man himself and set him a challenge….
A quickfire quick answer session in under 60 seconds!!!
Hope you had a great NYE, how did you see the New Year in?
I was in San Francisco having a very good time.
What does 2009 hold for DLC enterprises?
Music and stuff. Just plan to be working and working like a mad man. I've already finished a remix and an EP for release.
A few years back you mentioned you were getting into photography, will there ever be a exhibition of "The World Though Derrick Carter's Eyes"?
Probably not. I don't think that I have the aptitude or acumen for photography. Nor the patience.
The legendary Classic is back on track (excuse the pun) digitally, will we get to see some release being put on wax again?
Hopefully we'll get some junk on vinyl. It's hard to say thought as we don't have a physical storage space any longer and records require an awful lot of space.
Any chance of an Album from you in the near future?
There's a HUGE chance!
If you had to be a "case" on Jerry Springer what would be the title of the show?
The network censors would never allow it on the air…
 Thanks to Jacob
HOUSE MASTERS – DENNIS FERRER
House Master No.3 comes in the guise of Dennis Ferrer, an artist known first and foremost as the New York producer and remixer with the Midas touch. He burst into the house scene with his seminal 2003 hit 'Sandcastles' a collaboration that he did with Jerome Sydeham that set his standard.
He has since reworked and defined classic records from Blaze (providing the key mix on the anthemic 'Most Precious Love' – a UK Top 20 hit), as well as being the guy that took Fish Go Deep feat. Tracey K 'The Cure & The Cause' to another level completely, reaching No. 23 in the national charts, crossing over to the mainstream direct from the underground due to great radio and club support.
The culmination of years of quality output was recently demonstrated on his debut artist album 'The World As I See It' which deftly linked soulful vocals with stripped down techy flavours – a benchmark House album in every sense.
His underground productions have also earned him respect from DJ's the world over. He re-work of Copyright 'He Is' and The Sunburst Band 'Journey To The Sun' made an impact on the world's dance floors, as well as his own productions 'P 2 Da J' and 'Black Man in Space'.
This is why Dennis Ferrer is so unique as an artist. He has the ability to transcend all genres of house music from Techno to Soulful, from Deep to Vocal, Dennis is the master of them all.
Released: 26/01/09
 
Track listing
  1. The Cure & The Cause (Dennis Ferrer Remix) – Fish Go Deep  
  2. Journey To The Sun (Dennis Ferrer Remix) – Joey Negro presents The Sunburst Band  
  3. Most Precious Love (DF Future 3000 Mix) – Blaze  
  4. Rain (Let It All Come Down) (DF's Rainforest Mix' – Stephanie Cooke  
  5. Alibi (DF's Out On Bail Mix) – Reel People feat. Darien  
  6. He Is (Ferrer & Sydenham Inc Vox Mix) – Copyright  
  7. Nothing Is Impossible (Dennis Ferrer Club Mix) – Dubtribe Sound System  
  8. Can't Stop (Dennis F's Falling 4 U Mix) – Reel People  
  9. Jealousy (Dennis Ferrer 'Haters' Club Mix) – Martin Solveig  
10. Got 2 B U (Dennis Ferrer Eclipse Mix) – Southern Divide  
11. A Black Man In Space (Sax Mix) – Son of Raw  
12. Sandcastles (Original Mix) – Sydenham & Ferrer  
13. Touched The Sky – Dennis Ferrer  
14. Church Lady (Original) – Dennis Ferrer  
15. How Do I Let Go – Dennis Ferrer  
16. Reach For Freedom – Dennis Ferrer  
17. Underground Is My Home – Dennis Ferrer  
18. Transitions (Sunshine's Vocal Version from the Pulpit) – Dennis Ferrer  
19. P 2 Da J – Dennis Ferrer  
20. Grateful (DF's Raze Yo Handz Vox Mix) – Dennis Ferrer  
source: DFCT
BARGROOVES OVER ICE
This sound of the bar scene is perfectly captured in bargrooves due to its unique selections. This is the fourth release in this new series specially designed for the long winter months. bargrooves 'Over Ice' brings you a smooth taster of the deeper more down tempo sound of the bargrooves label as well as uplifting vocal and deeper mixes. This is a perfect selection to chill out, get ready for a party or play anytime on your ipod. Expertly crafted to take the edge off these cold Winter months, 'Over Ice', eases us in with trademark bargrooves beats, San Fran maestro Miguel Migs shakes off the cold with a deep 'n' funky number. Vintage Louie Vega in his Hardrive 2000 guise rears his head alongside a forgotten remix of Jon Cutler's 'It's Yours' from NY don Frankie Feliciano. Outstanding producers Julien Jabre, Blaze, Sandy Rivera and Copyright also spread the bargrooves special vibe.
The second cd contains a much more sublime and deeper mix, smooth, sophisticated and melodic. It features brand new releases from Ben Watt, Loco Dice, Sebo K plus an exclusive Marlon D remix of Roach Motel's classic 'The Night'.
Lastly CD3 lives up to its 'Over Ice' Title as this is the chilled mix. Perfectly compiled for the cold months of 2009. It embodies the down tempo and eclectic side to bargrooves. Featuring Afterlife, The Ballistic Brothers, Kings of Tomorrow, Mood II Swing and Ultra Nate this is the choice of cd that will fit that 'back to my place' vibe.
The new look bargrooves brand is now one year old and has firmly established itself as the definitive sound of the world bar scene.
Released: 26/01/09
 
Track listing
   
Disc 1
   
1. Those Things (Original Album Version) – Miguel Migs  
2. He's So Real (MuthaFunkaz Tell Ya Bout Him Remix) – DJ Spen presents Jersey Maestros featuring Renee Smith  
3. Work This, Like This – Hardrive  
4. That Day – Julian Jabre  
5. Our Music – Trackheads  
6. It's Yours (Frankie Feliciano's Reconstruction Mix) – Jon Cutler feat. E-Man  
7. Sun Will Shine (MK Mix) (DIGITAL EDIT) – Studio Apartment featuring Yasmeen Sulieman  
8. Breathe (Liquid People presents Danism Remix) – Blaze  
9. Trouble – Sandy Rivera  
10. Spread My Wings (Jinkzilla Vocal Mix) – The Jinks feat. Mina Jackson  
11. Deeper (Baggi Begovic & Soul Conspiracy Club Mix) – Copyright Feat. Imaani  
12. Obsession (Born To Funk Mix) – Jazzloungerz ft Rainy Payne  
13. Tell U Y (New Jack Swing Original) – ATFC  
Disc 2
   
1. Tides (Beanfield Chant Mix) – Beanfield  
2. Guinea Pig (Vocal Variation) – Ben Watt  
3. Go That Deep (Skylark Vocal Remix) – NUfrequency featuring Shara Nelson  
4. The Night (Marlon D's Mena Keyz Mix) – Roach Motel  
5. A Thousand Nights (Dubfire Quiet Storm Remix) – Gregor Tresher  
6. Block Party (Patrick M & DJ Wady Remix) – Sultan & Ned Shepard  
7. Diva – Sebo K  
8. Sandcastles (Original) – Sydenham  
9. Cubalibre (Rocco Spectural Mix) – Kings Of Groove  
10. Flight LB 7475 – Loco Dice  
11. Dark Flower (Jaris Voorn Magnolia Mix) – Robert Babicz  
12. Equinox (Henrik Schwarz Remix) – Code 718  
13. Bring On The Night (Rocco TroDeep Remix) – Cloud Kickers featuring Marcus  
14. All Over The World (Beatless Version Mix) – Furry Phreaks with Terra Deva  
Disc 3
   
1. Plot Of Land (Album Mix) – Smith & Mudd  
2. Portobello Café – The Ballistic Brothers  
3. Let It Go (Goloka's Ambient Dubstep) – Afterlife feat. Cathy Battistessa  
4. Finally (Lenny Ibizzare Mix) – Kings of Tomorrow  
5. Higher State of Consciousness (Original Deep & Slow Mix) – Wink  
6. Guitarra G (Afterlife Remix) – Banda Sonora  
7. Vibes – Kings of Tomorrow  
8. Reach 4 You (Urban Lounge Remix) – Mood II Swing presents Lem featuring Tara J  
9. I'll Fly Away – The Ballistic Brothers  
10. Situation Critical – Ultra Nate  
11. This Just In – Peven Everett  
12. A Feeling – Afterlife  
13. Pacific State (Afterlife Remix) – Doman & Gooding  
source: DFTC
TRAXSOURCE LAUNCHES LEVEL 4
After many years of delivering music to the masses in high quality mp3 format, House music's #1 download source has just stepped up its game yet again! 
Traxsource users may now purchase tracks in uncompressed, CD Quality WAV format from our entire catalog or upgrade any previous purchases for 75 cents* per track.

2007's Level 3g added new sophistication to the site with Enhanced Navigation and the addition of Genres. But now, Level 4 unleashes the entire Traxsource catalog in fully uncompressed, CD Quality WAV format plus the ability for users to easily and inexpensively "Upgrade" previous mp3 purchases to WAV.
Additionally, users will enjoy a beautifully Enhanced User Interface featuring a drastically Improved Search and new File Naming Convention for downloaded tunes.
::: UPGRADED FEATURES
- Buy WAVs from entire catalog
- Upgrade previous mp3 purchases to WAV
- Improved Search
- Improved User Interface
- New file naming convention for Downloads Artist – Title – (Mix/Track)
Welcome to Traxsource Level 4.
ERIC MORILLO, BUSTED….REALLY!?!?
So another one bites the dust…..or sniffs the dust and totally gets busted with possession of the dust at the airport so they say.
Apparently house phenom Eric Morillo was arrested at Glasgow Airport last weekend for possession of cocaine. He then made bail, got into a rocket ship and shot into space to get more blow. He is scheduled for trial back in Glasgow in March. In this in the coursework of djing…….he gets a "D" for dumbass.
JUSTICE UNPLUGGED
What a load of freaking bollocks.. Didn't someone have the audacity to say that these herbs were the next Bangalter & Guy? Nicka please. Anyway, I guess the picture says it all. It makes me sad more than anything.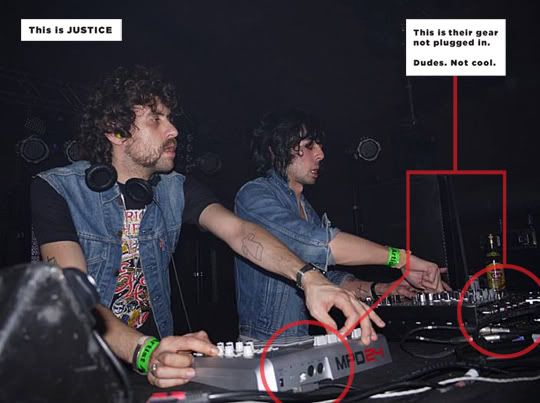 Their jean jackets look cool though. And is just me or there something… wrong about dude on the right? (I'm just sayin'…)
sourcecode: szzld
ESSENTIAL ATFC
On 31st January, ATFC will be joining the elite ranks of DJ's who have showcased thier skills on the No.1 dance music radio show worldwide, Radio 1's The Essential Mix.
"Appearing on the hallowed ground of The Essential Mix will probably be the highest point of my DJ career to date" says the DJ/producer, for whom 2008 was arguably his most prolific year to date. "I'm mixing with the big boys now, which is very exciting and just a little bit scary!!"
You can tune in live from 2am-4am or listen again on the following week at
www.bbc.co.uk/radio1/essentialmix
KRAFTWERK SPLIT
Kraftwerk co-founder Florian Schneider has left the legendary electronic band, after speculation which first emerged last year.He, with fellow co-founder Ralf Hutter, was one of the last two remaining members of the original line-up, and it has now been officially confirmed he's leaving after 40 years in the band.
It's thought that he will pursue solo projects, but there is little other information coming from the band's notoriously secretive Kling Klang studio in Dusseldorf.
The band remain together, however, and will still support Radiohead on dates in South America and Mexico in March, with more shows planned in Germany in April.
They had to dramatically pull out of a show in Australia before Christmas, at the Global Gathering festival, after band member Fritz Hilpert suffered a mild heart attack minutes before the set was to begin.
HEINEKEN THIRST FINAL!
After weeks of this and that, the last four finalist of Heineken THIRST will be kicking each others ass for the ultimate title at X2 Club on January 9th.
Chris Lake will also appear to mess the dance floor even further beyond your imagination. There's gonna be lots of sick grooves and nasty beats around, so be sure to hit the door early or you'll miss the action. Dress to get ill, people!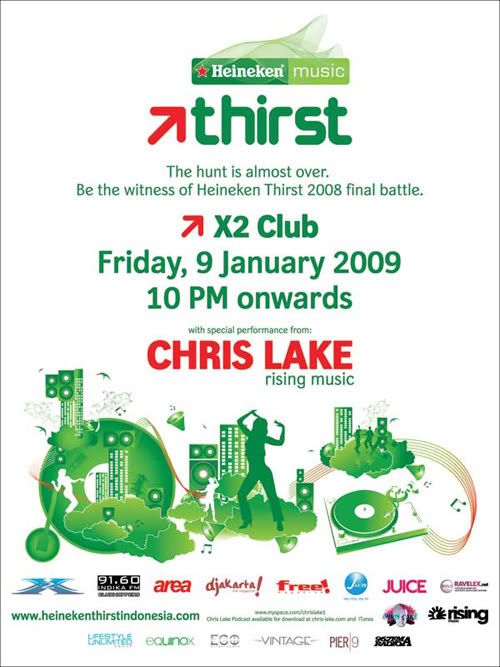 DEFECTED RECORDS 10TH BIRTHDAY
Defected is 10 years old on Jan 24th. It is widely known as the label that brought many of clubland's best remembered underground classics with unforgettable tracks such as; Cleptomainiacs 'All I do', Soulsearcher's 'I Can't Get Enough', Ferrer and Sydenham 'Sandcastles', Fish Go Deep 'The Cure and the Cause' and KOT 'Finally'.
But in true Defected style they have planned a party with a mahoosive twist, just like the 100th release celebrations back in 2005, house classics will be brought to life by a special 5 piece band. Some of Defected's biggest releases will be sung and played LIVE by the original recording artists. House labels rarely showcase their tracks live so this really is a once in a lifetime chance to see these artists performing together.
Julie McKnight the voice behind KOT's 'Finally' and Louie Vega's 'Diamond Life' will be performing alongside Marc Evans singing 'The Way You Love Me'. Tassita D'mour sings Copyright 'He Is', and new signing Yasmeen performs 'Glad I Found U' as well as Shovell's insane performance of 'Bulo'.
The main club event showcases Defected's biggest line-up since Miami '08 with special guest appearances from premier recording artists and DJ's including Bob Sinclar, Junior Jack & Kid Crème, the Shapeshifters and ATFC. With ATFC alone being crowned House artist of the year by Beatportal and the chance to hear MC Spike (JJ & KC's legendary MC) you know this is a must see event.
This is Defected Record's most ambitious celebration tour to date with 10 parties planned in 10 major cities across the globe, starting right here in London at the Ministry of Sound. The tour takes place in Australia, Germany, Switzerland, Japan, Singapore and culminates at the opening party of Pacha Ibiza '09. There is a second tour planned for later in the year. There is also a special anniversary CD mix released in Feb 09.
Defected In the House – 10th Birthday. Jan 24th 09
Ministry of Sound: 103 Gaunt St, London SE1 6DP. 24hr drinks Licence
Nearest tube: Elephant & Castle.
Entrance: £20adv, £15 cons, £12NUS
Doors: 11pm till 7am
Advance tickets: www.ministryofsound.com/tickets
There will be a special live gig open to all pre purchased ticket holders before the main club event. Julie McKnight confirmed to perform 'Finally' and 'Diamond Life'. Steve Edwards is confirmed to perform Bob Sinclars 'World Hold On' and Marc Evans 'The Way You Love Me'.
TOM MIDDLETON TO RELEASE 'REMEMBER TO LOVE'
Tom Middleton steps up once more to release his homage to the past 20 years of house with his new single 'Remember the Love' featuring remixes from Soul Avengerz and The Presidential Sounds. 
For those who know of the ultimate Jedi Master; Tom Middleton, will not be surprised to learn that he created 'Remember the Love' (IMS Anthem) live in front of 300 delegates at the inaugural International Music Summit held in Ibiza earlier this year showcasing the innovations in live production for electronic music.
IMS co-founder Pete Tong states: "It was a brave experiment from us at the IMS, never mind Tom Middleton, but one which pushed boundaries in terms of pressures on an artist to record a dance track to a brief – with an audience of leading dance dignitaries in front of him. We're delighted to see the record be picked up by Tim Binns and New State. A true anthem is born and now unleashed."
Tom's brief being the Summer of Love (1988) and Tom has indeed recreated the vibe with a modern, fresh epitome, an anthem reaching out to all those who survived to tell the tale first time round, and to all those who simply love that acid house sound.
The club mix is reminiscent of the heady days of '88, where happy smiley people were dancing to the sounds of Joe Smooth, Marshall Jefferson, and the sounds of Chicago House. Tom does what he does best, infusing elements of acid house, with beautiful hands in the air synths that have an air of 'Strings of Life'. Tom brings it all back to where it began and has given it a noughties twist.
Also stepping up to the IMS challenge was the Soul Avengerz, who on the 2nd day of the IMS conference remixed Tom's original track live in a panel. Bringing a deeper and funkier element to the track, it's a lot more stripped back and moodier. Still retaining elements of the piano riff, and coupled with a driving beat, this remix slowly builds and with a great break, allows that hands in the air in the moment!
The Presidential Sounds Remix is the harder and faster remix in the package – playing heavily on the rave element, with its driving bass and trippy synths, and is a proper peak time on a sweaty dancefloor number!
Tom Middleton adds…
"Honoured with the challenge of writing an anthem for IMS 08 I decided to rewind back to the Summer of Love of '88, the dawn of Acid House, when it seemed that nearly every track released was a dance classic.
RTL is an experimental celebration of those 20 years of house music anthems, and the musical journey that those hallowed 12"s made across the Atlantic to the clubs of Manchester, London and eventually Ibiza.
Researching and revaluating those timeless qualities that have made those Old School Classics endure. Clearly melodic and lyrical top lines and warm uplifting harmonic parts such as Strings played a key role. In my opinion, these important elements seem to be missing in a lot of the fashionable minimal techno du jour.
With a clear nod to the pioneers; Frankie Knuckles, Marshall Jefferson, Derrick May and Kevin Saunderson I hope you feel the love in this track, it's pure and real. There was no agenda other than to illustrate what an anthem really is, to bring a little of that '88 flavour back into the clubs and to put a smile on your face as you remember what it's all about"
SOUTH CENTRAL REMAKE JOSH WINK CLASSIC
South Central marks the North American release of its debut CD The Owl Of Minerva with a little treat dance music fans across the world will wanna have! Yes, it's Josh Wink's timeless 1995 smash "Higher State of Consciousness" beaten to a dizzying pulp by South Central. The best part? The track is FREE for you to download and share with your friends. Be sure to check out the brand new video below for the complete experience. 
The Owl of Minerva is a collection of South Central's finest work of the last two years; music that's never been available on CD or mp3. This collection not only acts as a must-have for fans and DJs, but also bringing the South Central story right up to the present and paving the way for the South Central debut album in 2009.
Shrouded in mystery (and indeed their trademark black hoods) the enigma that is South Central manifests itself as both a 2-man DJ/Production duo and as a 5-piece live band; the former spectacularly dissolves the boundaries of what DJing and live music are. The latter is the cowled synthesis of guitars and technology that combines the spirit and song of indie rock with the pounding electronics of big-room techno. But there's also an unpredictable side to the live show. The band does a killer rendition of Josh Wink's "Higher State Of Consciousness" (available on the CD) and recently performed a live cover of Daft Punk's "Da Funk" in Paris of all places! The live show is so good that Does It Offend You, Yeah? tapped South Central as the main support act for it's October UK tour while Pendulum scooped them up as support for its current UK tour. No surprise then that both the indie kids and the danceheads have signed up for more.
To date, South Central has remixed artists including Klaxons, Van She, The Whip, Metronomy, Shy Child, Maccabees and Shitdisco, among many others. South Central's bootleg of Klaxon's "The Bouncer" was such an underground success that even UK radio stalwarts XFM's John Kennedy and Radio 1's Pete Tong picked up on it. And for your viewing pleasure we offer a link into South Central's $36 dollar budget video for it's debut single "Nothing Can Go Wrong" (click here to watch), which received constant rotation from MTV UK, in addition to traditional support from Annie Mac and Steve Lamacq on Radio 1.
DJ SNEAK IN THE BOX
DJ Sneak will be delving into his crates as the next in line for the Back In The Box album series.The Chi-Town DJ follows electro-techno mainstay Dave Clarke in mixing a set for the series, but this time goes for two whole discs of disco delights.Loaded with classics from the likes of Cajmere, Cricco Castelli, Paul Johnson and, erm, DJ Sneak, it's due out through NRK on February 23.
Here's the eminent track listing:
Disc One
Blak 'n' Spanish Call Da Vibe
Freeform Five ft. Carolyn Harding One Day (Freeform Re – Form Dub)
BT Remember (Mood II Swing Dub Mix)
Blue Boy Sandman
Chris Simmonds – Rush n Soul
Mousse T – Ooh Song
Deepah Ones In The Sky
Johnny Corporate Sunday Shoutin (B Boys Shoutin Dub)
Global Communication The Way
Studio 45 pres Le Pamp Playhouse – I Like The Sounds
Bob Sinclar Visions Of Paradise
Cheek Venus (Sunshine People Mix)
Cajmere feat. Dajae Brighter Days (Underground Goodie)
The Brand New Heavies Shelter (Danny D Mix)
Cricco Castelli Life Is Changing
DJ D presents Hydraulic Dogs – Shake It For Me (Original Mix)
Disc Two
Markus Nikolai – Bushes (The Second Remix) (Version 2.1)
Johnny Fiasco Conduction
Secret Ingredients – Chicago Chicago
The Chicago Connection Dancin' (Mark Grant Mix)
DJ Sneak You Can't Hide From Your Bud
Paul Johnson Hit It Up
DJ Sneak – All Over My Face
Roach Motel pres. 2 Stupid Dogz Trouble
Deaf n Dumb ft. S. Leger & Nicholas de Floraiant Holiday On Night
I-Cube – Disco Cubism (Daft Punk Mix)
Happy Human Horn Junk
C-Dock Traffic Jam
Ian Pooley Higgledy Piggledy
Bob Sinclar The Ghetto (Original Cleared Version)
Fantom Faithfull (Original Mix Par Fantom) 
source:defected
JOSH WINK ANNOUNCES NEW LP 'WHEN A BANANA WAS JUST A BANANA'
Philadelphia-based DJ and producer Josh Wink today announced details of his fourth studio album titled 'When A Banana Was Just A Banana'.
"In a nutshell, it speaks really of the loss of innocence of music," explained Wink, who seems to be on a personal mission to rid the electronic music world of its pigeonholes.
"Music was just music when I was growing up. Nobody was ridiculed or had views of 'I only listen to this one kind of music', I grew up listening to everything.
"Today, so many people tend to only listen to one style of music with a strong opinion of why. I miss the innocence of how it was, like when you were younger, 'A Banana Was Just A Banana'."
After the jump there is the full tracklist of his LP, plus track descriptions from Josh Wink himself.
1) 'Airplane Electronique'
"This was first started in June 2007, after playing the Piknik Electronik party in Montreal. I kind of got an idea of the track with the style of music I was playing at the event. It's a mixture of tech and house with a twisted feel.
"I started the groove then and got back to finishing the track in October 2007. The name came from flying back from the party, but the spelling of Electronique is more French (Montreal style) than the name of the party."
2) 'Counter Clock 319'
"This was originally called '319 Acid', similar to '516 Acid', but it was called '319' as I started this on March 19th 2007.
"After playing around with ideas, and effects, I created a panning motion in the track which when listened to in headphones travels in a counter clockwise fashion.
I was listening to a set of (DJ) Dixon and noticed how slow and groovy most of the set was, which influenced me to make a twisted, intense track that was in the same tempo range."
3) 'What Used To Be Called Used To Be'
"This original track was based on a remix I did for my friend Someone Else (Sean O'neal) in October 2006.
"This was the groove and acid line used, but Sean and I agreed that a different remix was needed, which I did and it was released on his label FoundSound in 2007.
"I asked him if I could change things around with my remix (as all the music except the vocal samples were from his track) and perhaps release it on Ovum Recordings and he said "sure".
"So, I've been playing it out since then with great reactions, and had to release it. Acid, baby!"
4) 'Jus Right'
"The original groove was done in 2005. I found it again in February 2008, when I was cleaning files on my computer, and finished the track in the same month.
"It reminds me of some old French 80s disco house, which I'm a sucker for. We wanted to leak this out for the summer season in 2008, as it really has a summer/sexy groove-vibe to it.
"We weren't sure what to do with it, as people don't expect me to release things like this. But, Matt from Ovum said, 'It's you, and it's deep and pumpy, we gotta put it out'.
"The track was originally 17 minutes long, which to me was 'Just Right' to tell my story.
"But, several edits were completed to make it shorter and we agreed that it still had the same feeling. This was played at the WMC this past year and someone YouTubed it and people are wondering who it is. So we decided to release it."
5) 'Dolphin Smack'
"It originally was intended for a B-side track on Pokerflat in September 2006. But we decided no, and we left it and came back to it in October of the same year to complete.
"It's been changed many times as I constantly get ideas on 'unfinished' tracks by playing them out. I remember playing it at my Ovum Last Wednesday residency in Philly, and someone came up to me and asked, 'What was that track with the dolphin in the break?', and the name Dolphin came about.
"Then to me it sounded like a dolphin on heroin, hence 'Dolphin Smack'. If I get the right crowd at a gig, this breakdown is magical, as it's very out there. I'm excited to release it."
6) 'Minimum 23' "This is influenced by 90's NYC house, as was 'Stay Out All Night'. It was started originally in October 2006, and was finished a year later on October 23rd, 2007.
"It's another track of mine that wants to marry the various sounds of USA style house and my electronic-tweaky-ness of production.
"I've been playing it out, and it gets pretty insane response on the dancefloor, jackin' house tech!
"The name has changed too, as most of my tracks start with dates of the month. Then titles come to me later, as they don't really mean much to me. But, they're fun to make up."
7) 'Hypnoslave'
"I started working on this when I was asked to do the 'Screaming Hands' remix for Radioslave in November 2006.
"But, it wasn't going in the direction I wanted for the remix.
"I never used any of Radioslave's parts for the remix, so I worked on it a bit more and put it away to work on another day.
"I was still in my making-house-versions-of-tech-production mood. The name of the track half came from Slave as I started it as the RadioSlave remix and the other half came from it being hypnotic as all hell!
"I remember being in San Diego in 2007 and Dubfire was there, and we found out that we were both playing in LA the next day, so he gave me a ride to LA in a rented truck and we listened to each other's music on the drive.
"Still to this day, he asks me about getting this track! I will finally get it to him!"
8) 'Everybody To The Sun'
"In December 2005 it was originally based around a vocal of someone saying 'Everybody To The Sun'. I found it again, took the vocals out and completed it in January 2007.
"I began playing it out to great response, and I still get threats from Marco Carola and Paco Osuna (who heard me play it) that they will hurt me if I don't give them a copy.
"My response 'Ah, well, it's not mastered yet'. Well, it's mastered finally.
"The version before this one went a little crazy with analog madness during the break, but this version is a lot more subdued, and hypnotic. No bass-line here, but the bass of the drum every 4 measures gets the ladies' hips going."
9) 'Stay Out All Night'
"I was listening to a lot of 90's NYC and Chicago house (which I'm very influenced by) when I made this track, and decided to do a bunch of music that was more house-tech than tech house.
"I had a a lot of fun bringing in jazzy rhodes lines, jackin' house beats and a deep ass bass to my sets.
"This really stood out when I played it the first few times at the end of 2007. I played it for Matty B (Ovum) and he thought it would be a great idea to leak it out at the 2008 WMC.
"We gave it to 15 people and the magic started there. It's great how it was played by so many diverse DJs and continued to blur the line between the new styles of tech and the old sound of house."
Josh Wink 'When A Banana Was Just A Banana' is scheduled for release in February 2009